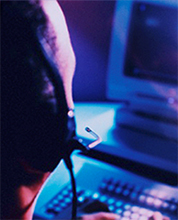 9-1-1 Call Centers, also known as Public Safety Answering Points (PSAPs), are the public's first line of contact to public safety authorities in an emergency.
PSHSB works closely with PSAPs and State Offices and Agencies of Emergency Management to improve emergency communications and preparedness, including enrollment in priority services.
Below are examples of information and services for 9-1-1 Call Centers/PSAPs.
Priority Services
PSHSB will assist PSAPs with enrollment of critical communications circuits in the Telecommunications Services Priority (TSP) program, which provides for priority provisioning and restoration of essential telecommunications services. PSHSB will also assist PSAPs with requests for enrollment in Wireless Priority Service (WPS) and Government Emergency Telecommunications Service (GETS) . These programs are an important aspect of emergency communications planning, especially for those who rely on communications to respond to events and incidents on a daily basis.
State Offices and Agencies of Emergency Management
A list of State Offices and Agencies of Emergency Management.
Emegency Medical Services - www.ems.gov
9-1-1 Agencies and PSAPs on Alabama Chapter of NENA (ALNENA)
State 9-1-1 Emergency Coordinators
Guidelines and Operational Standard
These Emergency Planning Guidelines provide a framework for emergency preparedness which organizations can use to develop emergency communications plans.
This Operational Standard was developed by the National Emergency Number Association (NENA) to assist PSAPs.