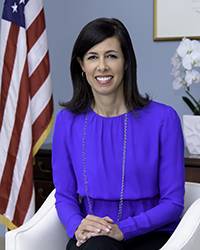 Federal Communications Commissioner Jessica Rosenworcel believes that the future belongs to the connected. She works to promote greater opportunity, accessibility, and affordability in our communications services in order to ensure that all Americans get a fair shot at 21st century success. She believes strong communications markets can foster economic growth and security, enhance digital age opportunity, and enrich our civic life.
From fighting to protect net neutrality to ensuring access to the internet for students caught in the Homework Gap, Jessica has been a consistent champion for connecting all. She is a leader in spectrum policy, developing new ways to support wireless services from Wi-Fi to video and the internet of things. She also is responsible for developing policies to help expand the reach of broadband to schools, libraries, hospitals, and households across the country.
Named as one of POLITICO's 50 Politicos to Watch and profiled by InStyle Magazine in a series celebrating "women who show up, speak up and get things done," Jessica brings over two decades of communications policy experience and public service to the FCC. Prior to joining the agency, she served as Senior Communications Counsel for the United States Senate Committee on Commerce, Science, and Transportation, under the leadership of Senator John D. Rockefeller IV and Senator Daniel Inouye. Before entering public service, Jessica practiced communications law in Washington, DC.
She is a native of Hartford, Connecticut. She is a graduate of Wesleyan University and New York University School of Law. She lives in Washington, DC with her husband Mark, and children Caroline and Emmett.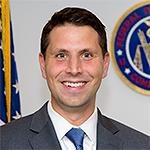 Travis Litman
Chief of Staff and Senior Legal Advisor, Wireline and Public Safety
Travis Litman is a Commission veteran, who returns to the office after previously serving as Commissioner Rosenworcel's Senior Legal Advisor for wireline and consumer issues. Travis has held a variety of roles in the agency's Wireline Competition Bureau, including as Assistant Chief of the Telecommunications Access Policy Division. He also has served as Counsel to the Senate Committee on Commerce, Science, and Transportation, where he provided assistance to the Subcommittee on Communications, Technology, and the Internet. Before entering public service, Travis practiced communications law at Wilkinson Barker Knauer, LLP and Davis Wright Tremaine, LLP. He is a graduate of Lewis & Clark College and the University of Colorado School of Law.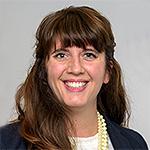 Kate Black
Policy Advisor, Media
Kate Black joins the office from EMILY's List, where she most recently served as Chief of Staff. In this role she was responsible for strategic support for its president and for helping to implement and manage EMILY's List goals and initiatives. In her role she worked to elect women up and down the ballot and from across the country. Previously, Kate served as the Vice President of Research for EMILY's List, where she was responsible for regulatory and legislative policies regarding key issues facing American families and the economy. While in this role, she also served as Executive Director of American Women, where she led the organization's polling, messaging, and policy development, with a special focus on media consumption and the impact of new technologies on the economy. Kate has held a variety of other policy and research positions at a diverse group of organizations, including the Democratic National Committee, the Service Employees International Union, and Hillary Clinton for President. She is the co-author, with June Diane Raphael, of "Represent: The Woman's Guide to Running for Office and Changing the World," scheduled to be published by Workman Publishing in 2019. She is a graduate of Miami University and holds a Master of Arts from George Washington University. She lives in Washington, DC with her husband, Sam and their son, Charlie.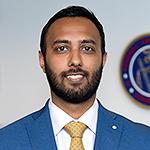 Umair Javed
Legal Advisor, Wireless and International
Umair Javed serves Commissioner Rosenworcel as legal advisor for wireless and international issues. Mr. Javed joins the Commission from Wiley Rein LLP, where he was an associate in the firm's Telecom, Media, and Technology group. At Wiley Rein, Mr. Javed provided legal counsel and strategic advice to a broad cross-section of clients on domestic and international telecommunications regulation, spectrum policy, and global Internet governance. He also has served on U.S. delegations to conferences and meetings of the International Telecommunication Union, including the 2016 World Telecommunication Standardization Assembly and the 2017 World Telecommunication Development Conference. Mr. Javed currently serves as Commissioner of the Consumer Protection Commission of Fairfax County and previously was a firefighter and EMT-B in Albemarle County, Virginia. He holds a B.A. from the University of Virginia as well as a J.D. from the University of Virginia School of Law.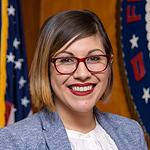 Jessica Martinez
Special Advisor and Confidential Assistant
Jessica Martinez joins Commissioner Rosenworcel's office from the U.S. House Energy and Commerce Committee Democratic Staff, where she served as the Outreach and Member Services Coordinator. Ms. Martinez also served as the Communications Director for the Congressional Hispanic Staff Association. Before her time on Capitol Hill, Ms. Martinez served as an Associate with a DC strategic firm, focusing on children's healthcare policy issues. Her prior experience also includes time as a fellow with Progressive Congress, an internship with the Democratic Steering and Outreach Committee, and the Latino Outreach Coordinator for the Utah State Democratic Party. She holds a B.A. from the University of Utah.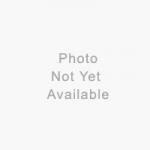 Aurelle Porter
Staff Assistant
Ms. Porter has worked at the Federal Communications Commission since 2006. Most recently, she served as Special Assistant in the Office of Legislative Affairs. She also worked as a Staff Assistant to former FCC Chairman Kevin J. Martin.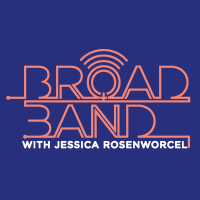 Broadband Conversations
Dedicated to amplifying the voices of women who are making a difference in our digital lives.
Broadband Conversations is dedicated to highlighting women who are making an impact on our digital lives. Each episode, Federal Communications Commissioner Jessica Rosenworcel will talk to women who are breaking new ground and forging new paths in technology, media, and innovation about what they're working on, what's on their minds, what they think is the next for the future. Because there are just too few, it's time to amplify these women's voices.
Subscribe and listen on your favorite podcast app or browser!
Episodes
Use the buttons below to properly direct requests for information from members of the press or requests for meetings with Commissioner Rosenworcel or her staff.