DOC-328315A2
Related Documents
Download Options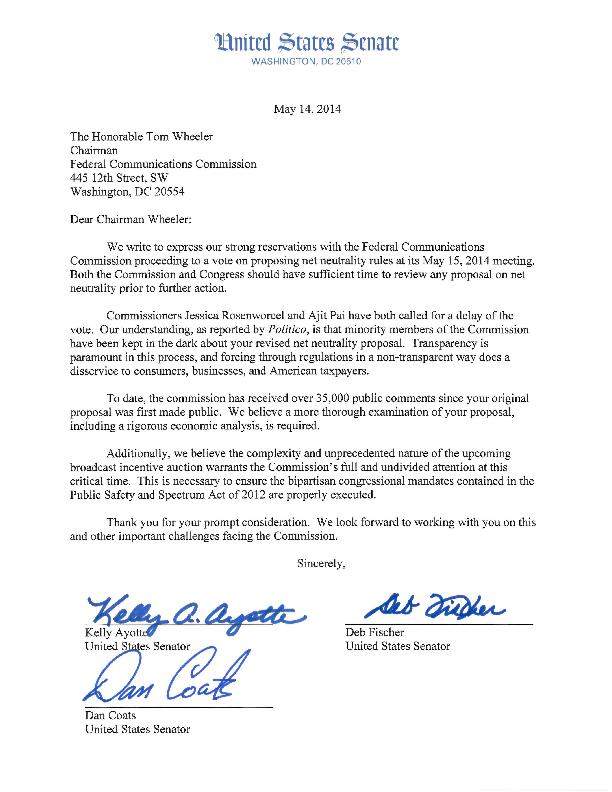 tinitcd ~tatcŝcnatc
WASHINGTON, DC 20510
May 14,2014
496
The Honorable Tom Wheeler
Chairman
Federal Communications Commission
445 12th Street, SW
Washington, DC 20554
Dear Chairman Wheeler:
We write to express our strong reservations with the Federal Communications
Commission proceeding to a vote on proposing net neutrality rules at its May 15, 2014 meeting.
Both the Commission and Congress should have sufficient time to review any proposal on net
neutrality prior to further action.
Commissioners Jessica Rosenworcel and Ajit Pai have both called for a delay of the
vote. Our understanding, as reported by Politico, is that minority members of the Commission
have been kept in the dark about your revised net neutrality proposal. Transparency is
paramount in this process, and forcing through regulations in a non-transparent way does a
disservice to consumers, businesses, and American taxpayers.
To date, the commission has received over 35,000 public comments since your original
proposal was first made public. We believe a more thorough examination of your proposal,
including a rigorous economic analysis, is required.
Additionally, we believe the complexity and unprecedented nature of the upcoming
broadcast incentive auction warrants the Commission's full and undivided attention at this
critical time. This is necessary to ensure the bipartisan congressional mandates contained in the
Public Safety and Spectrum Act of 2012 are properly executed.
Thank you for your prompt consideration. We look forward to working with you on this
and other important challenges facing the Commission.
Sincerely,
Deb Fischer
United States Senator
Dan Coats
United States Senator
Note: We are currently transitioning our documents into web compatible formats for easier reading. We have done our best to supply this content to you in a presentable form, but there may be some formatting issues while we improve the technology. The original version of the document is available as a PDF, , or as plain text.