DOC-328319A3
Related Documents
Download Options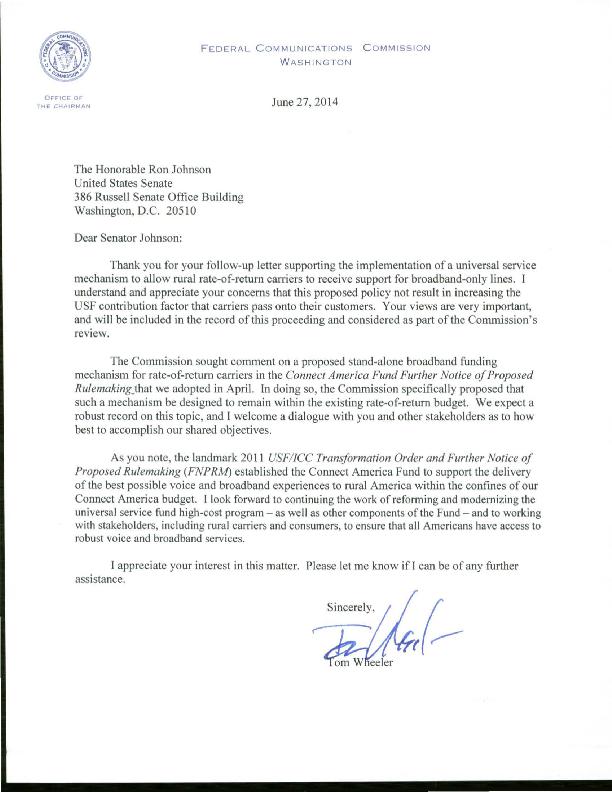 FEDERAL COMMUNICATIONS
COMMISSION
WA S HIN GTON
June 27, 2014
OFFICE OF
THE CHAIRMAN
The Honorable Ron Johnson
United States Senate
386 Russell Senate Office Building
Washington, D.C. 20510
Dear Senator Johnson:
Thank you for your follow-up letter supporting the implementation of a universal service
mechanism to allow rural rate-of-return carriers to receive support for broadband-only lines. I
understand and appreciate your concerns that this proposed policy not result in increasing the
USF contribution factor that carriers pass onto their customers. Your views are very important,
and will be included in the record of this proceeding and considered as part of the Commission's
review.
The Commission sought comment on a proposed stand-alone broadband funding
mechanism for rate-of-return carriers in the Connect America Fund Further Notice of Proposed
Rulemaking_that we adopted in April. In doing so, the Commission specifically proposed that
such a mechanism be designed to remain within the existing rate-of-return budget. We expect a
robust record on this topic, and I welcome a dialogue with you and other stakeholders as to how
best to accomplish our shared objectives.
As you note, the landmark 2011 USFIICC Transformation Order and Further Notice of
Proposed Rulemaking (FNPRM) established the Connect America Fund to support the delivery
of the best possible voice and broadband experiences to rural America within the confines of our
Connect America budget. I look forward to continuing the work of reforming and modernizing the
universal service fund high-cost program -
as well as other components of the Fund- and to working
with stakeholders, including rural carriers and consumers, to ensure that all Americans have access to
robust voice and broadband services.
I appreciate your interest in this matter. Please let me know if I can be of any further
assistance.
Note: We are currently transitioning our documents into web compatible formats for easier reading. We have done our best to supply this content to you in a presentable form, but there may be some formatting issues while we improve the technology. The original version of the document is available as a PDF, , or as plain text.