DOC-328974A8
Related Documents
Download Options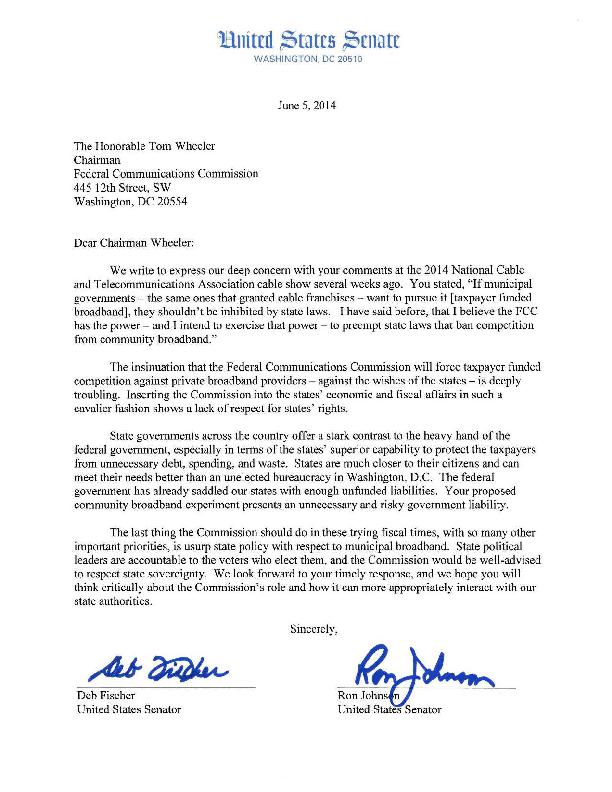 1!:lnitcd ~tatcŝcnatc
WASHINGTON, DC 20510
June 5, 2014
578
The Honorable Tom Wheeler
Chairman
Federal Communications Commission
445 12th Street, SW
Washington, DC 20554
Dear Chairman Wheeler:
We write to express our deep concern with your comments at the 2014 National Cable
and Telecommunications Association cable show several weeks ago. You stated, "If municipal
governments- the same ones that granted cable franchises -
want to pursue it [taxpayer funded
broadband], they shouldn't be inhibited by state laws.
I have said before, that I believe the FCC
has the power -
and I intend to exercise that power- to preempt state laws that ban competition
from community broadband."
The insinuation that the Federal Communications Commission will force taxpayer funded
competition against private broadband providers -
against the wishes of the states -
is deeply
troubling. Inserting the Commission into the states' economic and fiscal affairs in such a
cavalier fashion shows a lack of respect for states' rights.
State governments across the country offer a stark contrast to the heavy hand of the
federal government, especially in terms of the states' superior capability to protect the taxpayers
from unnecessary debt, spending, and waste. States are much closer to their citizens and can
meet their needs better than an unelected bureaucracy in Washington, D.C. The federal
government has already saddled our states with enough unfunded liabilities. Your proposed
community broadband experiment presents an unnecessary and risky government liability.
The last thing the Commission should do in these trying fiscal times, with so many other
important priorities, is usurp state policy with respect to municipal broadband. State political
leaders are accountable to the voters who elect them, and the Commission would be well-advised
to respect state sovereignty. We look forward to your timely response, and we hope you will
think critically about the Commission's role and how it can more appropriately interact with our
state authorities.
Sincerely,
Deb Fischer
RonJohns n
United States Senator
United States Senator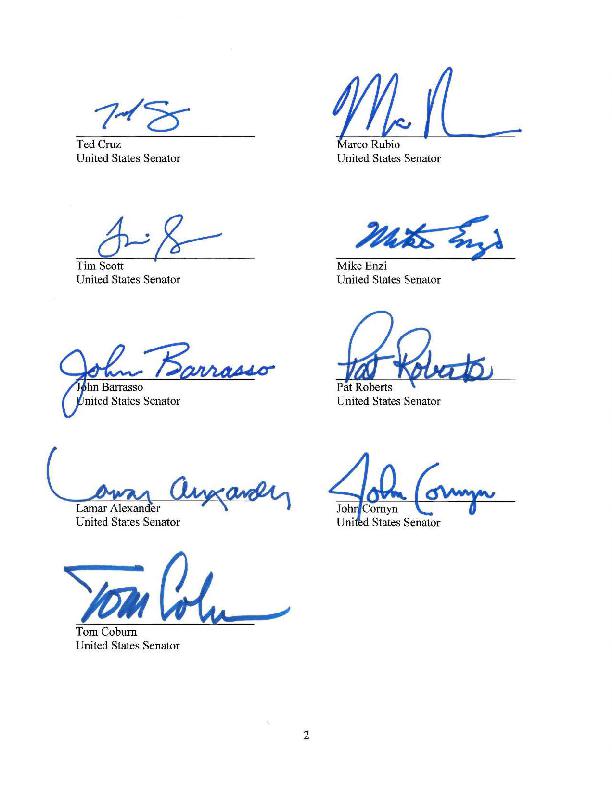 Ted Cruz
United States Senator
United States Senator
Tim Scott
Mike Enzi
United States Senator
United States Senator
nited States Senator
United States Senator
Lamar Alexan er
United States Senator
Tom Coburn
United States Senator
2
Note: We are currently transitioning our documents into web compatible formats for easier reading. We have done our best to supply this content to you in a presentable form, but there may be some formatting issues while we improve the technology. The original version of the document is available as a PDF, , or as plain text.