DOC-328976A6
Related Documents
Download Options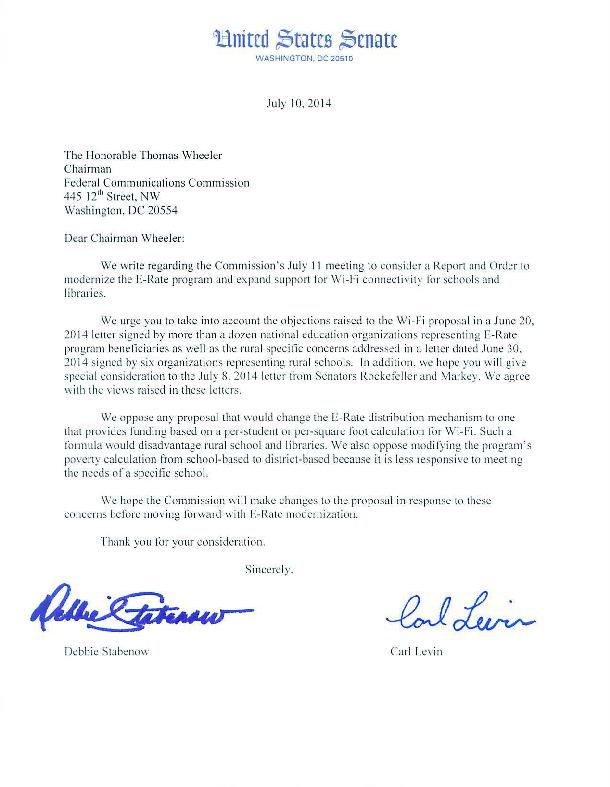 tinitcd ~tatcŝcnatr
WASHINGTON, OC 20510
July 10,20 14
The Honorable Thomas Wheeler
Chairman
Federal Communications Commission
445 12111 Street, NW
Washington, DC 20554
Dear Chaim1an Wheeler:
We write regarding the Commission· s July II meeting to consider a Report and Order to
modernize the E-Rate program and expand support for Wi-Fi connectivity for schools and
libraries.
We urge you to take into account the objections raised to the Wi-Fi proposal in a .June 20,
20 14 letter signed by more than a dozen national education organizations representing E-Rate
program beneliciaries as well as the rural specific concerns addressed in a letter dated June 30.
20 14 signed by six organizations representing rural schools.
In addition. we hope you will give
spccial consideration to the July 8. 20 14 letter from Senators Rockefe ller and Markey. We agree
with the view·s raised in these letters.
We oppose any proposal that would change the E-Rate distribution mechanism to one
that provides funding based on a per-student or per-square foot calculation fo r Wi-Fi. Such a
formu la vvould disadvantage rural school and libraries. We also oppose modifying the program·s
poverty calculation from school-based to district-based because it is less responsive to meeting
the needs of a specific school.
We hope the Commission will make changes to the proposal in response to these
concerns bel'ore moving forward with 1->Ratc modernization.
Thank you for your consideration.
Sincerely.
Debbie Stabeno\\'
Carl Levin
Note: We are currently transitioning our documents into web compatible formats for easier reading. We have done our best to supply this content to you in a presentable form, but there may be some formatting issues while we improve the technology. The original version of the document is available as a PDF, , or as plain text.