After Storms, Beware Scams
Natural disasters and severe weather can create opportunities for fraud in their wake. Scammers use phone, text, mail, email, and even go door to door to target residents of affected areas following hurricanes and damaging storms.
Tras las Tormentas: Cuídese de las Estafas
Las catástrofes naturales y las condiciones climáticas severas pueden crear oportunidades para que surjan los fraudes. Los estafadores usan el teléfono, los mensajes de texto, el correo postal, el correo electrónico, e incluso van puerta a puerta para encontrar residentes de áreas afectadas después de huracanes y tormentas dañinas.
Robotext Scams Are on the Rise
Like robocalls, texts can be spoofed to mask the originating number. And watch out for "wrong number" text scams, which may be originating from chat bots. Click to learn more.
File a Complaint: When you get an unwanted call or text, please file an informal complaint with the FCC. Doing so helps inform our policy decisions as well as our investigations.
988 Suicide and Crisis Lifeline
"988" is the new three-digit, nationwide phone number you can call or text to connect directly with mental health professionals at a national network of crisis centers. Click to learn more
Consumer Guides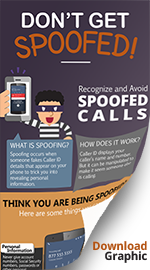 What is caller ID spoofing and how does it work? Get helpful tips about what you can do if you think you're being spoofed.
Consumer and Governmental Affairs Bureau
The Consumer and Governmental Affairs Bureau develops and implements the FCC's consumer policies and serves as the agency's connection to the American consumer.