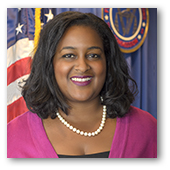 Chanelle Hardy | Chief of Staff and Media Legal Advisor
Chanelle Hardy serves as Chief of Staff to the Commissioner and Media Legal Advisor. Ms. Hardy joined the Commission in May 2015 following a five-year stint as Senior Vice President for Policy and Washington Bureau Executive Director for the National Urban League, a 104-year old civil rights and direct services organization focusing on economic empowerment and social justice for communities of color and low-income Americans. Prior to that, Ms. Hardy served as a Counsel and Chief of Staff to US Congressman Artur Davis, as a Staff Attorney for the Federal Trade Commission Enforcement Bureau, as a Fellow and Legislative Counsel for Consumers Union, and as a fifth-grade teacher for Washington, DC Public Schools (Teach for America Corps). Ms. Hardy holds a J.D. from the Howard University School of Law.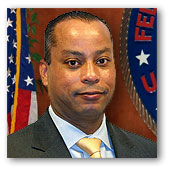 Louis Peraertz | Senior Legal Advisor - Wireless, International, and Public Safety
Louis Peraertz serves as Senior Legal Advisor for wireless, international, and public safety issues. Mr. Peraertz joined then Commissioner Clyburn's staff in October 2009. Prior to this, he served as Special Counsel in the Wireless Telecommunications Bureau focusing on competition, spectrum allocation, and infrastructure policy issues. Mr. Peraertz began his communications career in the Office of General Counsel where, among other things, he represented the Commission in several cases before courts of appeal. Before coming to the FCC, Louis served as an appellate litigator in the U.S. Department of Justice's Civil Rights Division and represented the United States in more than 60 cases before federal courts of appeals. He began his legal career in the U.S. Army Judge Advocate General's Corps and was honorably discharged as a Major. Mr. Peraertz received his bachelor's degree from Princeton University and his J.D. from Harvard Law School.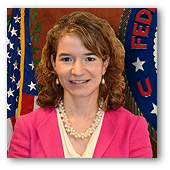 Rebekah Goodheart | Legal Advisor - Wireline
Ms. Goodheart joined Commissioner Clyburn's staff in April 2013, serving as Acting Wireline Advisor for Acting Chairwoman Clyburn. Previously, she served as Deputy Director of the Technology Transitions Policy Task Force and Associate Chief of the Wireline Competition Bureau. Ms. Goodheart also served as a Senior Policy Advisor for the Omnibus Broadband Initiative that developed the National Broadband Plan, and an Assistant Division Chief in the Industry Analysis Division of the Media Bureau. Prior to joining the FCC, Ms. Goodheart served as a Trial Attorney at the U.S. Department of Justice, Antitrust Division in the Telecommunications and Media Enforcement Section, and was an associate at the law firm Wiley Rein LLP. She holds a J.D. from the University of Virginia School of Law, and a B.S.F.S., cum laude, from the Georgetown University School of Foreign Service.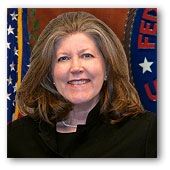 Drema Johnson | Deputy Chief of Staff
Ms. Johnson is responsible for managing the office as well as the Acting Chairwoman's personal schedule and travel arrangements. She previously served as Special Assistant to former House Speaker Thomas S. Foley and as Confidential Assistant to former FCC Chairman William Kennard. More recently, she was appointed to the Federal Commission for the Jamestown 400th Anniversary Commemoration on behalf of Senator Mark Warner and former Governor, now Senator Tim Kaine.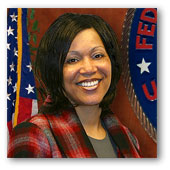 DeeAnn Smith | Staff Assistant
Ms. Smith joined the agency in 2009 and assists in carrying out the mission of the Clyburn office and the agency. She has an extensive administrative background, including experience in the legal and marketing industries.