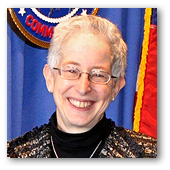 Ruth Milkman | Chief of Staff
Ms. Milkman served as Chief of the FCC's Wireless Telecommunications Bureau from August 2009 to June 2011, and from June 2012 until the present. From June 2011 to June 2012, Ms. Milkman was Special Counsel to the Chairman for Innovation in Government. Previous experience at the Commission between 1986 and 1998 included serving as Deputy Chief of the International and Common Carrier Bureaus, and as Senior Legal Advisor to Chairman Reed Hundt. Ms. Milkman also was a founding partner of Lawler, Metzger, Milkman & Keeney, LLC and served as a law clerk to the Honorable J. Harvie Wilkinson of the U.S. Court of Appeals for the Fourth Circuit.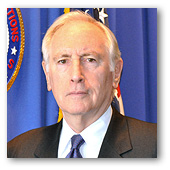 Philip Verveer | Senior Counselor
Ambassador Verveer served from 2009-2013 as U.S. Coordinator for International Communications and Information Policy at the U.S. Department of State and, before that practiced communications and antitrust law in the government and in private law firms for more than 35 years. Ambassador Verveer's previous service at the Commission includes tenure as the Chief of the Cable Television Bureau, the Broadcast Bureau, and the Common Carrier Bureau, where he participated in a series of decisions that enabled increased competition in video and telephone services and limited regulation of information services.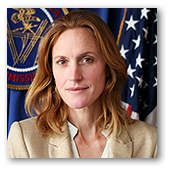 Louisa Terrell | Advisor to the Chairman
Ms. Terrell has served as Chief of Staff to New Jersey Senator Cory A. Booker. Prior to her role with Senator Booker, Ms. Terrell was the Director of Public Policy at Facebook. She has previously served as Special Assistant to the President for Legislative Affairs under President Barack Obama, on the Obama 2008 transition team, and as Deputy Chief of Staff and Judiciary Committee Counsel to then-Senator Joe Biden.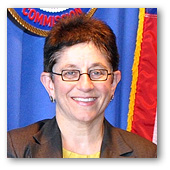 Gigi B. Sohn | Counselor to the Chairman
Ms. Sohn served from 2001-2013 as the President and CEO of Public Knowledge and, from 2011-2013 as the Co-Chair of the board of directors of the Broadband Internet Technical Advisory Group (BITAG). She has served on the board of the Telecommunications Policy Research Conference (TPRC) and on the Advisory Board of the Center for Copyright Information. In October 1997, President Clinton appointed Ms. Sohn to serve as a member of his Advisory Committee on the Public Interest Obligations of Digital Television Broadcasters.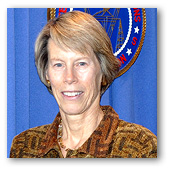 Diane Cornell | Special Counsel
Ms. Cornell has served as Vice President for Government Affairs at Inmarsat and Vice President, Regulatory Policy at CTIA, The Wireless Association. Ms. Cornell previously worked at the FCC, where she served as a Legal Advisor to three Commissioners, Chief of Staff of the Wireless Telecommunications Bureau, and Division Chief in the International and Common Carrier Bureaus. Ms. Cornell is a former President of the Federal Communications Bar Association and was previously a director of the Universal Service Administrative Company (USAC). Ms. Cornell will have responsibility for issues in the International Bureau, as well as for FCC process reform.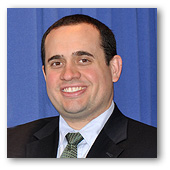 Daniel Alvarez | Legal Advisor | Wireline, Public Safety, and Homeland Security
Mr. Alvarez has been at the Commission since November 2013, serving as Legal Advisor to Chairman Wheeler, focusing on Wireline Competition and Public Safety and Homeland Security issues. Prior to that, he was an associate in the Communications, Media, and Privacy practice at Willkie Farr & Gallagher LLP.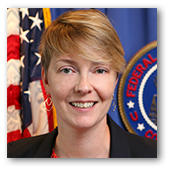 Jessica Almond | Acting Legal Advisor | Engineering and Technology, Wireless, and Incentive Auction
Ms. Almond held numerous positions at the Commission between 2007 and 2014, including legal advisor to the Chief of the Media Bureau and Chief of Staff of the Wireless Telecommunications Bureau. Before returning to the Commission in 2015, she was corporate counsel at HTC America, Inc.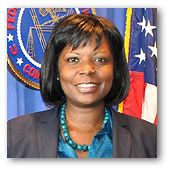 Maria Kirby | Legal Advisor | Media, Consumer and Governmental Affairs, and Enforcement
Ms. Kirby has served since 2012 as a legal advisor to the Chief of the Wireless Telecommunications Bureau. Previously, she worked in the New York City Office of Federal Affairs and for the law firm of Davis Polk & Wardwell.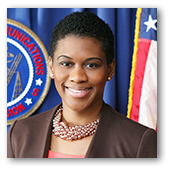 Emmaka Porchea-Veneszee | Special & Confidential Assistant
Mrs. Porchea-Veneszee is the Special and Confidential Assistant to Chairman Tom Wheeler. Previously, she served as Executive Assistant to the Executive Director of the President's Intelligence Advisory Board. She also served as Resource Manager for the National SIGINT Committee at the National Security Agency. In addition, she has been Confidential Assistant to the Assistant Deputy Chief of Staff, G-2 (Army Intelligence). Ms. Porchea-Veneszee began her career on active duty with the U.S. Navy.