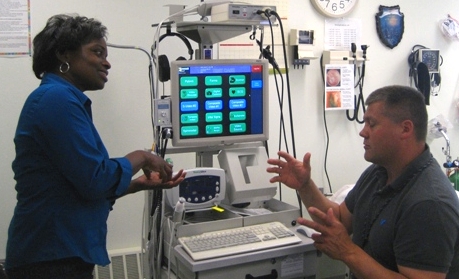 I'm back in the Washington, D.C. heat after staying cool for almost a week in Alaska. Senator Mark Begich and his staff ensured that I experienced urban, rural and extreme rural Alaska with visits to Anchorage, Cordova, Kotzebue and Kiana. At each stop, Alaskans proved to me that Southerners do not have a monopoly on hospitality. They welcomed me with friendly smiles and full plates of Copper River Red Salmon that melted in my mouth, fresh Alaskan King Crab legs (for breakfast!) and even corned beef hash (my childhood morning obsession)! While I enjoyed every bite, I also benefited from an earful of feedback about the National Broadband Plan and proposed or current FCC policies.
Before the trip, I heard about all of the ways in which the "Great Land" differs from "the lower 48." As I flew across the State and met with consumers, providers and other stakeholders, I gained an appreciation of the unique challenges faced by Alaskans. But I was more struck by the similarities. Fundamentally, we all share common goals – the improvement and enhancement of the communities in which we reside. Alaskans, like everyone else, recognize the power of broadband to help achieve these goals.
Connecting the urban, rural and extreme rural Alaskan communities allows individuals to expand their horizons. It also helps strengthen communities while maintaining cultural identities. Connecting to one's cultural home should not be jeopardized by lack of access. Ubiquitous broadband can ensure that Alaskans and other individuals always have the option of staying close to home without sacrificing opportunities.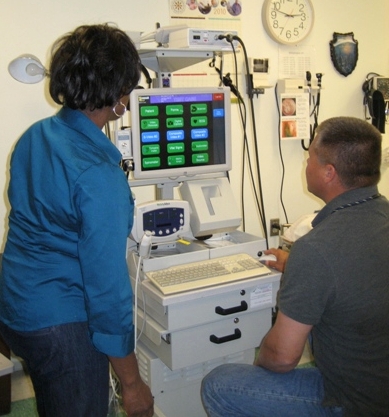 I was truly impressed by the sense of community I saw among Alaskans and their ability to adapt and work together to make the most of a challenging environment. I know that while we work to make sure that the Alaskans get the connectivity they need and deserve, their sense of community will sustain them, and eventually help them exceed even their own expectations.
Travel Recap
I experienced a number of personal firsts over the past several days: my first trip to Alaska, first earthquake, first taste of reindeer sausage, first flight in a bush plane, first time viewing a glacier and watching the calving ice crash into the water, first time watching a raft of sea otters play, first time on an ATV and first taste of a big buttery ball of blubber (whale). Okay, so I didn't follow through on that last one. I can't possibly include all of my fond memories here, but some of the highlights from each day of my trip are included below. Thank you to all who helped make these experiences so amazing!
Day 1
My visit started with a roundtable discussion at the University of Alaska Anchorage/Alaska Pacific University Consortium Library where consumers and providers shared their concerns about the National Broadband Plan and other FCC policies. Participants noted that the Plan was aggressive and not lacking in vision, but they also enumerated several specific concerns including, among others, whether any model could account for the geographic difficulties of deploying broadband in Alaska, how to define Tribal lands, the future of over-the-air broadcasters, and the balance of state and federal authority. Some spoke about the need to consider the unique status of Alaska Native Corporations when developing Commission policies with respect to Tribal lands.
Much of the roundtable conversation focused on universal service. Most seemed to agree with one participant who explained his view that, "the Universal Service concept doesn't need repair, but the delivery mechanisms can be improved." During the discussion we heard how all four USF programs work in tandem in Alaska, and they have worked very well, but there is still room for improvement and speakers raised specific concerns about the rural healthcare program and proposed changes to the high cost fund.
Day 2
My second day in Alaska started with a window seat on a scenic flight to Cordova. Throughout the morning, I listened to examples of Alaskans overcoming challenges to excel. I met with one company that shoots a GSM signal 60 miles offshore, thereby allowing a fisherman 47 miles at sea to receive a cell signal with 5 bars of service. The Cordova School District explained how they are doing whatever is necessary to provide students with Internet access to ensure that today's students are prepared with tomorrow's skills. Similarly, despite latency and dropped connections associated with a broadband connection dependent on satellite backhaul, the health providers with whom I spoke at Cordova Medical Center discussed how they used broadband to shift to electronic medical records. Likewise, the staff at the Prince William Sound Science Center explained how their cutting edge research, education and outreach activities require networks capable of transporting real-time data essential for models and storing data to make it easily accessible.
I spoke at the Cordova Chamber of Commerce and listened to community members' concerns about affordability, wireless roaming, and the loss of rural residents to more connected urban centers. Despite these concerns, the citizens of Cordova were also optimistic about the opportunities offered by better connectivity.
Upon returning to Anchorage, I toured Koahnic Broadcast Corporation, learned about its programming offerings, and discussed the unique status of Alaskan Native Corporations. Following a brief interview at Koahnic Broadcast Corporation, I visited the Alaska Native Tribal Health Consortium where I learned how telemedicine is saving money and improving patient outcomes across rural and remote Alaska.
Day 3
Upon arriving in Kotzebue on the third day of my visit, I met with employees and board members of the local telephone cooperative. Something the Central Office Technician said illustrated the way that telecommunications have become increasingly more important over the past several years. One man, who had worked at the company for 29 years, explained, "When I first started, people would wait one year for a phone and never complain, now they wait three days and never let you forget it." As our conversation continued, I heard how Kotzebue is behind in technology, and the citizens are tired of working so hard to play catch up. However, they maintain a can-do attitude that keeps them going and working.
I went to the local radio station, which as one of the only media outlets accessible in Kotzebue, plays a significant role in keeping people connected and informed. But sometimes, the radio is not enough. During my visit, I heard how a new, young teacher arrived in Kotzebue only to turn around and leave upon learning that the town lacked basic internet connectivity and other amenities. It appears that affordable broadband could help play an important role in Kotzebue attracting and keeping talent.
I finished my morning in Kotzebue with a tour of the Maniilaq Health Center and a meeting with members of the Northwest Arctic Borough School District (NWABSD). I learned how the health center is using broadband technology and telemedicine to improve care for remote Alaskans across Northwest Alaska and their unique approach to EHR. In other contexts EHR means Electronic Health Records, but in the Maniilaq Health Center it means Everyone's Help Required, which epitomizes the community approach to problems that I saw throughout my travel in Alaska.
The community approach was also evident during my conversation with the NWABSD. Some of the staff members with whom I spoke grew up in Kotzebue knowing that they did not have the same resources as people in the lower 48. Now, 50 years later, these staff members see a great equalizer. They are doing everything within their power to make sure that students in their community can take advantage of technology to receive an education that is as good as the educations offered in the lower 48.
Following our tour of the school in Kotzebue, we boarded a tiny plane to the village of Kiana. After landing on the dirt runway in Kiana we walked to the Maniilaq Village Clinic to see firsthand how Community Health Aides help assess patients and use the telemedicine cart to provide vital patient information to distant doctors.
Upon returning to Kotzebue for the evening, I had dinner with members of the Northwest Arctic Leadership Team. I opened the conversation and encouraged those around the table to share questions, concerns, hopes and criticisms. Though I have had similar conversations many times before, this one stands out. One of the younger guests explained how she was optimistic that broadband could help give hope to her generation and keep them within the community. She felt that many of that generation were adrift and searching for a sense of purpose. In recent years, alarming numbers of suicides plagued the area, and her hope was that broadband could bring economic opportunity to help this younger generation find itself and strengthen the community. I have heard many people speak about the promise of economic opportunity offered by broadband, but few have done so in such a poignant and touching way. It was a perfect way to conclude a day full of moments that remind me why our work at the FCC is so important.
Day 4
I spoke about regulatory policy and became an honorary Alaskan during breakfast with two members of the Alaska Regulatory Commission. I hope this doesn't mean that I'm expected back between the months of November and April! After wrapping up the policy discussion and intrastate travel, I embarked on one final Alaskan experience – a glacier cruise out of Whittier. The weather cooperated and my final day in Alaska was a beautiful, sunny day – perfect for seeing the glaciers, waterfalls and sea otters.