September 25, 2012 - 10:35 am
In today's connected world, it's surprising to learn that more than 60% of doctors use a fax machine as a predominant form of clinician communication and only 1 in 5 doctors use a smartphone as part of their work. While email and smartphone use alone could create greater efficiencies for doctors, the promise of mHealth goes far beyond this to encompass innovations such as remote patient monitors that automatically send diagnostic information – such as fetal heart rate, blood pressure, or glucose levels – back to doctors and databases.
These innovations not only have the potential to save money across the U.S. health care system, but they could fundamentally transform patient care and improve health care delivery.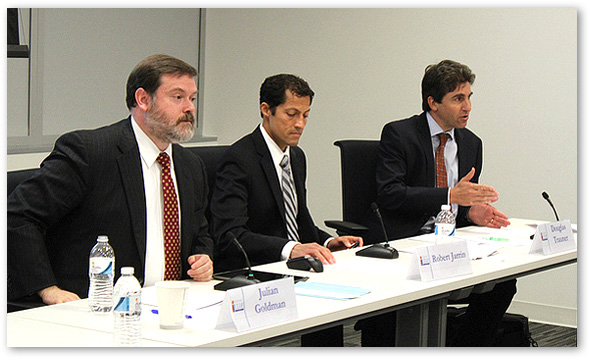 The co-chairs of the mHealth Task Force are Dr. Julian Goldman, Medical Director of Biomedical Engineering, Partners Healthcare System; Robert Jarrin, Senior Director of Government Affairs, Qualcomm; and Douglas Trauner, CEO, Health Analytic Services, Inc (TheCarrot.com). The event was moderated by Robert Atkinson, President, Information Technology and Innovation Foundation.
Yesterday, the mHealth Task Force released recommendations at an event hosted by the Information Technology and Innovation Foundation (ITIF) to industry and government, with the goal of making wireless technology a routine medical best practice by 2017. In remarks at this event, Chairman Genachowski committed the FCC to work with government and industry partners to achieve this goal, and announced that the FCC was taking immediate action on a number of the Task Force's recommendations.
The mHealth Task Force was created by the participants of the FCC's first mHealth Summit in June 2012, which gathered industry, academic, and government leaders in wireless health technology to discuss the barriers preventing greater adoption and use of these game-changing innovations.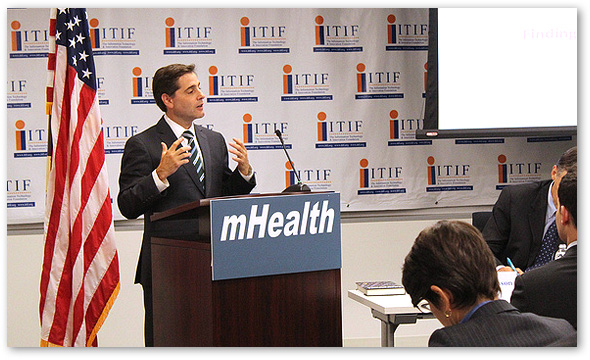 Chairman Genachowski committed to the goal of making mHealth a routine medical best practice by 2017.
Chairman Genachowski announced that the FCC will act on the following recommendations from the Task Force report:
Wireless health test beds: Propose an Order by the end of the year to streamline our experimental licensing rules to promote and encourage the creation of wireless health "test beds" to permit easier testing of mHealth technologies.
Health care broadband networks: Propose an Order by the end of the year to comprehensively reform and modernize the Rural Health Care Program, to allow networks of hospitals and health care facilities to jointly apply for program funds, to boost broadband capacity, enable electronic health records, and improve data collection.
International MBAN spectrum: The FCC's International Bureau will work with FCC counterparts in other countries to encourage them to make spectrum available for MBANs and to discuss possible spectrum harmonization efforts to allow for medically safe cross-border patient travel and better economies of scale for device makers.
Outreach plan: Develop and execute a health care stakeholder outreach plan to promote further collaboration between the FCC and the health care sector.
Health Care Director: Recruit a permanent FCC Health Care Director, a position that functions as the central point of contact to external groups on all health-related issues.
The FCC staff looks forward to working with our partners across the federal government and in industry to harness the potential of mHealth to ensure that the U.S. delivers the highest quality of patient care with greater efficiency and lower costs than ever before.