PUBLIC NOTICE
Federal Communications Commission
News Media Information 202 / 418-0500
Internet: https://www.fcc.gov [4]
TTY: 1-888-835-5322
445 12th St., S.W.
Washington, D.C. 20554
DA 14-836
June 19, 2014
WRC-15 ADVISORY COMMITTEE
MEETINGS OF THE INFORMAL WORKING GROUPS
IB Docket No. 04-286
The Informal Working Groups (IWGs) of the Advisory Committee for the 2015 World
Radiocommunication Conference (WRC-15) have scheduled meetings as set forth below. The
meetings are open to the public.
The Commission's WRC-15 website (https://www.fcc.gov/encyclopedia/world-radiocommunication [5]-
conference-wrc-15) contains the latest information on all scheduled meetings and WRC-15
Advisory Committee matters. Documents of the WRC-15 Advisory Committee and IWGs
generally are also available for public inspection and photocopying at the FCC's Reference
Information Center on the Court Yard Level (Room CY-A257), 445 12th Street, S.W.,
Washington, D.C. (telephone: 202-418-0270, TTY: 202-418-2555). In addition, copies of the
documents can be purchased through the FCC's duplication contractor, Best Copy and Printing,
Inc. (BCPI), Portals II, 445 12th Street, S.W., Room CY-B402, Washington, DC 20554;
telephone (202) 488-5300; Fax (202) 488-5563; TTY (202) 488-5562. Best Copy and Printing,
Inc. may be reached by e-mail at fcc@bcpiweb.com or via BCPI's website at
For further information on the attached meeting schedule, contact Donna Christianson of the
International Bureau (telephone: 202-418-7326). WRC-15 ADVISORY COMMITTEE
MEETINGS OF THE INFORMAL WORKING GROUPS
Informal Working Group 1: Maritime, Aeronautical and Radar Services
Contacts:
Chair – Audrey Allison, Audrey.Allison@Boeing.com, telephone: 703-465-3215
Vice-chair – Kris Hutchison, KEH@ASRI.AERO, telephone: 410-266-4386
FCC Representatives
Michael Mullinix, telephone: 202-418-0491
Allen Yang, telephone: 202-418-0738
Dante Ibarra, telephone: 202-418-0610
Carlos Flores, telephone: 202-418-2858
Date:
Wednesday, July 16, 2014
Time:
10 a.m. to 12:00 p.m. (EDT)
Teleconference Only: 888-858-2144 or 646-746-3008
Access Code: 1383844
Informal Working Group 2: Terrestrial Services
Contacts:
Chair – Charles Rush, crush@tmgtelecom.com, telephone: 703-224-1501
Vice-chair – Jayne Stancavage, jayne.stancavage@intel.com, telephone: 408-887-3186
FCC Representatives
Dante Ibarra, telephone: 202-418-0610
Michael Mullinix, telephone: 202-418-0491
Larry Olson, telephone: 202-418-2142
Date:
Tuesday, July 8, 2014
Time:
1:00 p.m. to 3:00 p.m. (EDT)
Teleconference Only: 888-858-2144 or 646-746-3008
Access Code: 8672480
2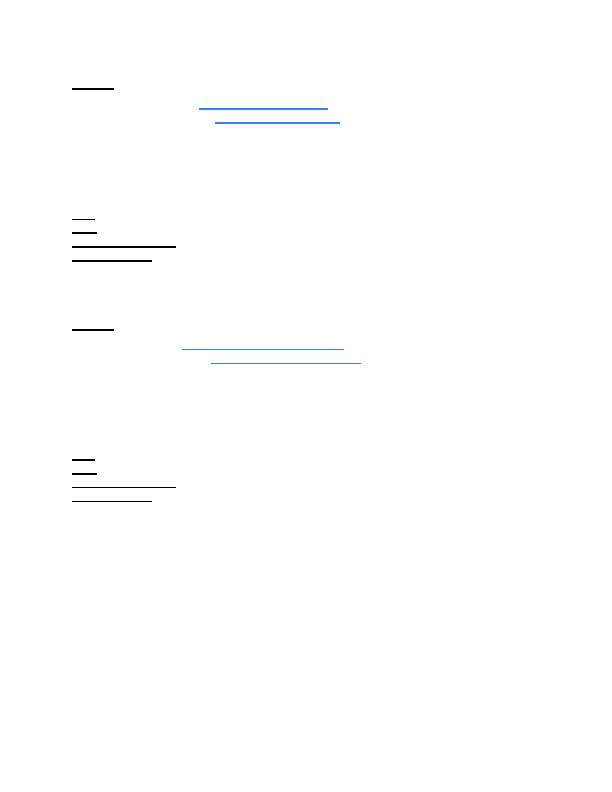 Informal Working Group 3: Space Services
Contacts:
Chair –Jack Wengryniuk, jwengryniuk@directv.com, telephone: 301-663-0053
Vice-chair –Kimberly Baum, Kimberly.baum@ses.com, telephone: 202-478-7120
FCC Representatives
Joseph Hill, telephone: 202-418-2215
Sankar Persaud, telephone: 202-418-2441
Michael Mullinix, telephone: 202-418-0491
Date:
Tuesday, August 5, 2014
Time:
10 a.m. to 12:00 p.m. (EDT)
Teleconference Only: 888-858-2144 or 646-746-3008
Participant Code: 1383844
Informal Working Group 4: Regulatory Issues
Contacts:
Chair – Steve Baruch, sbaruch@newwavespectrum.com, telephone: 240-476-2600
Vice-chair –Damon Ladson, dladson@wiltshiregrannis.com, telephone: 202- 730-1315
FCC Representatives
Joseph Hill, telephone: 202-418-2215
Sankar Persaud, telephone: 202-418-2441
Allen Yang, telephone: 202-418-0738
Date:
Tuesday, August 5, 2014
Time:
1:00 p.m. to 2:30 p.m. (EDT)
Teleconference Only: 888-858-2144 or 646-746-3008
Participant Code: 1383844
- FCC -
3