DOC-327469A8
Related Documents
Download Options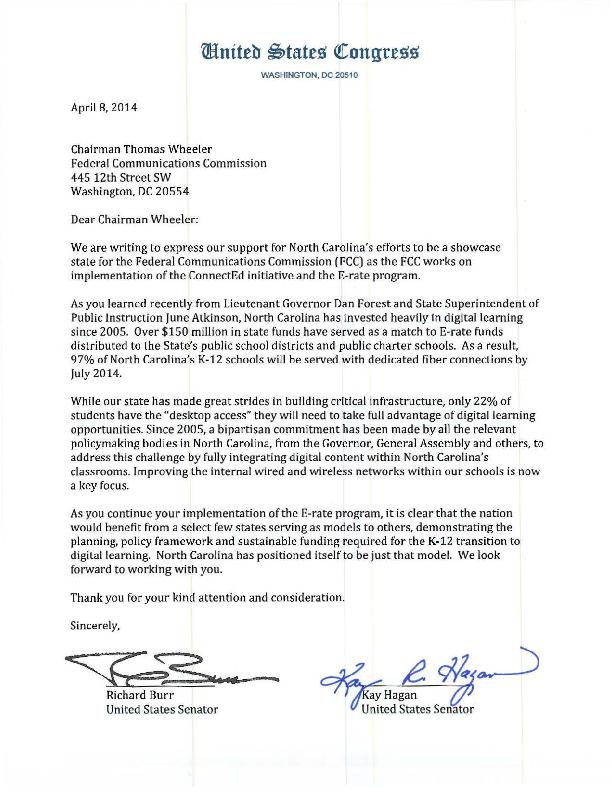 Wniteb ~tates (!Congress
WASHINGTON, DC 20510
AprilS, 2014
Chairman Thomas Wheeler
Federal Communications Commission
445 12th Street SW
Washington, DC 20554
Dear Chairman Wheeler:
We are writing to express our support for North Carolina's efforts to be a showcase
state for the Federal Communications Commission (FCC) as the FCC works on
implementation of the ConnectEd initiative and the E-rate program.
As you learned recently from Lieutenant Governor Dan Forest and State Superintendent of
Public Instruction June Atkinson, North Carolina has invested heavily in digital learning
since 2005. Over $150 million in state funds have served as a match to E-rate funds
distributed to the State's public school districts and public charter schools. As a result,
97% of North Carolina's K-12 schools will be served with dedicated fiber connections by
July 2014.
While our state has made great strides in building critical infrastructure, only 22% of
students have the "desktop access" they will need to take full advantage of digital learning
opportunities. Since 2005, a bipartisan commitment has been made by all the relevant
policymaking bodies in North Carolina, from the Governor, General Assembly and others, to
address this challenge by fully integrating digital content within North Carolina's
classrooms. Improving the internal wired and wireless networks within our schools is now
a key focus.
As you continue your implementation of the E-rate program, it is clear that the nation
would benefit from a select few states serving as models to others, demonstrating the
planning, policy framework and sustainable funding required for the K-12 transition to
digital learning. North Carolina has positioned itself to be just that model. We look
forward to working with you.
Thank you for your kind attention and consideration.
Sincerely,
~&--
·-
~Ha! j~
Richard Burr
United States Senator
Umted States Senator
David Price
Member of Congress
Member of Congress
ôn:~
~ hv:~
Mike Mcintyre
Member of Congress
Member of Congress
Patrick McHenry
Member of Congress
Renee Ellmers
Member of Congress
't¥JI}?.L ~
Richard Hudson
Mark Meadows
Member of Congress
Member of Congress
L ?_/,/.~~
Robert Pittenger
Member of Congress
Note: We are currently transitioning our documents into web compatible formats for easier reading. We have done our best to supply this content to you in a presentable form, but there may be some formatting issues while we improve the technology. The original version of the document is available as a PDF, , or as plain text.