FY 2022 Regulatory Fees
Due by 11:59 PM ET, September 30, 2022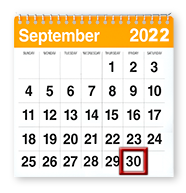 The FCC collects regulatory fees and processing fees. Congress authorizes our authority to impose and collect such fees. Application processing fees are deposited in the U.S. Treasury and are not available to the FCC.
Types of Fees FCC Collects
Payment Methods
Online - This is the easiest way to pay annual regulatory fees, outstanding bills from the FCC, or application fees for electronically filed applications. Pay by credit card or debit from a bank account.
FCC Form 159 - This form is used to accompany payments by check, as well as to effectuate wire transfer. Depending on the method of payment selected, a version of Form 159 may be provided to you with most information prefilled either as part of the payment process or to serve as a portion of the receipt.
Forfeiture Order - If you receive a forfeiture order, it will include instructions on how to send payment.
Updated Instructions for Paying Fees and Filing Petitions
To increase the agency's financial efficiency, the Commission has begun migrating toward using an all-electronic payment system for all application and regulatory fees, which is contained within the Commission's Registration System (CORES).
Before using CORES for the first time, you must obtain an FCC Username through the FCC User Registration System, and subsequently use it to access CORES and either register an FCC Registration Number (FRN) or associate an existing FRN to your password. If you are unable to register electronically, you may fax your application for a Registration Number (FCC Form 160) to the CORES Helpdesk at (202) 418-7869 for filing procedures.
To file petitions under CALEA Section 109(b) electronically, parties should utilize the Commission's ECFS filing system for non-docketed proceedings, through Inbox-1.41, "Miscellaneous." Petitions filed in hard copy format are to be submitted according to the procedures set forth on the web page of the FCC's Office of the Secretary. Payment for such petitions should be made through CORES as described above. All other payments and filings shall continue to be made in accordance with the Commission's published rules and each Bureau's fee filing guide listed on the FCC's Application Processing Fees webpage.
Do you have outstanding debt to the FCC?
This may be holding up action on your application, under the FCC's Red Light Rule. Check your status in the FRN Financial module contained in CORES, and read more about Debt Collection Improvement Act Implementation.
Problem with a payment you made or a debt you owe to the FCC?
Contact the FCC's Financial Operations Group Help Desk at ARINQUIRIES@FCC.gov or 1-877-480-3201 (option 6).