DOC-328319A2
Related Documents
Download Options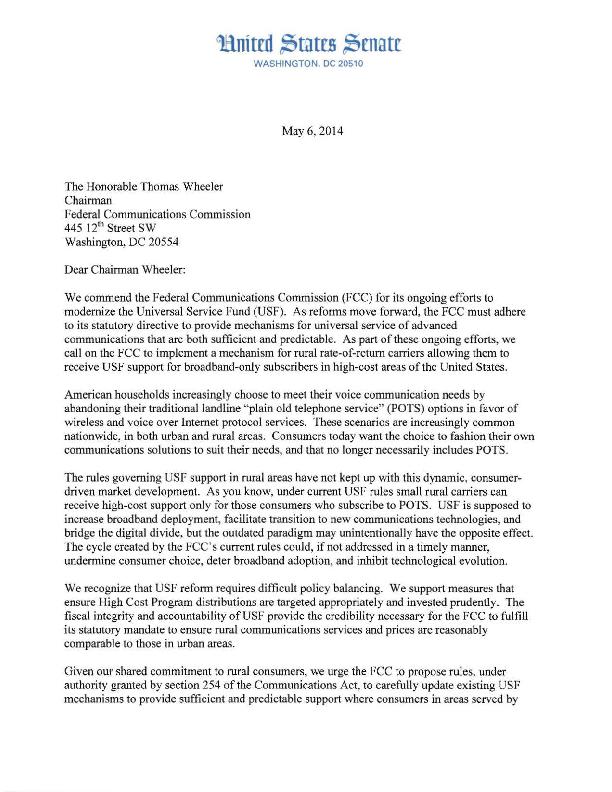 tinitrd ~tatrŝrnatr
WASHINGTON, DC 20510
May 6, 2014
461
The Honorable Thomas Wheeler
Chairman
Federal Communications Commission
445 12th Street SW
Washington, DC 20554
Dear Chairman Wheeler:
We commend the Federal Communications Commission (FCC) for its ongoing efforts to
modernize the Universal Service Fund (USF). As reforms move forward, the FCC must adhere
to its statutory directive to provide mechanisms for universal service of advanced
communications that are both sufficient and predictable. As part of these ongoing efforts, we
call on the FCC to implement a mechanism for rural rate-of-return carriers allowing them to
receive USF support for broadband-only subscribers in high-cost areas ofthe United States.
American households increasingly choose to meet their voice communication needs by
abandoning their traditional landline "plain old telephone service" (POTS) options in favor of
wireless and voice over Internet protocol services. These scenarios are increasingly common
nationwide, in both urban and rural areas. Consumers today want the choice to fashion their own
communications solutions to suit their needs, and that no longer necessarily includes POTS.
The rules governing USF support in rural areas have not kept up with this dynamic, consumer-
driven market development. As you know, under current USF rules small rural carriers can
receive high-cost support only for those consumers who subscribe to POTS. USF is supposed to
increase broadband deployment, facilitate transition to new communications technologies, and
bridge the digital divide, but the outdated paradigm may unintentionally have the opposite effect.
The cycle created by the FCC' s current rules could, if not addressed in a timely manner,
undermine consumer choice, deter broadband adoption, and inhibit technological evolution.
We recognize that USF reform requires difficult policy balancing. We support measures that
ensure High Cost Program distributions are targeted appropriately and invested prudently. The
fiscal integrity and accountability ofUSF provide the credibility necessary for the FCC to fulfill
its statutory mandate to ensure rural communications services and prices are reasonably
comparable to those in urban areas.
Given our shared commitment to rural consumers, we urge the FCC to propose rules, under
authority granted by section 254 of the Communications Act, to carefully update existing USF
mechanisms to provide sufficient and predictable support where consumers in areas served by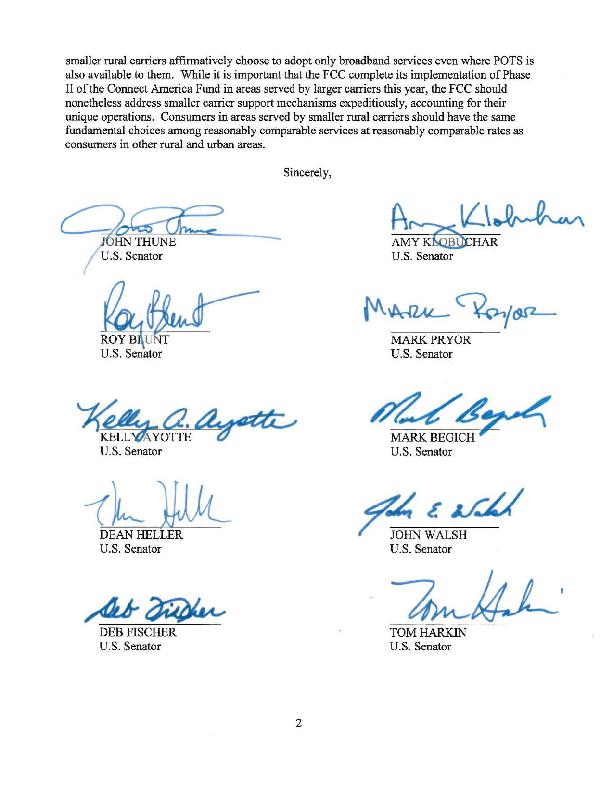 smaller rural carriers affirmatively choose to adopt only broadband services even where POTS is
also available to them. While it is important that the FCC complete its implementation of Phase
II of the Connect America Fund in areas served by larger carriers this year, the FCC should
nonetheless address smaller carrier support mechanisms expeditiously, accounting for their
unique operations. Consumers in areas served by smaller rural carriers should have the same
fundamental choices among reasonably comparable services at reasonably comparable rates as
consumers in other rural and urban areas.
Sincerely,
~~l~
U.S. Senator
U.S. Senator
I
f'J\>MZAL- ~~~
MARK PRYOR
U.S. Senator
~~a~~
~1~
KELL
~
YOTTE
7f -
-
-
U.S. Senator
U.S. Senator
~l)WL
~!L~~
DEAN HELLER
U.S. Senator
U.S. Senator
~~
DEB FISCHER
TOM HARKIN
U.S. Senator
U.S. Senator
2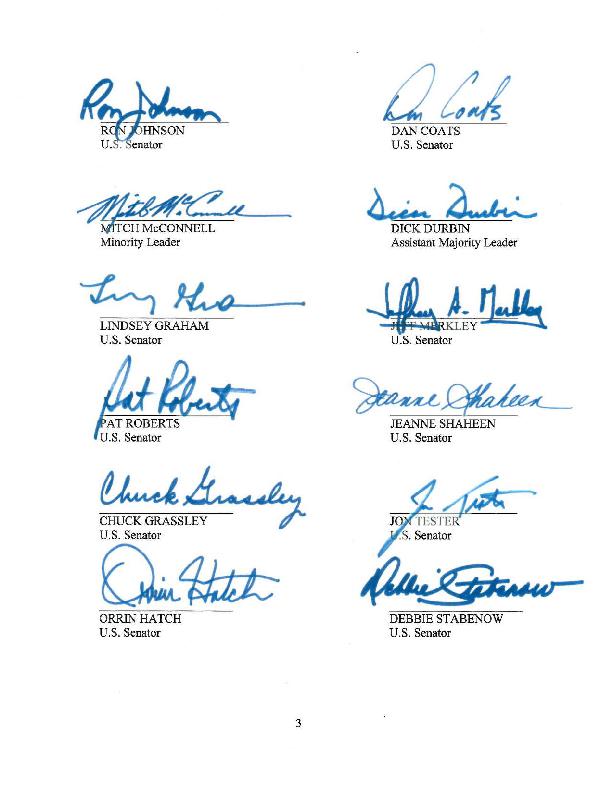 DAN COATS
U.S. Senator
~~~
~
.....
~-
DICKDURBIN
Minority Leader
Assistant Majority Leader
LINDSEY GRAHAM
U.S. Senator
JEANNE SHAHEEN
U.S. Senator
U.S. Senator
ORRIN HATCH
DEBBIE STABENOW
U.S. Senator
U.S. Senator
3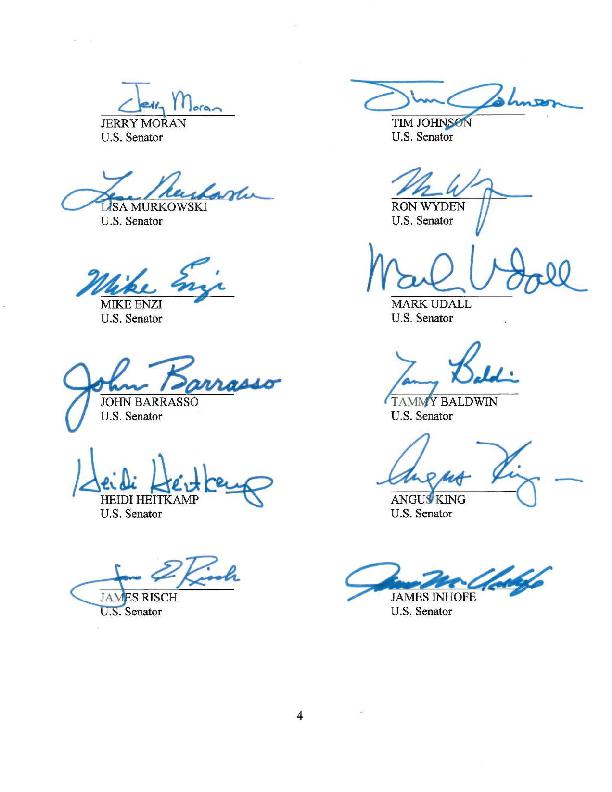 ~'1 Yl'J .. r .. ...,
2)~L.s-_
JERRY MORAN
TIMJO
.
U.S. Senator
U.S. Senator
RONWYDEN
U.S. Senator
U.S. Senator
~~
MIKEENZI
MARK UDALL
U.S. Senator
U.S. Senator
~WI"""I?~M#"
JOHN BARRASSO
BALDWIN
U.S. Senator
U.S. Senator
---
U.S. Senator
U.S. Senator
SRISCH
U.S. Senator
4
ALFRANKEN
U.S. Senator
U.S. Senator
~-
U.S. Senator
U.S. Senator
~·--"'
~"'-
J
HOE
N
ROBPORTMAN
U.S. Senator
U.S. Senator
5
Note: We are currently transitioning our documents into web compatible formats for easier reading. We have done our best to supply this content to you in a presentable form, but there may be some formatting issues while we improve the technology. The original version of the document is available as a PDF, , or as plain text.