By Louis Sigalos, Robert Kenny, Todd Mitchell, Paul Coburn, and Doug Miller, Public Safety Outreach Team.

With an outreach and education mission, traveling via the long lonesome highway, covering two states in three days, five intrepid travelers set forth from the comfort of their offices on May 11, 2010.  And now members of the Public Safety and Homeland Security Bureau (PSHSB) and the Enforcement Bureau have met with public safety officials in two more states that could be vulnerable during the upcoming hurricane season. We were also joined by a National Communications System (NCS) staff member.  A similar outreach tour with our federal partners of the Gulf States in 2009 included stops in Texas, Louisiana, Mississippi, Alabama, and Florida and meetings with more than 350 public safety officials to hear their stories.  Now, we have added the Atlantic Coast States of South Carolina and North Carolina.
In South Carolina, we learned that the biggest concerns are hurricanes, nuclear plant disasters, hazmat spills, AND earthquakes. In fact, that morning of May 12, residents in Charleston, SC experienced an earthquake that registered 2.8 on the Richter scale.  The state sits on a fault line, and unfortunately projections do call for a much larger earthquake to occur in that region at some point according to scientists.  We were also invited by South Carolina officials to participate in a major planning exercise being conducted in June and we learned that South Carolina has implemented a program called SC HEART that enlists hospital workers/HAM operators to provide back-up communications during emergencies.
In addition, we toured the Columbia emergency operations center and became familiar with its capabilities; we visited a PSAP or 9-1-1 Call Center that works with an impressive software platform to track 9-1-1 calls and ambulances; we took a tour of their mobile communications infrastructure; and we met their dedicated staff.  Brian Hood, the EMS Coordinator for the County of Lexington, was extremely engaged during our visit.  Mr. Hood's leadership, dedication and persistence in pushing innovation in the 9-1-1 call center and integration with the area hospitals was truly noteworthy.  Also, the working relationship we formed with Brian and other staff will enhance our ability to assist South Carolina's preparedness efforts and our goal to provide effective response during a disaster.  Our last stop of the day was at the Lexington Medical Center where we met with hospital officials to discuss their communications and tour their emergency department.  We were impressed with their emergency response capabilities and backup mobile communications in response to a disaster or a public health incident.
In North Carolina, on May 13, we learned about VIPER, a statewide 800 MHz, trunked radio system that currently has about 45,000 users and is in the process of adding capacity with the goal of full coverage statewide.  First Sergeant C.S. Taylor, North Carolina Highway Patrol, told us about the effectiveness of this system and how it assists officers in doing their work safely and efficiently.
We also learned that North Carolina plans to educate its county officials concerning the benefits of participating in the federal communication priority service programs.  We were provided an update about a new state of the art emergency operations center facility that should be ready for occupancy within the year. In addition, we learned that both North Carolina and South Carolina don't utilize wireless priority services (WPS) extensively due to monthly subscription costs.  Again, we formed the relationships that help to ensure that an e-mail from the FCC gets read, that a request is acted upon, that a follow-up phone call can start with "how are you doing?" And, most importantly, they know that if they reach out to us, we will respond in a timely and efficient manner.
Finally, we let all the folks know about ongoing activities at the Commission and what we can do to assist them.  We covered a whole host of subjects including first responders, health care, 9-1-1 Call Centers, and persons with disabilities.  We also described the FCC's 24/7 Operations Center, Project Roll Call, the National Broadband Plan, EAS, Next Generation 9-1-1, and the Commercial Mobile Alert System.  We discussed the PSHSB website and clearinghouse with lessons learned, communications plans, grant information, as well as our public safety photo contest.  We let them know that Paul Coburn of PSHSB will represent FEMA Region IV for the FCC and the Carolinas.
We learned many things on this outreach trip, the most important of which was said by Mother Teresa, "Do not wait for leaders; do it alone, person to person."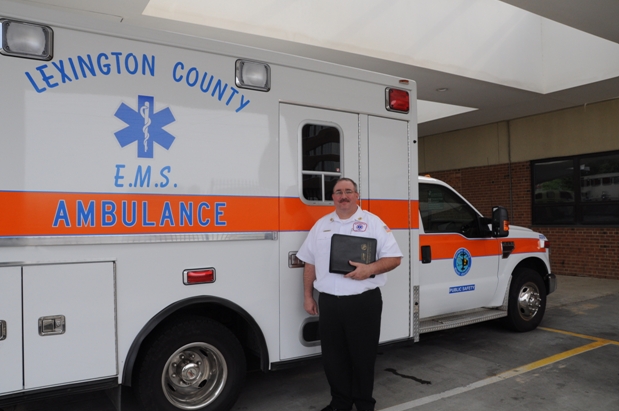 T. Brian Hood, Lexington County, South Carolina EMS Coordinator visits Lexington Medical Center on May 12, 2010 with FCC Outreach Team.