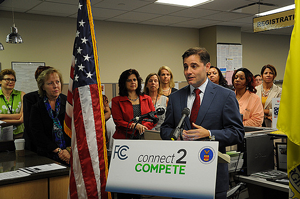 We know today's job market is more competitive than ever, but trying to find a job without knowing how to use the Internet is becoming nearly impossible.  Over 80% of Fortune 500 companies, from Target to Wal-Mart, require online job applications.  In the next decade, it is estimated that nearly 80% of jobs will require digital skills. From call center workers, to retail employees, to receptionists, to even manufacturers and construction workers, the jobs of today and tomorrow require digital skills. 
The fact that 66 million Americans are without basic digital literacy skills, the skillset needed to use a computer and the Internet, is troubling both for job seekers and employers alike. In fact, 52% of American employers are experiencing difficulty filling mission-critical positions, up from 14% in 2010, due to the nationwide skills gap.
As the costs of digital exclusion rises, what's at stake is not only the competitiveness of the American workforce, but also the vitality of our country in the 21st century.  The good news is the private sector, government, and philanthropy are working together, through the Connect2Compete (C2C) coalition, to help close the digital divide and the skills gap.
Last week, Chairman Genachowski and Secretary of Labor Solis announced a nationwide digital literacy partnership between the 2,800 American Job Centers and C2C, extending the digital literacy training coalition to thousands of communities across the country.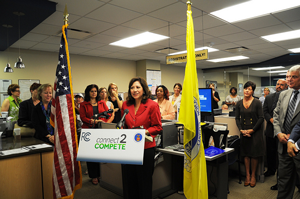 The announcement is part of C2C's effort to help narrow the digital divide by making high-speed Internet access, computers, educational and jobs content, and digital literacy training more accessible for millions of Americans without home connectivity. C2C, a public-private partnership, is comprised of more than 40 non-profit and private sector partners, such as Best Buy, Discovery, LULAC, the National Urban League, and the Boys & Girls Clubs of America.
The Job Centers will join C2C's existing digital literacy coalition of libraries, non-profits, and community centers as a computing and digital literacy provider. In addition, all participating American Job Centers will promote C2C's broadband adoption offerings, which include discounted Internet service and refurbished laptop computers. 
C2C also announced that it will launch a database to help Americans find their nearest digital literacy training center, including American Job Centers, non-profit providers, and public libraries. A website and toll-free number will direct users to thousands of free training providers. The initiative will be promoted by a nationwide Ad Council campaign on digital literacy, beginning in early 2013.