August 21, 2012 - 2:56 pm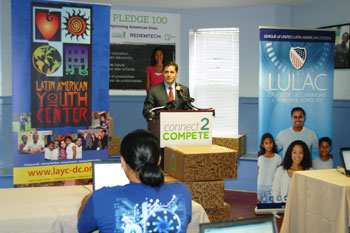 Owning a computer and gaining access to the Internet is not a luxury, but a necessity in today's world. The digital divide is growing as Americans who are "offline" cannot fully participate in the digital economy and are left behind in important areas such as education and health care. Yet, nearly 60% of low-income households do not have a desktop or laptop computer at home and 100 million Americans have not adopted broadband at home.
Americans without a computer or broadband at home often cite the cost of a PC (10%) and/or broadband service (15%) as major barriers to adoption. However, there is an untapped resource of discounted high quality computers that could curb these figures: the millions of corporate PCs that are prematurely retired every year.
Businesses in the United States annually donate about 3% of the 40 million PCs replaced each year. Of these 40 million PC's, over 12 million are less than a few years old and remain used-but-useful. These PC's, once refurbished and installed with the latest software, can connect low-income families, schools, and public computing center users to the digital world.
On August 7, Chairman Genachowski and executives from Connect2Compete, Redemtech, and representatives from LULAC announced a nationwide computer donation and recycling call-to-action, called "PC Pledge 100," to help narrow the digital divide for low-income families across the country.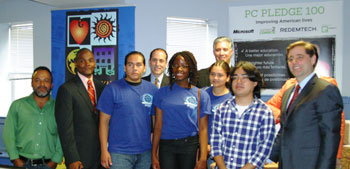 The campaign urges corporations that can donate at least 100 computers to divert surplus PCs from premature retirement so they can be refurbished, installed with Microsoft software, and provided to needy families. By meeting the challenge, corporations that donate 100 computes will save enough electricity to power 68 households for an entire year. Companies interested in participating can go to www.redemtech.com/PCPledge.
Last year Chairman Genachowski helped launch Connect2Compete, a public-private initiative to help narrow the digital divide by making high-speed Internet access, computers, education and jobs content, and digital literacy training more accessible for millions of Americans without home connectivity. C2C includes more than 40 non-profit and other private sector partners, such as Best Buy, Microsoft, LULAC, the National Urban League, and the Boys & Girls Clubs of America. The C2C program includes a nationwide digital literacy effort and $9.95 broadband and $150 computers for eligible free school lunch families. For more information, go to www.connect2compete.org.