September 4, 2014 - 1:43 pm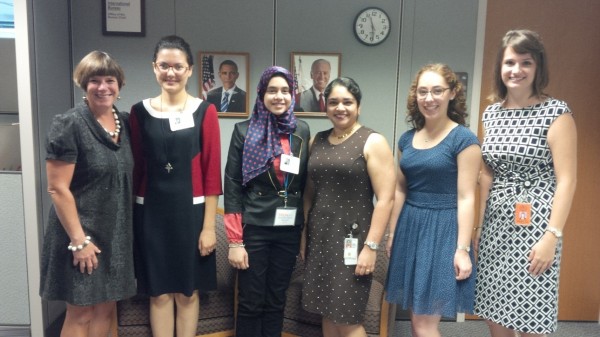 Left to right: Mindel De La Torre (Chief, International Bureau), Imene Benzenache (TechGirl), Shahdan Abd El Kareem (TechGirl), Anita Dey, Isabelle Styslinger (IB/SAND Intern), Ena Dekanic (IB/SAND Legal Fellow).
Recently, the International Bureau hosted two remarkable "TechGirls," 15-year-old Shahdan Abd El Kareem from Egypt and 17-year-old Imene Benzenache from Algeria, for a day of discussions and meetings with senior FCC leaders.  TechGirls is an international exchange program organized by the State Department that brings young women from the Middle East and North Africa on a three-week trip to the United States to explore career opportunities in STEM (science, technology, engineering, and math).  The FCC's International Bureau has hosted girls frrm this program since the program began three years ago.  
Throughout the day, the TechGirls met with senior FCC leaders who shared their experiences as women professionals in the communications sector, offering advice on how they can achieve their goals and overcome societal and cultural expectations.   
Commissioner Mignon Clyburn expressed her belief that challenges only make us stronger, leading to personal growth and making us better leaders and better women. She also emphasized the importance of building strong support networks.  The Chairman's Chief of Staff, Ruth Milkman, and Special Counsel Diane Cornell, celebrated the progress women have made in traditionally male-dominated fields and encouraged the young ladies  to continue breaking barriers. They gave the girls a small memento with the motto: "Well-behaved women rarely make history."  Valery Galasso, Special Advisor to Commissioner Jessica Rosenworcel, encouraged them  to pursue their passions and welcome new opportunities.  And, International Bureau Chief Mindel De La Torre advised them to constantly take on new challenges.  They also toured the FCC Technology Experience Center, where they saw the latest technologies, such as 3D television.
The TechGirls concluded their visit by talking with a panel of senior FCC officials, who offered their views on a variety of issues, including striving for work-life balance and overcoming the confidence gap.  The panelists commended the girls on their impressive accomplishments and urged them to continue challenging assumptions and working hard.  
The TechGirls left the FCC emboldened by a renewed sense of confidence. Commenting on their experience in general, Imene exclaimed, "We are surprised at how many people believe in us!" As they return home to pursue their dreams, we hope that their short stay at the FCC will continue to inspire them to achieve their goals.