January 13, 2015 - 10:47 am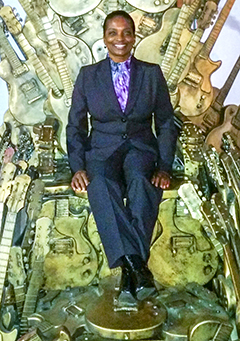 Tuning in at CES. Here I am outside the Gibson Guitar Tent. #CES2015.
Once again, I made my gadget obsessed friends green with envy by attending the International Consumer Electronics Show -- sacred ground for all who thrive on the business of consumer technologies. By the end of CES, tech journalists and casual guests have identified their favorite gadgets that were created by some of the most hyper-enthusiastic entrepreneurs you will ever meet. To be sure, that 3-D printer capable of producing a dress perfectly tailored for Mignon made the cut, but the main import of this year's show, were the powerful messages that 3,600 exhibitors are sending about the impact of technology in our lives. Below are my top three takeaways.
First, innovation in wireless communications is obliterating our expectations of what a physical object can do for us. Watches and other wearables will not only allow a diabetic to monitor her glucose levels without a pin prick, they also sense when she wakes up and will have her favorite "Cup of Joe" ready before she has even gotten out of bed. Cross industry collaboration is also enabling that same watch to start a car remotely and have it drive and meet you at your doorstep. News flash: The technology to enable the "Internet of Everything" is not two or three years away. It is here today, but as regulators, we must never forget that all consumers must have access to broadband in order for that virtuous reality exists when everyone benefits.
The FCC must do its part and it can start by reforming its voice-only Lifeline adoption program to support broadband. In November, I outlined five principlesto guide such reform, because it is increasingly clear that the divide grows deeper each day we delay. Focusing on wireless, the FCC has been promoting interoperability and designing auctions that encourage small and large wireless providers to participate. More competition should promote more affordable services.
Second, I saw a little more diversity at CES this year. As I tried to cover the more than 2.2 million net square feet of exhibit space, I could not help but notice that there seemed to be more people of color on the floor and presenting at the exhibits than in prior years. While notable, there is clearly more that can and should be done. According to published reports, African American women in the tech industry receive less than one percent of the financing venture capital funds provide each year, which is why, last September, I visited FOCUS100, an event sponsored by Kathryn Finney. Her company, digitalundivided.com, seeks to arm diverse female tech innovators from all over the world with the training, mentorship and exposure needed to participate successfully in the male dominated industry. And on January 27, the FCC's Office of Communications Business Opportunities will host a Small Business & Emerging Technologies Conference and Tech Fair which will focus on innovation by fledgling entrepreneurs in information technology and telecom. We will be highlighting small businesses and address the barriers facing minority and women-owned tech start-ups. For more information, contact OCBO at (202) 418-0990 or TechFair@fcc.gov. But what I am thrilled to note-, is that during his keynote address at CES 2015, Intel CEO Brian Krzanich pledged $300 million to increase the company's workforce diversity. I am hopeful that other companies will accept his challenge and step up their individual efforts as well.
Third, openness is a critical element to promoting wireless innovation as well as greater diversity. Another exhibitor highlighted its collaboration with SmartThings, -- a company that develops software and monitors to connect appliances in your home. Three years ago, this company did not even exist. Its spark came from an incident at the CEO's family vacation home in Colorado that resulted in $70,000 worth of damage caused by a home ventilation system. This could have been prevented, he concluded, if he had been able to control and monitor that system remotely. He was so surprised that he could not find such a solution already on the market that he decided to create one himself. By developing software for these solutions, he learned there were more than 7,000 gadgets being created to connect to the Internet and that the key to developing these solutions is openness. This means open source software and open technical standards. Samsung vowed that all of its future products would be built on platforms that are open and compatible with other products. To make that clear, it acquired SmartThings which is a reminder that great innovation is boundless when companies make openness a key aspect of their strategies.
In sum, it is an exciting time with thousands of new innovations here today and on the horizon. But what I hope to also report, going forward, is the continued progress we are making in closing the connectivity and technology divides that still exists, so that more American consumers are able to access more and more of these life-altering technologies.