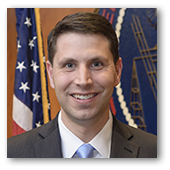 Travis Litman | Legal Advisor
Travis Litman serves as Legal Advisor with responsibility for wireline and consumer issues. Previously, Mr. Litman served on detail as Counsel to the Senate Committee on Commerce, Science, and Transportation, where he provided assistance to the Subcommittee on Communications, Technology and the Internet. Prior to serving on Capitol Hill, Mr. Litman held a variety of roles in the FCC's Wireline Competition Bureau, including Assistant Chief of the Telecommunications Access Policy Division, Legal Advisor to the Office of the Bureau Chief, and Attorney Advisor in the Pricing Policy Division. Before joining the FCC, Mr. Litman practiced communications law at Wilkinson Barker Knauer, LLP and Davis Wright Tremaine, LLP. He is a graduate of Lewis & Clark College and the University of Colorado School of Law.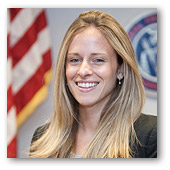 Valery Galasso | Policy Advisor
Valery Galasso serves as Policy Advisor for media issues. Ms. Galasso previously served as Special Advisor to Commissioner Rosenworcel with primary responsibility for consumer and intergovernmental affairs issues as well as advocacy issues surrounding STEM (science, technology, math, and engineering) education. She joined Commissioner Rosenworcel's office from the Office of the Vice President, Joseph R. Biden, Jr., where she served as Special Assistant for Legislative Affairs. As Special Assistant, she served as the liaison between the Vice President's Office and the United States Congress. Prior to serving in the Obama Administration, Ms. Galasso was a Graduate Fellow at the Department of Commerce's National Telecommunications and Information Administration (NTIA). While there, she was a liaison to congressional offices on matters related to the Broadband Technology Opportunities Program (BTOP). She is a graduate of the University of Connecticut and received a Master of Arts in Public Policy from the Johns Hopkins University.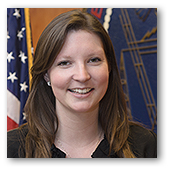 Jennifer Thompson | Special Advisor & Confidential Assistant
Jennifer Thompson serves as Special Advisor and Confidential Assistant to Commissioner Jessica Rosenworcel. She will also assist with consumer and intergovernmental affairs matters. She joins Commissioner Rosenworcel's office from the United States Senate, where she served as Press Assistant for Senator Mark Pryor of Arkansas. In this role, she was responsible for crafting press releases, creating social media content, and overseeing media events for the office, including the Senator's work on the Committee on Commerce, Science, and Transportation and his chairmanship of the Subcommittee on Communications, Technology, and the Internet. Originally from Little Rock, Arkansas, Ms. Thompson received her Bachelor's Degree in Social Studies from Harvard University.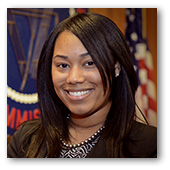 Marquita Boozer | Staff Assistant
Marquita Boozer is the Staff Assistant for Commissioner Rosenworce''s office. Along with other duties, Marquita handles meeting requests and travel arrangements for the legal advisors, and greets visitors to the office. Marquita started her career at the Commission in the Office of Media Relations in 2001. Before joining Commissioner Rosenworcel's staff, she worked in the Consumer and Governmental Affairs Bureau.