The FCC is working to, as Chairman Pai says, "stop the scourge of illegal robocalls." He has made combatting unlawful robocalls and malicious caller ID spoofing his top consumer protection priority. By proposing and implementing effective policy initiatives and pursuing targeted enforcement actions, the FCC has been taking a bold stand to protect and empower consumers.
A Top Priority
Unwanted calls are far and away the biggest consumer complaint to the FCC with over 200,000 complaints each year—around 60 percent of all the complaints we receive. Some private analyses estimate that U.S. consumers received approximately 2.4 billion robocalls per month in 2016. Unfortunately, advancements in technology make it cheap and easy to make robocalls and to "spoof" caller ID information to hide a caller's true identity.
Chairman Pai and other FCC staff get these calls too. He told NPR's Planet Money recently: "So every now and then, even on my work Blackberry, I'll see a call that seems to be coming . . . from the 202 area code, which is here in Washington—and then our prefix for these Blackberries. And I know for a fact that, you know, it's probably not someone calling from the office. Sometimes, I answer just for the heck of it. And it's—lo and behold, I've won a vacation… ."
We know that these calls are a major concern of millions of Americans, and scam calls in particular can result in very real financial losses and serious consumer frustration. We are therefore committed to using every resource in our tool box and working closely with private, public, and international partners to combat unlawful robocalls and spoofing.
FCC Action
Chairman Pai has launched several important public policy initiatives to help combat unlawful robocalls and malicious caller ID spoofing. The Commission under his leadership has also taken unprecedented enforcement actions to punish those who flout consumer protection laws.
Call-Blocking Rules
In November 2017, the FCC adopted new rules allowing phone companies to proactively block calls that appear to be from telephone numbers that do not or cannot make outgoing calls, without running afoul of the FCC's call completion policies. For example, the new rules allow phone companies to block calls purporting to be from numbers of trusted entities that do not actually make calls from those numbers (e.g., the IRS call scam), from invalid numbers (like those with area codes that don't exist), from numbers that have not been assigned to a provider, and from numbers allocated to a provider but not currently in use.
Reliable Call Authentication
In July 2017, the FCC began exploring ways to establish a reliable system to verify that a phone call is really coming from the phone number that it claims to be coming from. The agency began seeking public comment on standards to help differentiate legitimate phone calls from those that attempt to trick consumers through caller ID spoofing. Many malicious robocallers hide their true phone number to evade call-blocking or filtering tools and trick consumers about a call's true source. A reliable authentication system would help confront this behavior and strengthen call-blocking.
Reducing Unwanted Calls to Reassigned Numbers
The FCC wants to reduce unwanted calls to reassigned numbers. When a consumer gets a new phone number, he or she may receive unwanted calls intended for the consumer that previously held that number. Today, legitimate callers, such as businesses, often lack the information they need to learn about phone number reassignments and avoid calling reassigned numbers. In July 2017 and further in March 2018, the FCC sought public input on ways to address this problem, with the aim of reducing the volume of such calls to consumers.
Major Fines Against Spoofers
In Chairman Pai's first year leading the FCC, the agency proposed over $200 million in fines against two telemarketers for apparent illegal caller ID spoofing—including so-called neighbor spoofing, where calls appear to be local. These first-of-their-kind actions go after a Florida-based time-share marketing operation and a North Carolina-based health insurance telemarketer for apparent violations of the Truth in Caller ID Act. That law prohibits callers from deliberately falsifying caller ID info to disguise their identity with the intent to cause harm, defraud consumers, or wrongfully obtain anything of value.
Other Tools
The FCC continues to support efforts by phone companies and third-party providers to empower consumers with effective robocall blocking tools. The agency has also worked with its international counterparts to find ways to combat scam calls originating from overseas. And the Commission continues to issue consumer alerts and use social media to raise consumer awareness of best practices to protect themselves (see consumer tips below).
Consumer Tips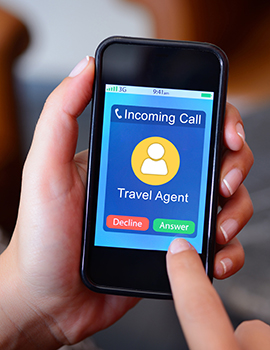 Don't answer calls from unknown numbers. Let them go to voicemail.
If the caller claims to be from a legitimate company or organization, hang up and call them back using a valid number found on their website or on your latest bill if you do business with them.
If you answer and the caller (often a recording) asks you to press a button to stop receiving calls, or asks you to say "yes" in response to a question, just hang up. Scammers often use these tricks to identify, and then target, live respondents, or to use your "yes" to apply unauthorized charges on your bill.
Be Aware: Caller ID showing a "local" number no longer means it is necessarily a local caller.
If you answer and the caller asks for payment using a gift card, it's likely a scam. Legitimate organizations like law enforcement will not ask for payment with a gift card.
If you receive a scam call, file a complaint with the FCC Consumer Complaint Center by selecting the "phone" option and selecting "unwanted calls." The data we collect helps us track trends and supports our enforcement investigations.
If you have lost money because of a scam call, contact your local law enforcement agency for assistance.
Ask your phone company if it offers a robocall blocking service. If not, encourage them to offer one. You can also visit the FCC's website for more information about illegal robocalls and resources on available robocall blocking tools to help reduce unwanted calls.
Consider registering your telephone numbers in the National Do Not Call Registry. Lawful telemarketers use this list to avoid calling consumers on the list.