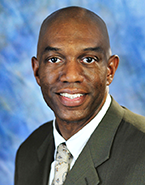 The Office of Communications Business Opportunities promotes competition and innovation in telecommunications ownership and information services. The office also supports opportunities for small, women-owned, and minority-owned communications businesses.
Sanford S. Williams, Director
Communications Business Opportunities Headlines
February 15, 2019 - Public Notice
December 17, 2018 - Public Notice
May 8, 2018 - Compliance Guide
May 3, 2018 - Compliance Guide
May 1, 2018 - Compliance Guide
OCBO NOTICES
Connect America Fund Phase II Auction (Auction 903)

The Connect America Fund (CAF) is the FCC's program to expand access to voice and broadband services for areas where they are unavailable. Through CAF Phase II, the FCC provides funding to local telephone companies to subsidize the cost of building new network infrastructure or performing network upgrades to provide voice and broadband service in areas where it is lacking. Moving forward, CAF-II will use competitive bidding to efficiently support the deployment of networks providing both voice and broadband service, thereby expanding broadband availability to millions more unserved Americans.

Contact:

Kirk Burgee, Deputy Director: 

Kirk.Burgee@fcc.gov

Nathan Eagan, Chief of Staff: 

Nathan.Eagan@fcc.gov
Guides
SBA Size Standards For FCC purposes, the following are the nine primary telecommunications small business size standards. The U.S. Small Business...