Affordable Connectivity Program
The Affordable Connectivity Program is an FCC benefit program that helps ensure that households can afford the broadband they need for work, school, healthcare and more. Learn more about program eligibility and how to apply: ACP Consumer FAQ
To enroll in the program visit AffordableConnectivity.gov.
Participating Internet Providers
Video
988 Suicide and Crisis Lifeline
"988" is the new three-digit, nationwide phone number you can call or text to connect directly with mental health professionals at a national network of crisis centers. Click to learn more
'Grandparent' Scams Get More Sophisticated
Bad actors are taking advantage of AI technology to mimic the voices of loved ones on scam calls. Imposters use the tactic when they target older Americans in a "grandparent scam," calling with a faked urgent request for financial assistance to help a grandchild or relative in a crisis situation. Click to learn more.
File a Complaint
When you get an unwanted call or text, please file an informal complaint with the FCC. Doing so helps inform our policy decisions as well as our investigations.
Consumer Guides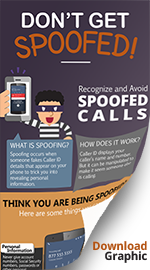 What is caller ID spoofing and how does it work? Get helpful tips about what you can do if you think you're being spoofed.
Consumer and Governmental Affairs Bureau
The Consumer and Governmental Affairs Bureau develops and implements the FCC's consumer policies and serves as the agency's connection to the American consumer.