CARS Applications Accepted for Filing
Download Options
Released: August 27, 2014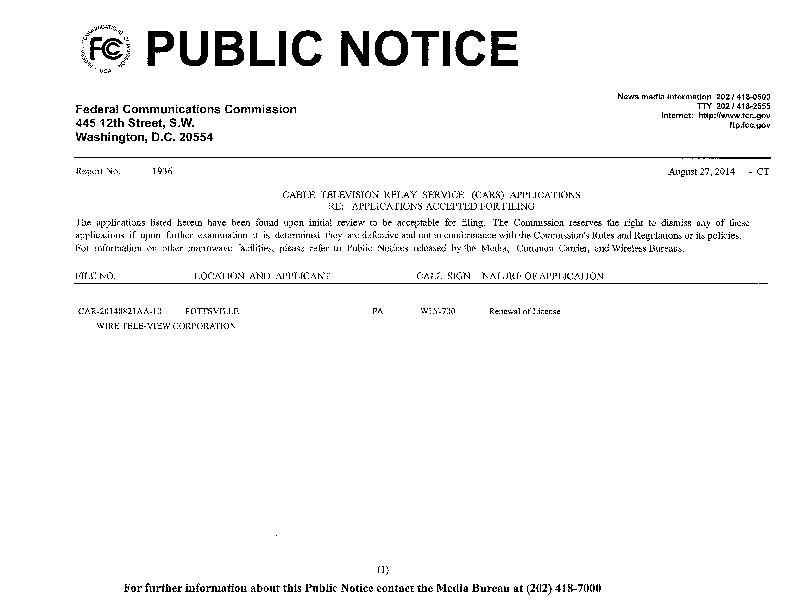 FC' PUBLIC NOTICE
CAT/0,,
usp
News media information 202/418-0500
Federal Communications Commission
-
-
-
-
TTY 202/418-2555
internet: http:/Iwww.fcc.gov
445 12th Street, SW.
ftp.fcc.gov
Washington, D.C. 20554
ReportNo.
1936
August27,2014
-
CT
CABLE TELEVISION RELAY SERVICE (CARS) APPLICATIONS
RE:
APPLICATIONS ACCEPTED FOR FILING
The applications listed herein have been found upon initial review to be acceptable for filing. The Commission reserves the right to dismiss any of these
applications if upon further examination it is determined they are defective and not in conformance with the Commission's Rules and Regulations or its policies.
For information on other microwave facilities, please refer to Public Notices released by the Media, Common Carrier, and Wireless Bureaus.
FILE NO.
LOCATION AND APPLICANT
CALL SIGN NATURE OF APPLICATION
CAR-20140821AA-lO
PO1TSVILLE
PA
WLY-700
Renewal of License
WIRE TELE-VIEW CORPORATION
(1)
For further information about this Public Notice contact the Media Bureau at (202) 418-7000
Note: We are currently transitioning our documents into web compatible formats for easier reading. We have done our best to supply this content to you in a presentable form, but there may be some formatting issues while we improve the technology. The original version of the document is available as a PDF, Word Document, or as plain text.