Chairman Response Regarding Location Accuracy
Attachments & Related Documents
Download Options
Released: June 13, 2014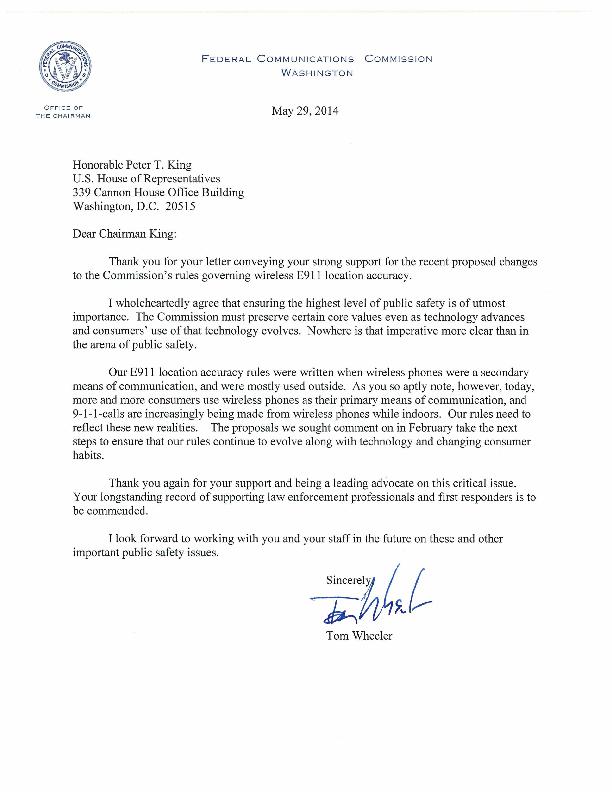 FEDERAL COMMUNICATIONS
COM MIS SION
WASHINGTON
OFFICE OF
May 29,2014
THE CHAIRMAN
Honorable Peter T. King
U.S. House ofRepresentatives
339 Cannon House Office Building
Washington, D.C. 20515
Dear Chairman King:
Thank you for your letter conveying your strong support for the recent proposed changes
to the Commission's rules governing wireless E911 location accuracy.
I wholeheartedly agree that ensuring the highest level of public safety is of utmost
importance. The Commission must preserve certain core values even as technology advances
and consumers' use of that technology evolves. Nowhere is that imperative more clear than in
the arena of public safety.
Our E911 location accuracy rules were written when wireless phones were a secondary
means of communication, and were mostly used outside. As you so aptly note, however, today,
more and more consumers use wireless phones as their primary means of communication, and
9-1-1-calls are increasingly being made from wireless phones while indoors. Our rules need to
reflect these new realities.
The proposals we sought comment on in February take the next
steps to ensure that our rules continue to evolve along with technology and changing consumer
habits.
Thank you again for your support and being a leading advocate on this critical issue.
Your longstanding record of supporting law enforcement professionals and first responders is to
be commended.
I look forward to working with you and your staff in the future on these and other
important public safety issues.
Tom Wheeler
Note: We are currently transitioning our documents into web compatible formats for easier reading. We have done our best to supply this content to you in a presentable form, but there may be some formatting issues while we improve the technology. The original version of the document is available as a PDF, Word Document, or as plain text.