Chairman Wheeler Approves Appointment of Chris Henderson as USAC CEO
Attachments & Related Documents
Download Options
Released: August 26, 2014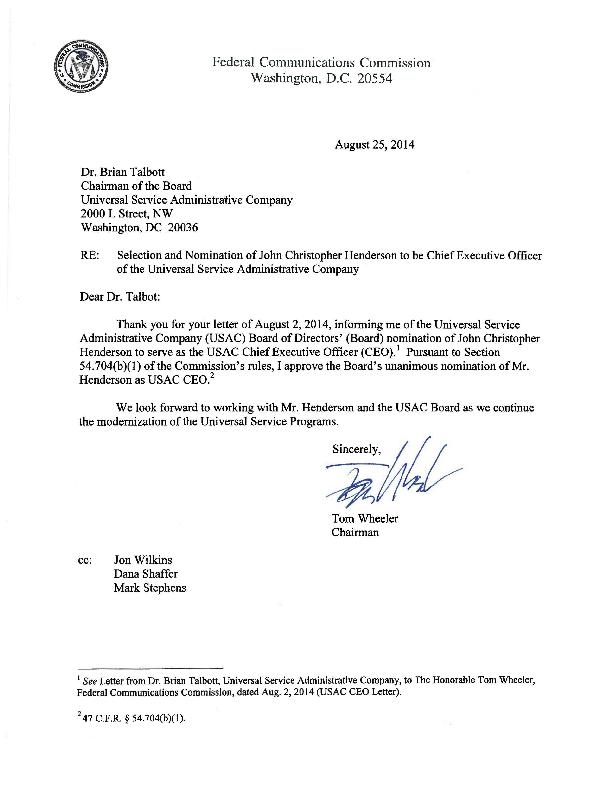 Federal Communications Commission
Washington, D.C.
20554
AfMISS#
August 25, 2014
Dr. Brian Talbott
Chairman of the Board
Universal Service Administrative Company
2000 L Street, NW
Washington, DC 20036
RE:
Selection and Nomination of John Christopher Henderson to be Chief Executive Officer
of the Universal Service Administrative Company
Dear Dr. Talbot:
Thank you for your letter of August 2, 2014, informing me of the Universal Service
Administrative Company (USAC) Board of Directors' (Board) nomination of John Christopher
Henderson to serve as the USAC Chief Executive Officer (CEO).' Pursuant to Section
54.704(b)(1) of the Commission's rules, I approve the Board's unanimous nomination of Mr.
Henderson as USAC CEO.2
We look forward to working with Mr. Henderson and the USAC Board as we continue
the modernization of the Universal Service Programs.
Sincerely,
Tom Wheeler
Chairman
cc:
Jon Wilkins
Dana Shaffer
Mark Stephens
'See Letter from Dr. Brian Talbott, Universal Service Administrative Company, to The Honorable Tom Wheeler,
Federal Communications Commission, dated Aug. 2, 2014 (USAC CEO Letter).
247 C.F.R. § 54.704(b)(1).
Note: We are currently transitioning our documents into web compatible formats for easier reading. We have done our best to supply this content to you in a presentable form, but there may be some formatting issues while we improve the technology. The original version of the document is available as a PDF, Word Document, or as plain text.