Environmental Assessments Accepted For Filing
Download Options
Released: June 5, 2014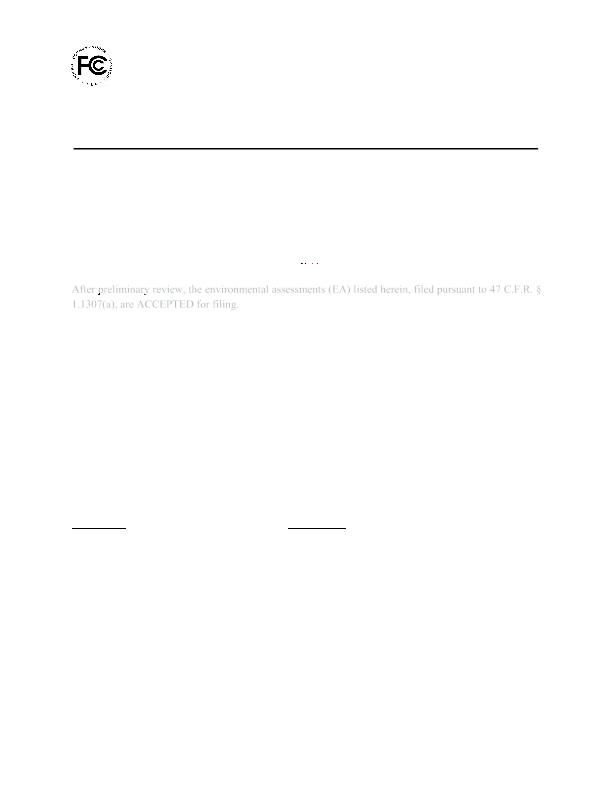 PUBLIC NOTICE
Federal Communications Commission
News Media Information 202 / 418-0500
Internet: https://www.fcc.gov
TTY: 1-888-835-5322
445 12th St., S.W.
Washington, D.C. 20554
DA 14-765
Released: June 5, 2014
ENVIRONMENTAL ASSESSMENTS ACCEPTED FOR FILING
After preliminary review, the environmental assessments (EA) listed herein, filed pursuant to 47 C.F.R. §
1.1307(a), are ACCEPTED for filing.
The Wireless Telecommunications Bureau (WTB) will address the environmental factors relating to the
application(s). Objections to the environmental assessments based on environmental considerations may
be filed no later than 30 days from the date of this Public Notice. Oppositions to objections may be filed
no later than 10 days after the objection is filed. Responses to oppositions may be filed no later than 5
business days after the time for filing an opposition has expired.
The EAs were filed by GTC Spectrum Corporation (GTCS), a subsidiary of Canadian National Railway,
Inc. (CNR), pursuant to the grant of an Experimental License, WG2XVJ, issued to GTCS, ELS File No.
0389-EX-PL-2013, by the FCC Office of Engineering and Technology. Grant of the authorization was
"conditioned upon GTCS's subsequent completion of all environmental review processes for these
antenna structures that were required under Part 1, Subpart 1 of the Commission's rules to have been
completed before these antenna structures were constructed." WTB is processing the EAs for those sites
covered by the Experimental License that were determined to require an EA through the environmental
review process.
City&State
Coordinates
Gonzales, Louisiana
30-09-26.6/90-57-16.5
Norco, Louisiana
30-00-22.3/90-25-09.8
Norco, Louisiana
29-59-46.6/90-23-50.9
New Sarpy, Louisiana
29-58-44.6/90-23-44.6
Destrehan, Louisiana
29-57-42.8/90-22-32.1
Destrehan, Louisiana
29-56-43.4/90-20-50.1
St. Rose, Louisiana
29-57-25.4/90-19-22.4
St. Rosa, Louisiana
29-58-30.3/90-17-13.5
Kenner, Louisiana
29-58-45.9/90-16-01.4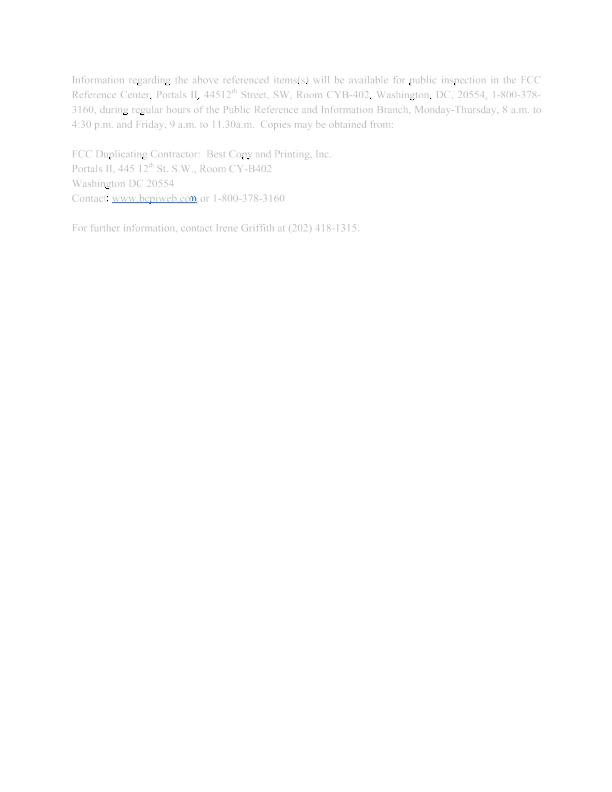 Information regarding the above referenced items(s) will be available for public inspection in the FCC
Reference Center, Portals II, 44512th Street, SW, Room CYB-402, Washington, DC, 20554, 1-800-378-
3160, during regular hours of the Public Reference and Information Branch, Monday-Thursday, 8 a.m. to
4:30 p.m. and Friday, 9 a.m. to 11.30a.m. Copies may be obtained from:
FCC Duplicating Contractor: Best Copy and Printing, Inc.
Portals II, 445 12th St. S.W., Room CY-B402
Washington DC 20554
Contact: www.bcpiweb.com or 1-800-378-3160
For further information, contact Irene Griffith at (202) 418-1315.
2
Note: We are currently transitioning our documents into web compatible formats for easier reading. We have done our best to supply this content to you in a presentable form, but there may be some formatting issues while we improve the technology. The original version of the document is available as a PDF, Word Document, or as plain text.