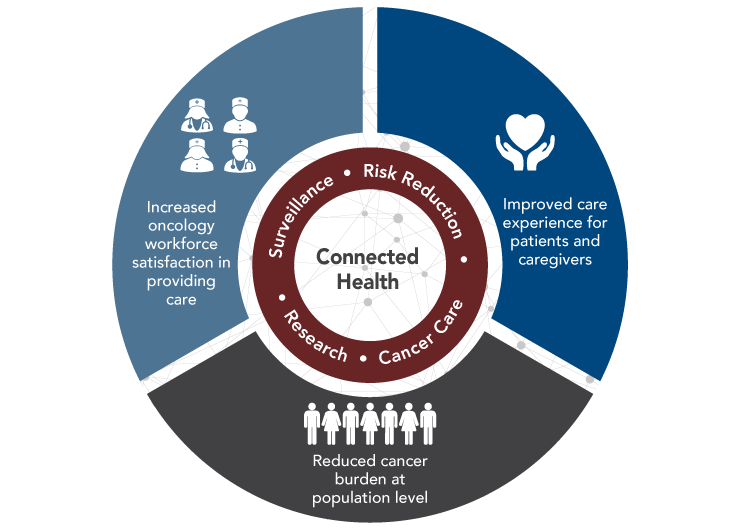 Image Credit - The President's Cancer Panel Report:
"Improving Cancer-Related Outcomes with Connected Health"
The FCC's Connect2Health Task Force (C2HFCC) and the National Cancer Institute (NCI) have joined forces to convene key stakeholders around a public-private partnership to help bridge the broadband health connectivity gap in Appalachia.  This collaboration studies how increasing broadband access and adoption in rural areas can help address the burden of symptom management for cancer patients.
L.A.U.N.C.H. (Linking & Amplifying User-Centered Networks through Connected Health): A Demonstration of Broadband-enabled Health for Rural Populations in Appalachia
As illustrated in the President's Cancer Panel report, Improving Cancer-Related Outcomes with Connected Health, cross-sector collaboration among those in the healthcare, biomedical research, and technology fields is essential to the future of cancer care.  Consistent with this blueprint, the L.A.U.N.C.H. project focuses on how broadband connectivity can be leveraged to improve symptom management for rural cancer patients, presenting a compelling case for greater deployment and adoption of broadband in rural areas.
The L.A.U.N.C.H. project focuses on areas that face the dual challenge of higher cancer mortality rates and lower levels of broadband access.  The initial geographic focus is planned for rural Kentucky.  Current project stakeholders include the University of Kentucky Markey Cancer Center (a NCI-designated cancer center), the University of California, San Diego's Design Lab, and Amgen. 
According to the Centers for Disease Control and Prevention, Americans living in rural areas are still more likely to die of cancer than their counterparts in urban settings, which sets them apart from the many communities nationwide that have experienced a 20% decrease in cancer mortality over the past two decades.  Initial analysis of the intersection between broadband data and cancer data shows that these rural "cancer hotspots" also face major gaps in broadband access and adoption, often putting promising connected care solutions far out of reach.
In Appalachia, the cancer picture is bleaker than in other rural parts of the country.  Research from University of Virginia School of Medicine has shown that between 1969 and 2011, cancer incidence declined in every region of the country except rural Appalachia, and mortality rates soared. Kentucky's lung cancer numbers are particularly staggering. According to NCI, the lung cancer incidence per 100,000 people is 92.4, compared with 60.4 nationally.  Mortality per 100,000: 68.8 — around 120 in the hardest-hit Appalachian counties — compared with 45 nationally.
This multi-year project looks at how broadband can be leveraged to improve symptom management for rural cancer patients, one of the priorities of the 2016 Blue Ribbon Panel, a group of scientific experts created to advise the National Cancer Advisory Board. This is the inaugural project under a Memorandum of Understanding between the FCC and the National Cancer Institute. 
To learn more about how you can participate or join our mailing list, contact David Ahern at launch@fcc.gov.
Memorandum of Understanding
As part of a larger Memorandum of Understanding, the FCC and NCI are collaborating in areas of mutual interest and to share their complementary technical and policy expertise in the following initial project areas:
Data, Research and Analytics.  The agencies will collaborate on data collection, research, and other analytic projects and activities that could inform stakeholders (including the health care and communications industries, other related industries, and the public) about the correlation between access to broadband and the prevention, detection, symptom management, and reduction of the burden of cancer in the United States. 
Pilots and Demonstrations.  In order to enhance understanding of the relationship between access to fixed and wireless broadband, access to medical care, and cancer prevalence and care, the agencies will explore opportunities to work with stakeholders to develop one or more pilot projects, in rural and underserved areas, potentially including the areas identified in the critical needs counties lists developed by the Connect2HealthFCC Task Force.
President's Cancer Panel Report
The President's Cancer Panel report specifically recommends the expansion of Internet services so that the full benefits of connected health can be achieved.  Cancer—with its complex biology, multispecialty care teams, transitions between treatment phases, experience of symptoms related to treatment, and profound impact on the lives of patients and families—is an area of healthcare likely to benefit from improved coordination, communication, information access, and health behavior change facilitated by connected health solutions.
The Panel report notes that although technologies have been widely adopted in healthcare settings and among the general population, health information often remains trapped in silos, and individuals and healthcare providers often lack the tools they need to access and optimally use these data.  Actions are needed to eliminate barriers to connected health and to capitalize on the potential of existing and emerging technologies.
The Panel identifies several critical objectives to the move the needle in the area of cancer and technology and enhance access:  
Enable interoperability among institutions and individuals that support care delivery across the cancer continuum, from prevention through treatment, survivorship, and end-of-life care.
Enable individuals to manage their health information and participate in their care across the cancer continuum.
Ensure that federal programs and health IT tools support the oncology workforce as it delivers care.
Facilitate health information access and sharing by ensuring adequate Internet access.
Facilitate data sharing and integration to improve care, enhance surveillance, and advance research.
Related Links
---
Updated:
Thursday, October 18, 2018