February 17, 2010 - 3:24 pm

Prior Postings:January 14, January 15, January 20, January 28, February 5
In January 2005, I volunteered with World Harvest Indonesia to work in a refugee camp in Banda Aceh, Indonesia helping survivors of the Indian Ocean earthquake and tsunami. It was a humbling experience that I hoped would never be repeated. But in August 2005, Hurricane Katrina struck the Gulf Coast of the United States and once again I became a part of a major response effort. I spent almost three months in the New Orleans area as the FCC's on-scene team leader working to restore vital communications. Since then many other staff in the FCC's Enforcement Bureau (EB) and the Public Safety and Homeland Security Bureau (PSHSB) have joined me in volunteering as a Federal Emergency Communications first responder. Since Katrina, more than 40 FCC personnel have trained and participated in disaster preparedness and response exercises related to communications restoration. This group operates as part of the Federal Response Framework's Emergency Support Function #2 – Communications (ESF #2), and deploys to a disaster area to assist with the communications restoration effort. In 2008, ESF #2 trained staff from EB deployed to South Dakota and Iowa to help with communications during the Spring flooding events in those areas. Later as the 2008 Hurricane Season got underway, FCC staff from EB and PSHSB deployed to Louisiana and Texas after Hurricanes Gustav and Ike ravaged the Gulf Coast.
The FCC also deploys technology to help with communications restoration. Called Project Roll Call - it was developed in 2007, in partnership with FEMA. Equipment and software used by EB for spectrum observations were modified to support the Federal disaster response by identifying the operational status of wireless communications systems following major disasters. Over a four-hour period, Project Roll Call scans the spectrum (each scan covers a 30-mile radius) and provides operational status reports within three hours of data collection on Public Safety Land Mobile Radio (LMR); State and Local Government emergency command and control; Commercial Wireless (cellular); and, Broadcast. These reports assist in organizing and targeting the Federal emergency communications response. In 2008, PSHSB expanded the Roll Call capability by including equipment and software to provide street-level cellular coverage maps for areas within the disaster zone.
At 1653 (EST) on Tuesday, January 12, 2010, a 7.0 magnitude earthquake struck 10 miles SW of Port-au-Prince, Haiti. The United States and countries around the globe began organizing a massive relief effort. On Thursday afternoon, the FCC was asked by FEMA to deploy a Roll Call team to Port-au-Prince, Haiti to support FEMA's Mobile Emergency Response Support (MERS) team and search and rescue efforts. PSHSB and EB quickly assembled a three person Roll Call team comprised of myself, Joe Husnay (EB Norfolk office), and Juan Silva (PSHSB). Our small team deployed to Homestead Air Reserve Base on Saturday afternoon to meet up with the MERS team and await military air transportation to Haiti.
After a few days of waiting at Homestead, we finally boarded a C-130 aircraft for the 2 ½ hour trip to Haiti. We arrived in Port-au-Prince at 6 pm on Monday, January 18. The airport scene reminded me of Banda Aceh airport in Indonesia. Massive amounts of relief cargo had been off-loaded and scattered about. People were standing, sitting, and walking around hoping for a seat on the first available outbound plane. And it was hot and humid. We quickly met our FEMA hosts and the driver helped us locate our bags and equipment amongst the tons of relief supplies. We were then told to wait for transportation to the US Embassy which would be our home for the next two weeks.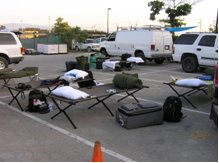 We finally arrived at the US Embassy at 10 pm after spending a few hours waiting at the airport for a security escort. Our new home was an army cot in the Embassy parking lot – but we couldn't complain about the view because each night we fell asleep under a sky filled with a million stars – and I should add – a million mosquitoes. Room service was great, too, as our first wakeup call was a 6.1 aftershock. And the food? Well, just let me say that we were introduced to a new food brand – known to the military as Meals Ready to Eat (MREs), but I don't recommend it for long term use. Things did get better as we finally received a tent and mosquito nets after a week of camping in the open and the only Domino's Pizza outlet in Haiti reopened.
Our workdays started around 6 am and Joe and Juan worked late each night calibrating equipment, updating software, and making repairs to broken instruments. Over the next ten days, we conducted two Roll Call spectrum scans from different locations around the city of Port-au-Prince. The overlapping scans were used to build an inventory of active frequency use in the disaster area and assisted us and the Government of Haiti with spectrum management and interference resolution. We also conducted drives around the city to develop cellular coverage maps and visited damaged broadcast stations and public safety radio sites.
Within two days of our arrival we had success in locating and meeting with the Director General of Conatel (the FCC and NTIA equivalent in Haiti). We provided the Director General with an Iridium satellite phone which enabled him to stay in contact with FCC staff at headquarters. We also arranged for the Director General to come to the Embassy to meet with USAID staff regarding assistance needed to maintain or restore vital communications.
During the last few days of our stay we were joined by an FCC Assessment Team which we helped by arranging transportation and security for their site visits and meetings.
We returned home safely from Haiti on Sunday, January 31, 2010, with a profound respect for the people of Haiti. Read my next blog to learn more about the people of Haiti and how you can help them recover from this catastrophic event.