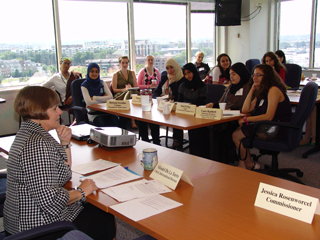 On July 12, 2012, the FCC hosted a program for TechGirls, a U.S. Department of State initiative sponsoring an international exchange program designed to empower young girls to pursue careers in the science and technology sectors.
The FCC hosted an impressive group of 25 young women between the ages of 15-17 from eight Middle Eastern and Northern African (MENA) countries, including, Algeria, Egypt, Jordan, Lebanon, Morocco, the Palestinian Territories, Tunisia and Yemen. All of the girls went through a rigorous application process and those who were selected are truly outstanding. At their young age, many have already taken robotics courses as well as computer classes.
While they were unified in their intelligence and capabilities, they were as unique as one would expect – some love sports, some love reading, writing and music, others love drama and art, and some even like fashion and shopping. Some were funny and some were earnest, but all were incredibly smart. Ideas just tumbled out of them.
Commissioners Mignon Clyburn and Jessica Rosenworcel talked about their careers with the TechGirls – and were bombarded with questions about how to achieve similar success in their own lives. These young women were interested in subjects from across the science and information communications technology fields, from engineering to medicine, physics to app development. A few discussed establishing their own NGOs. They wanted to know how professional women balance work and family, how women can be successful in a male-dominated field, and how they can be sure that the choice they make is the right one. It was a lively conversation and those of us with long-time careers learned a lot from this younger generation!
I count my morning with the TechGirls as one of the highlights of my time here at the FCC. I felt privileged to meet with this group of young women who will be leaders in science, technology, academia, and politics in the future. If these are the future leaders of the MENA region, I have high hopes for a bright and prosperous future for that part of the world.