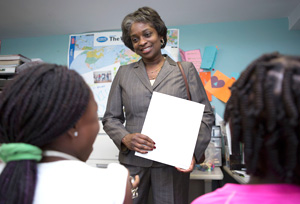 That's where I met a wonderful group of kids on June 2 at the Murraygate Village Community Center. Their energy eclipsed the enthusiasm shown by the many guests at their Boys and Girls Club. On a normal day, I was told they'd be poring over their homework in what Wonhee Kang, Fairfax County Regional Director of the Boys and Girls Club, dubs "The Power Hour." But on this day, they broke their routine and welcomed guests like me who overflowed the modest facility to celebrate a major step forward in closing the digital divide. Cox Communications Virginia and Connect2Compete – along with a host of corporate, nonprofit, state, regional and local officials – were on hand to announce the launch of the collaborative initiative that aims to extend affordable broadband Internet access to all.
In my remarks, I noted that almost a year ago to the day, former FCC Chairman Julius Genachowski was in San Diego, with Cox CEO Pat Esser, to launch the first-ever Connect2Compete pilot program, which made discounted broadband available to tens of thousands of southern California families. What a difference a year makes! Now I'm in the role of Acting Chair of the FCC and the Connect2Compete has made its way to Northern Virginia, where families will have the same opportunity to get online at a price that fits their budgets.
With the Murrygate kids patiently sitting crossed legged on the floor before the podium, speaker after speaker stressed the importance of connecting more families with high-speed Internet, not only in this community, but throughout the entire nation. We all know that access to broadband is no longer a luxury – a means of simply playing computer games and tweeting friends -- but a basic necessity.
As one speaker noted that more and more educators are using the Internet to assign and accept the very homework that these kids will have to complete once all the guests have left their Club. Now, more than ever, being online means being in line, along the pathway to better education, healthcare, job opportunities and information.
I also noted that while progress has been made in closing the digital divide, with broadband adoption increasing from about 60 percent in 2008 to 70 percent today – too many families, roughly one third or 100 million people, still don't have access to the Internet at home. And unfortunately, certain populations find themselves disproportionally represented in those numbers. Fifty percent of rural Americans, 65 percent of the elderly, 58 percent of people living with disabilities, 41 percent of African Americans and 51 percent of Latinos don't have broadband at home. Barriers such as affordability, lack of digital literacy and a failure to recognize the value of broadband keep these numbers high.
The cross-section of government, corporate and nonprofit leaders represented at this event, highlights the importance of a comprehensive public-private partnership effort to close the broadband adoption gap. And the FCC is committed to being a part of the broadband-for-all solution.
At the close of the event – and before the electronic ribbon cutting, a first for me! – Ms. Kang painted a shining picture of the positive results that can occur through partnerships, such as the one between Cox and Connect2Compete, which brought broadband access into the Murrygate Boys and Girls Club.
She proudly and passionately touted this year's 100 percent graduation rate of Murrygate Boys and Girls Club high school students, with one young man in the club even being named Youth of the Year. I later learned that Youth of the Year is the Boys and Girls Club of America's premier recognition program for Club members, promoting, among other attributes, academic success. 
Now, with broadband access at the Club and for families throughout Northern Virginia, academic success is more ensured. And with continued public-private partnerships, students and families across the country can cross the digital divide toward a brighter, more productive future.