October 21, 2013 - 5:26 pm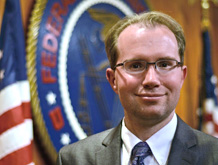 Our modern world teems with communication. Most of us have cell phones or smart phones that allow us to be reached 24/7 by almost anyone as we move about the planet. We can access the Internet and catch-up on global and local news, share our thoughts via blogs, wikis, instant messages, or uploaded media files. Digital images, sounds, music, and video all can be accessed through the Internet to communicate ideas, share perspectives, and convey emotions from events both at home and halfway around the world.
I am so excited to join the FCC family as the new CIO. I realize I have much work to do to learn the full breadth and depth of the FCC's existing and historical IT efforts both internally and in collaboration with the public and private sectors. Everyone has been friendly and excited to communicate the Commission's great endeavors. There is a palpable sense of purpose and mission here at the FCC. I am impressed by the number of people who have been here for fifteen, twenty, and thirty years or more, all who say they are here because of the role the FCC plays in enabling communication to support our national growth, prosperity, security, safety, and freedom.
Some might say communication is what humans do the moment two or more of us are together, be it intentionally or subconsciously. Communication can bring us together, inform us of opportunities or threats, and enable us to rationally discuss coordinated activities. The rise of information technology (IT) means we can do all of these activities faster, with more people, and over greater distances of time and geography. As IT accelerates its global distribution and ubiquitous availability, the importance of assuring the integrity of digital communications become paramount. As the new FCC CIO, I am excited to work with the FCC's Bureaus and Offices and the public to advance IT solutions that are agile, adaptive, secure, and supportive of the freedom and trust that advance the importance of national and global communications.
I am launching this "FCC CIO's Connection Blog", as well as the Twitter handle @fcc_cio and hashtag #FCCcio, because I believe the power of communication to promote national prosperity, safety, and freedom becomes even stronger when we open ourselves up for input and feedback from a diverse group of participants. Our internal IT team brings an impressive set of experiences and I am humbled to be joining them. The IT team is also beginning to learn that I invite and encourage alternative views and suggested solutions, particularly those that come with supporting data as to why they might represent better paths.
As I begin my journey as CIO, I also am open to the different views and perspectives of the FCC Bureaus and Offices who each have critical missions and IT needs that we will support to the best of our abilities. Also, and most importantly since we live in rapidly changing times both in terms of the pace of technology advances and the tightening of budgets in government, communication across both the public and private sector is crucial to the success of the FCC's IT endeavors. Through the power of communication and IT, we can transform what we can do together.
So greetings and hello. I invite ideas, feedback, and comments -- and look forward to the journey ahead.