November 21, 2013 - 12:47 pm
Last week, the FCC released the first public version of the FCC Speed Test app for Android phones.  The app, available for free in the Google Play store, provides precise and nuanced data about the performance of mobile broadband networks used by consumers in the U.S.  The launch was an exciting moment for us, and we were eager to see how the app would be received.  Now, some initial results are in, and they are very promising.
Here's some of what we saw on just the first two days following the release:
30,000 installations.
200 reviews of the app, averaging 4.5 stars in the Google Play store
500 recommendations for the app on Google Plus.
Approximately 40,000 collections of the full suite of broadband measurements: upload speed, download speed, latency, and packet loss.

Of these 40,000 tests, about 25,000 were manual and roughly 15,000 were scheduled.
Roughly 23,000 tests were on LTE network technology.
Over 22,000 tests were performed on a mobile cellular network, while about 16,000 measured Wi-Fi networks.  These results are labeled and separating these results is critical to a better understanding of mobile network use.

All the major carriers were represented.
Results came in from all fifty states, from small towns in Kansas to the major metropolitan areas.  Below is a map showing where the tests were performed.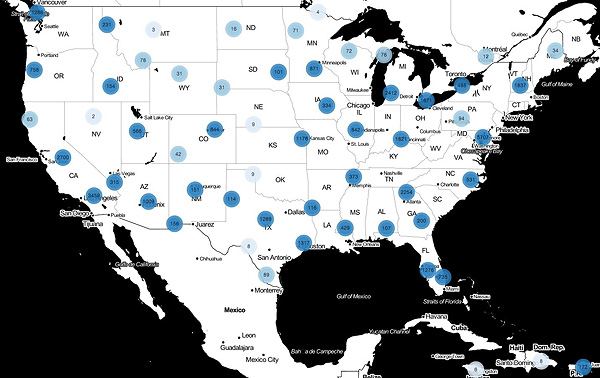 The rapid uptake of this app will benefit the country as a whole by incentivizing better mobile broadband performance.  The app also provides a new and productive way for consumers, providers, and the FCC to interact.  We look forward to the data to come and the better collective understanding of our mobile broadband networks it will provide.
Please help us in this effort by downloading the app and using it.