December 13, 2013 - 4:19 pm
Over the last week, we paused to remember and commemorate the leadership legacy of Nelson Mandela and his inspiring hope for both South Africa and our world. I personally found myself reflecting upon 1998, when I was in Cape Town, South Africa as a volunteer, visiting journalist with several others covering news stories post-apartheid. My focus was on efforts to educate and reduce the spread of HIV in the region.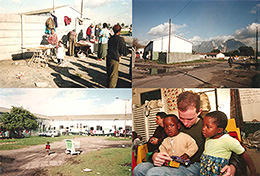 Photos from Khayelitsha, South Africa in 1998.
As the Truth and Reconciliation Committees started to heal a fragmented nation, South Africa also was facing an influx of HIV cases from sub-Saharan Africa, rising from an estimated 5000 cases in 1994 to over 2.4 million cases in 1998 within a country of roughly 40 million people. Having built a computer simulation of the historical and estimated exponential future spread of HIV, I became impassioned about spreading awareness of the threat  since, unless greater education of HIV occurred, the nation was facing a dire future.
Fortunately, almost fifteen years later, awareness of HIV increased in South Africa, thanks to the hard work of thousands of people. Though the virus still poses serious challenges for those who live with it, care and assistance are available and Nelson Mandela's hope for South Africa continues. This hope includes promising therapies to make HIV a manageable condition for those exposed and improved therapies to significantly reduce the likelihood of HIV transmission to newborn infants.
As the U.S., Africa, and the world, embrace wireless wide area networks and secure mobile communications, so too does the possibility of mobile health. Mobile health is tremendously important anywhere where direct access to healthcare is limited, whether it is in rural U.S. county or a remote township along the Western Cape of South Africa. The Federal Communications Commission recently had a mHealth event focusing on mobile health technologies. Secure mobile health devices already exist, and exciting new ones are released monthly, that can provide medical consults to rural or isolated places. Secure mobile health devices can monitor long-term medical therapies, population public health, or individual vital signs over a prolonged period are also on the horizon. Telemedicine can now be provided to the public at large, and public health practitioners have the biliary to access large amounts of important epidemiological data in near real-time.
Such a future requires us to ensure that these secure mobile health devices protect individual privacy, civil liberties, and security of personal information. Secure mobile health devices, as well as the wireless manner in which such information is shared, need to have these protections "baked-in" by design. We need to ensure individuals have full control of what data is, and is not, shared on their health. We also need to think about not just transmission of information, but the transmission of designs to mass fabricate medical devices too. When you include in our future the ability to send, by wire or wireless transmission, designs for medical devices that can be printed by a 3-D printer locally -- for example a customized brace, splint, or other physical therapy -- the future of secure mobile health really becomes exciting.
The approaches and secure mobile devices to accomplish such a future will come via multi-stakeholder, three-way dialogue among the general public, the private sector, and concerned members of the public sector. Secure mobile health devices developed and licensed in the U.S. can and will benefit the world as well. These pioneering inventions will come from the innovations of health companies, dot-coms, universities, public-private partnerships, potentially even garage hobbyists working together. Maybe, right now in garages somewhere, we have several budding future "Steve Jobs" and "Bill Gates" of secure mobile health?
I can only imagine how much these tools would have helped as we worked to tackle the spread of HIV years ago in South Africa!