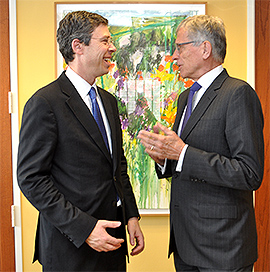 If any city understands the power of networks to drive economic growth, it's Chattanooga, Tennessee.
Chattanooga's proximity to the Tennessee River – a natural network – fueled its initial growth. When the railroad network arrived in the mid-19th century, Chattanooga became a boom town. The railroad allowed raw material to flow into the area and finished products to flow out to markets around the country – making Chattanooga an industrial powerhouse.
Yesterday, I had the opportunity to meet with Chattanooga Mayor Andy Berke, and when it comes to networks driving economic growth in Chattanooga, past is prologue.
Mayor Berke and the city's leaders recognized that today's high-speed broadband networks will be the indispensable platform for tomorrow's economic growth and the jobs of the future. That's why Chattanooga invested in building out one of the nation's most robust community broadband networks.
The network was partly built out of necessity. Local phone and cable companies chose to delay improvements in broadband service to the Chattanooga area market. Without faster networks, Chattanooga residents were at risk of finding themselves on the wrong side of the digital divide, bypassed by the opportunities high-speed connectivity enables.
Chattanooga's investment in community broadband has not only helped ensure that all its citizens have Internet access, it's made this mid-size city in the Tennessee Valley a hub for the high-tech jobs people usually associate with Silicon Valley. That's because Chattanooga's networks deliver gigabit-per-second speeds, removing bandwidth as a constraint on innovation. Businesses have responded. Amazon has cited Chattanooga's world-leading networks as a reason for locating a distribution center in the area, as has Volkswagen when it chose Chattanooga as its headquarters for North American manufacturing.
Smaller businesses such as Claris Networks, Co.Lab, EDOps, and Lamp Post Group relocated to the city, and Chattanooga is also emerging as an incubator for tech start-ups. Mayor Berke told me people have begun calling Chattanooga "Gig City" – a big change for a city famous for its choo-choos.
Ironically, Chattanooga is both the poster child for the benefits of community broadband networks, and also a prime example of the efforts to restrict them.
Tennessee is one of many states that have placed limits on the deployment of community networks. Tennessee's law is restricting Chattanooga from expanding its network's footprint, inhibiting further growth. The mayor told me how adjoining communities have asked to join the network, but cannot also be served by a simple extension of the broadband network because of the state law. In some of these communities, there is no available broadband service whatsoever. Commercial broadband providers can pick and choose who to serve based on whether there is an economic case for it. On the other hand, Mayor Berke told me that Chattanooga believes that it has a duty to ensure that all of its citizens have affordable broadband Internet access.
I understand that, like any venture, community broadband there hasn't always been a success. But a review of the record shows far more successes than failures. If the people, acting through their elected local governments, want to pursue competitive community broadband, they shouldn't be stopped by state laws promoted by cable and telephone companies that don't want that competition.
I believe that it is in the best interests of consumers and competition that the FCC exercises its power to preempt state laws that ban or restrict competition from community broadband. Given the opportunity, we will do so.
The facts speak for themselves: competition works – when it is allowed to. Throughout the country where we have seen competitive broadband providers come in to a market, prices have gone down and broadband speeds have gone up. No wonder incumbent broadband providers want to legislate rather than innovate.
Removing restrictions on community broadband can expand high-speed Internet access in underserved areas, spurring economic growth and improvements in government services, while enhancing competition. Giving the citizens of Chattanooga and leaders like Mayor Berke the power to make these decisions for themselves is not only the right thing to do; it's the smart thing to do.