September 17, 2014 - 1:02 pm
Monday night concluded the second round of comments for the FCC's Open Internet Proceeding. During the last four months, the Commission has received a large number of comments from a wide range of constituents via three methods: (1) the FCC's Electronic Comment Filing System (ECFS), (2) the openinternet@fcc.gov email address, and (3) a recently launched CSV file option for large comment uploads.
In July, at the conclusion of the first round of comments, we provided a look at the daily rate of comments we received in ECFS. We are now providing an updated file to show the daily rate of comments submitted to ECFS since the start of the public comment period in this proceeding. Below is a graphical representation of this data.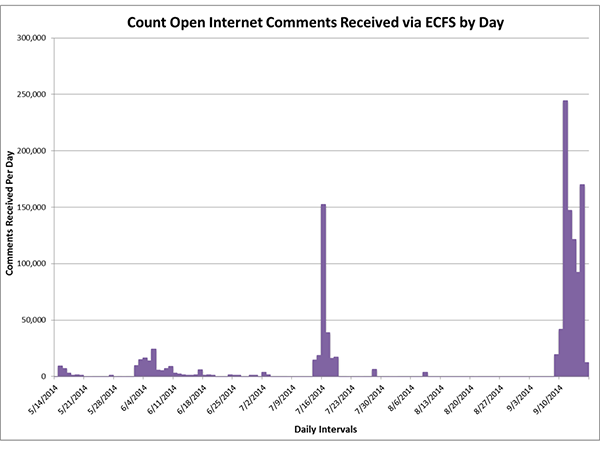 As an alternative path to submitting feedback, the Commission also has been receiving comments to a dedicated email inbox at openinternet@fcc.gov. We are providing an updated CSV text file providing the weekly submission rates of those comments, and a graphical representation of the data below.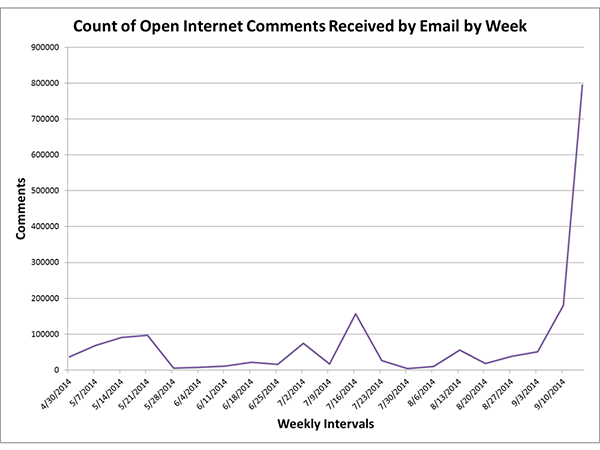 Throughout the two rounds of public comment, and despite the age of the Commission's IT systems, the FCC IT team worked around the clock and implemented workaround solutions to scale the large volume of comments in order to keep the system up and running, ensuring the public could submit feedback to the Commission leading up to Monday night's comment deadline.
The record number of comments we received on this proceeding underscores the importance of the open Internet. We appreciate the interest and feedback from all of the individuals and groups who took the time to provide valuable input during the last four months.