February 23, 2015 - 4:00 pm
It's often said that life is not measured by the number of breaths we take, but by the moments that take our breath away.  I had just such an experience when the Connect2HealthFCC Task Force went to Jackson and Sunflower County, Mississippi. 
Our meetings, roundtables, and site visits demonstrated the transformative power of broadband in health.  They reinforced in living color ― indeed, in Ole Miss crimson and Jackson State navy ― that we can't be weary in well doing and that there is a critical need especially in our rural communities to get broadband done right and get it done right, now.  And, they put real faces and families behind our every policy effort.
According to a recent study, Mississippi was ranked the unhealthiest state in the nation for the third consecutive year.  As the deputy state epidemiologist Dr. Paul Byers will tell you, Mississippi has the highest number of deaths from cardiovascular disease and the second highest prevalence of diabetes and obesity in the country.  On the broadband connectivity front, the vast rural stretches of the state present significant challenges. 
But, Mississippi is much more than its health and broadband connectivity metrics.  I saw this first hand when the Connect2HealthFCC Task Force visited rural Mississippi, the second stop in its Beyond the Beltway series.
With creativity and courage, the state is driving hard toward other benchmarks ― connecting every Mississippian to the power of broadband technology; bringing lifesaving diabetes care and remote monitoring to its most rural citizens using wireless broadband; equipping a new generation of physicians with the knowledge and skill to embrace telehealth tools and to use them to improve population health; and emphasizing data analytics around the social determinants of chronic disease.
Governor Phil Bryant, Dr. James Keeton (Vice Chancellor for Health Affairs and the Dean of the School of Medicine for the University of Mississippi), Dr. Kristi Henderson (Chief Telehealth and Innovation Officer), Mr. Primus Wheeler (Executive Director, Jackson Medical Mall), Dr. Ricardo Brown (Dean of the College of Public Service at Jackson State University), Mr. Robert Pugh (Executive Director of the Mississippi Primary Health Care Association) and many other state and community leaders have refused to accept the health connectivity status quo  and are laser- focused on leveraging broadband and advanced technologies to combat these stark chronic disease realities.  And, their successes are tangible and laudable.  These passionate, dedicated and engaged visionaries are transforming the trajectory of broadband-enabled health and care for rural Mississippians.
The Mississippi we saw on Day 1 of the visit is addressing the challenges head on:
First, the University of Mississippi Medical Center is driving telehealth beyond the boundaries of its health system, with more than 30 specialties, 550 telehealth partners, and 165 non-affiliated providers.  The inclusive vision of broadband-enabled health care in Mississippi is to provide an access point in every community, whether in a hospital, clinic, corporate setting, school or college.
Second, Mississippi is focused on building out broadband infrastructure based on geography, not population, and striving to identify a business case that makes this approach sustainable for rural areas. 
Third, the Mississippi experience is defining telehealth expansively to include health care, wellness, workforce development, research, education and business development.
On Day 2, and as part of the Connect2HealthFCC mission to explore and leverage on-the-ground experiences with broadband-enabled health solutions in rural and underserved areas, a few members of the Task Force and Commissioner Clyburn traveled 120 miles to the heart of the Mississippi delta to Ruleville, Mississippi ― population 3,007 (as of the 2010 census). 
Ruleville has an access to care ratio of more than 3000:1; 58% of its children live in poverty; 44% are obese; the town has one doctor, one hospital, one grocery store and high levels of diabetes and unemployment.  So, there was no question about the significant needs that broadband might help address.  We focused our visit on the North Sunflower County Medical Center, which is right down the street from the Fannie Lou Hamer Memorial Garden and which has been serving the citizens of Ruleville since 1950.  
While at North Sunflower, two diabetes patients, "Ms. Annie" and "Ms. Jackie," shared moving firsthand accounts of how wireless broadband and remote monitoring have helped them control their diabetes and avoid the debilitating consequences of the disease experienced by other family members.  
We also learned that, as a direct result of the broadband-enabled remote monitoring effort in Ruleville, hospital admissions for diabetes-related illness are plummeting.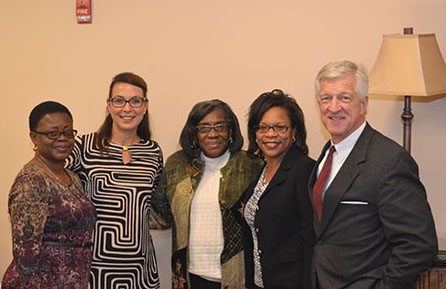 (From left to right): Ms. Jackie Collins (diabetes patient); Dr. Karissa Price, Intel-GE Care Innovations; Ms. Annie Ford (diabetes patient); Ms. Melissa King, Nurse Practitioner, UMMC; Mr. Scott Laidlaw, Intel-GE Care Innovations.
Ruleville was a most fitting conclusion to our visit ― showing a Mississippi beyond the prevalence rates and morbidity and mortality ratios; showing a community with limited resources building partnerships with health care and industry innovators and using broadband to change lives.  In the words of Ms. Joanie Perkins, Chief Development Officer at North Sunflower County Medical Center, "if Ruleville can do it, anyone can."  We couldn't agree more, Ms. Joanie.
On the way back to Jackson to catch the last flight home, we passed a sign saluting native son of Sunflower County and jazz/blues legend B.B. King.  Among his many Grammy Award winning hits is the classic: "There must be a better world somewhere."  And, for Sunflower County and many other rural communities across the country, that better world is here and now  . . .  just around the broadband bend.