In August, the FCC team began a six-month research and design project to dramatically improve the usability and functionality of FCC.gov and its subdomains. The outcome of these collaborative efforts resulted in an interactive prototype of what the improved FCC.gov will look like, as well as an outline of how website content will be organized and structured based on our research findings.
Our Research
The focus of our research was to identify and understand what different FCC.gov visitors want from our website and how to optimize the way they search, use, and interact with the website. The first round of research began by analyzing web content and web analytics. This gave us a sense of the web pages with the most traffic and most commonly searched terms by website users.
The second round of research involved several iterations of "card-sorting" with internal and external audience groups. Card-sorting is a method used in website design to help evaluate and determine the navigation and information architecture of a site. The information architecture of a site represents the way content is structured and organized for users. Ultimately, card-sorting helped us better understand how content should be organized on the site and gave us the foundation for the information architecture.
The third round of research was done in parallel. We conducted one-on-one user experience interviews with various external stakeholders, documenting common tasks and areas of concern with the current site. The interviews were invaluable in helping us better understand current user behavior and needs.
Our Findings
Our collaborative stakeholder research revealed how we could improve the website's information architecture to make content easier to find. We learned typical website users do not come to FCC.gov to browse content; they want to get the information they are looking for quickly and in as few clicks as possible. Our research also revealed:
        Stakeholders preferred a clear separation of consumer- vs. practitioner-focused content. Practitioners use the website daily and prefer "cut and dry" information. General consumers prefer informational content on a broad range of topics.
        Stakeholders preferred for content to be organized and categorized based on the FCC's day-to-day work, with specific and comprehensive navigation titles.
        Stakeholders preferred that the FCC.gov homepage prioritize important content for practitioners, as well as guide consumers to their dedicated section.
Our Shared Solution
As a result of these collaborative efforts, we're excited to share a fully responsive and 508-compliant prototype of the FCC's new website design. The prototype is accessible on a computer, tablet, and mobile device and includes the following key features:
        Intuitive information architecture which allows users to understand where they are, navigate  more easily, and find information more efficiently
        Homepage design that features content users are coming to the site to access daily
        Clean typeface and overall light look and feel that makes the site easy to read
        Separate area for consumers and a "toggle" navigation that allows visitors to access information by either "Topic" or "Bureau and Office" homepages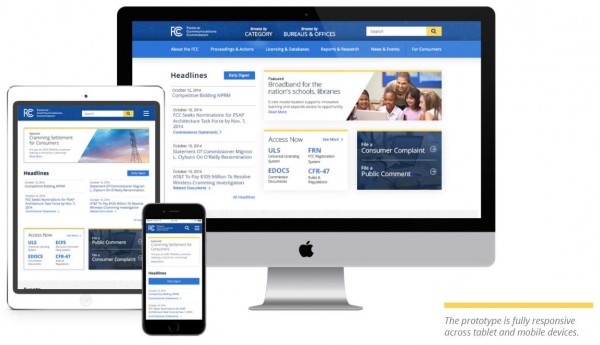 Next Steps
In the months ahead, we will be building out the back-end functionality of the website to better meet the needs of external website users, and internal content publishers and developers. This work will include implementing the improved information architecture, streamlining the web publishing process, and migrating content from FCC.gov and related subdomains into the new design and information architecture. This work will make it easier for both content owners to keep pages updated and for website users to navigate the website and find information. 
In addition, the FCC is working to implement an HTTPS-by-default standard to provide a more secure connection between an individual visitor and the FCC website. In December, the FCC rolled out this feature for our new Consumer Help Desk (consumercomplaints.fcc.gov). By the end of April, all visitors to the main FCC website will automatically connect using this standard, delivering a more secure connection
By the end of May, the FCC will implement a new search application into the current FCC.gov site, significantly improving users' search experience. The search application will aggregate results for both FCC.gov and our Electronic Document Management System (EDOCs) content into a seamless experience, and provide filters and facets for more advanced site users.
By September 30, 2015, the FCC will launch an improved FCC.gov featuring the new design, information architecture and search application. The initial site launch will include website content approximately three levels deep into the new site. Work will continue after launch to integrate the more complex content and data not originally included at site launch.  This content and data is currently being assessed and prioritized for integration into the new website.  
We are thankful to all the different stakeholders who provided input into this design. This includes those who provided anonymous input through using the existing site, as well as those who participated in the scientific approaches we pursued to design the prototype.
As we near the development phase of this project, we invite you to view a prototype of what the improved FCC.gov will look like and provide any suggestions or feedback by emailing WebFeedback@fcc.gov.
You can access the prototype by clicking on the following link: http://prototype.fcc.gov