August 15, 2016 - 1:00 pm
Access to robust, affordable advanced telecommunications services, ought to be available to everyone — no matter who they are, no matter where they live. That is not only the core tenet of the #ConnectingCommunities tour I launched in April, it is one of the 'prime directives' of the Telecommunications Act of 1996.
An invitation from Congressman Ben Ray Luján and Senator Tom Udall brought me to New Mexico earlier this week, where I engaged in in-depth discussions about the successes and challenges that New Mexico and Navajo Nation face as they bring connectivity to their communities.
A roundtable session with the Senator, Congressman, State legislators, State commissioners, and more than two dozen telephone companies and rural cooperatives that serve the hardest-to-reach places in the Southwest, was the first of several enlightening meetings during the two-day visit. We discussed how costly it is to deploy broadband and other services, particularly on Native lands, and how even in places where broadband is deployed, the lack of internal infrastructure even amongst anchor tenants like an area school, can make it inaccessible to needy populations.
I travelled from Albuquerque for about an hour and a half to Torreon, NM, with Congressman Luján leading the way, to observe a Lifeline signup event, and participate in a discussion hosted by the Torreon Chapter President, David Rico. Cellular One serves this part of Navajo Nation, and plans to upgrade the 2G service they currently offer in Torreon to 3G by the fall, and hopefully to 4G sometime next year. You may not be aware that it takes six microwave hops from the Torreon tower (86 miles) just to reach fiber backhaul. In DC, by comparison, fiber is everywhere and we are less than 35 miles from a major internet exchange.
During the discussion with chapter members and providers, I repeatedly heard frustration from those unable to receive better service, due in large part to being forced to navigate the patchwork of property rights and approvals that make access to rights of way slower and more expensive. Indeed, this lack of consistent service also makes it difficult for first responders to reach community members in times of crisis. While customers were standing in line waiting to sign up for Lifeline service, I met Lucienda, a young lady braving the sun's "warm" rays, who said something to me that will ring in my ears until we finally close the communications divide: without the Lifeline Program, her community "would really be living back in the 1800s."
After driving along the beautiful countryside for another 46 miles, I visited the campus of Navajo Technical University (NTU) in Crownpoint. There, I participated in a discussion with Navajo Chapter President Russell Begaye, and many of the providers who serve the Nation. We discussed the successes of the Lifeline Program, the Tribal Mobility Fund, and how the Commission and the government can do more to promote broadband on Tribal lands.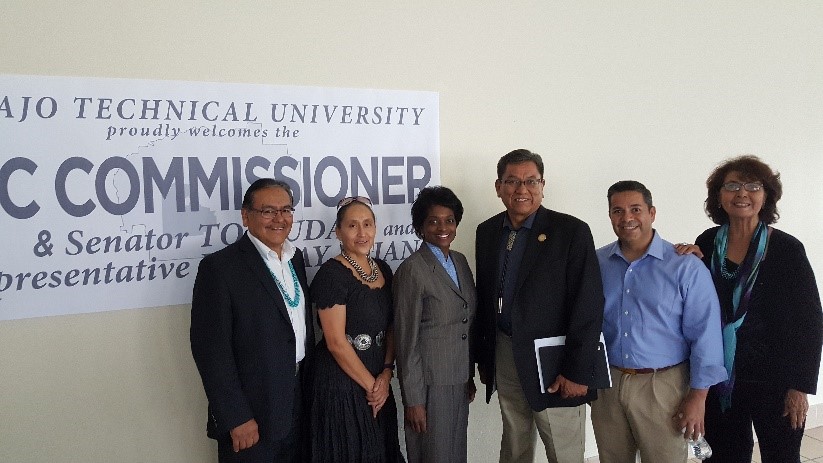 After those talks, Dr. Elmer Guy, president of NTU, welcomed all of us to the campus and led a tour which highlighted the institution's advanced manufacturing lab. His students are working with cutting-edge manufacturing techniques and enjoy direct working relationships with the national laboratories in New Mexico. The electrical engineering students from NTU have the added distinction of placing first in a national competition for a non-electric cooling device to preserve medications without refrigeration, a problem facing literally thousands of homes on the Navajo reservation. We were also shown the university's radio broadcast tower, which was a pretty neat way to get Congressman Luján and me to record an interview on the NTU station.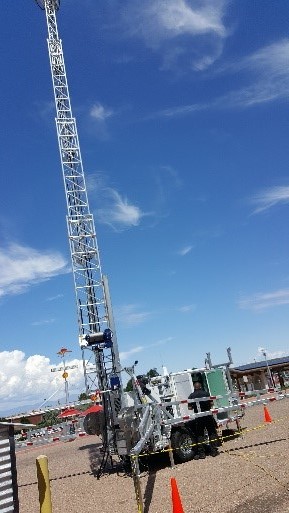 The Crownpoint Health Center, which is just a couple of minutes from NTU (by car) boasts advanced behavioral telehealth facilities that allow them to combat the shortage of trained health professionals in the Nation. Unfortunately, more robust use of electronic health records being stymied by the lack of consistent bandwidth. In fact, on the day I visited, a service provider outage left their systems offline for several hours. No broadband service means no connected health benefits.
Our journey was bookended with a visit to the New Mexico Department of Information Technology, which is leading the way in early buildout of FirstNet, the first-ever nationwide interoperable public safety broadband network. I saw first-hand how FirstNet technology in the hands of law enforcement will make for more efficient use of resources and improve first responders' ability to serve their communities.
Many individuals were generous with their time and attention as I learned more about the needs of Native Nations, New Mexico, and the rest of America. I thank them, Congressman Luján and others for these insights which will continue to instruct and guide my thinking as we prepare to wrap up the #ConnectingCommunities tour on October 19th with a solutions-focused policy forum in Washington, D.C.
Stay tuned.