It's been four months since my colleague, Commissioner Rosenworcel, and I penned an op-ed in The Hill reaffirming the need and accompanying reasons to stop states from diverting critical 9-1-1 fees collected from consumers to non-9-1-1 functions.  Beyond outlining existing funding limitations in law, we even laid the rhetorical groundwork for some creative solutions to convince and, in some cases, force states and territories to do the right thing.  In the meantime, I have visited some of the diverting states and wrote to those states and territories that did not respond to the Commission's request for data.  After such time, it seems appropriate to ask: have things improved? 
In reality, the effort to end 9-1-1 fee diversion has had mixed results.  Of the five self-reported diverting states and seven states and territories that did not respond to the Commission's inquiry (for a total of twelve), two states remedied filing errors to clarify that they are not diverters, one state and one territory are in the process (one with firm commitments) of ending diversion within their borders, one state started exploring ways to stop the practice, and seven states and territories have not yet made progress on either providing the Commission with their state data or ending the despicable practice of stealing 9-1-1 fees for their own personal spending. 
The following chart provides a clearer picture of 9-1-1 State diversion practices and highlights just how much work there is left to do.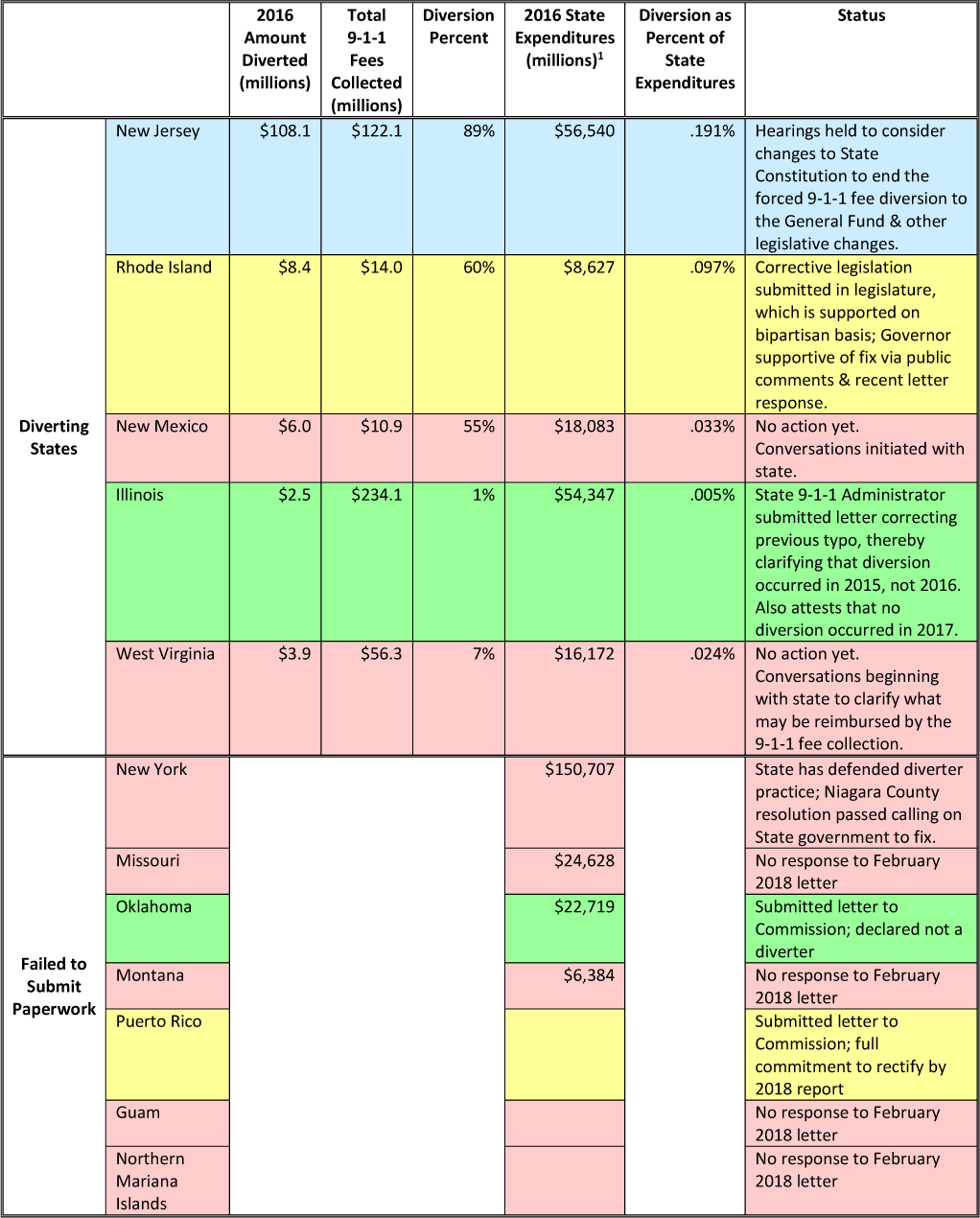 1 National Association of State Budget Officers, State Expenditure Report, Examining Fiscal 2015-2017 State Spending, https://higherlogicdownload.s3.amazonaws.com/NASBO/9d2d2db1-c943-4f1b-b750-0fca152d64c2/UploadedImages/SER%20Archive/State_Expenditure_Report__Fiscal_2015-2017_-S.pdf