December 9, 2019 - 4:20 pm
This morning, the FCC Incentive Auction Task Force released a status update on the post-Incentive Auction transition which provides a good opportunity to provide an update on what's been accomplished and the work that remains to be done.
The Incentive Auction was the world's first two-sided spectrum auction. Broadcasters bid in a reverse auction to relinquish their spectrum usage rights voluntarily in exchange for a portion of the proceeds from a forward auction of new, flexible-use licenses suitable for providing mobile broadband services. Bidding, which concluded in 2017, raised $19.8 billion in gross revenues and repurposed 84 MHz of valuable "low-band" airwaves for wireless broadband. The Incentive Auction will benefit consumers by easing congestion on wireless networks and laying the groundwork for 5G wireless services and applications. Reports in the media reflect that one carrier has already lit up its 600 MHz spectrum nationwide covering 200 million people.
Since the auction ended, the FCC has worked diligently on a 39-month, 10-phase transition in which 987 full power and Class A TV stations are being "repacked" to new frequencies. The plan was carefully crafted to sequence the timing to avoid interference issues and took into account other likely variables such as resource constraints and seasonal weather variations.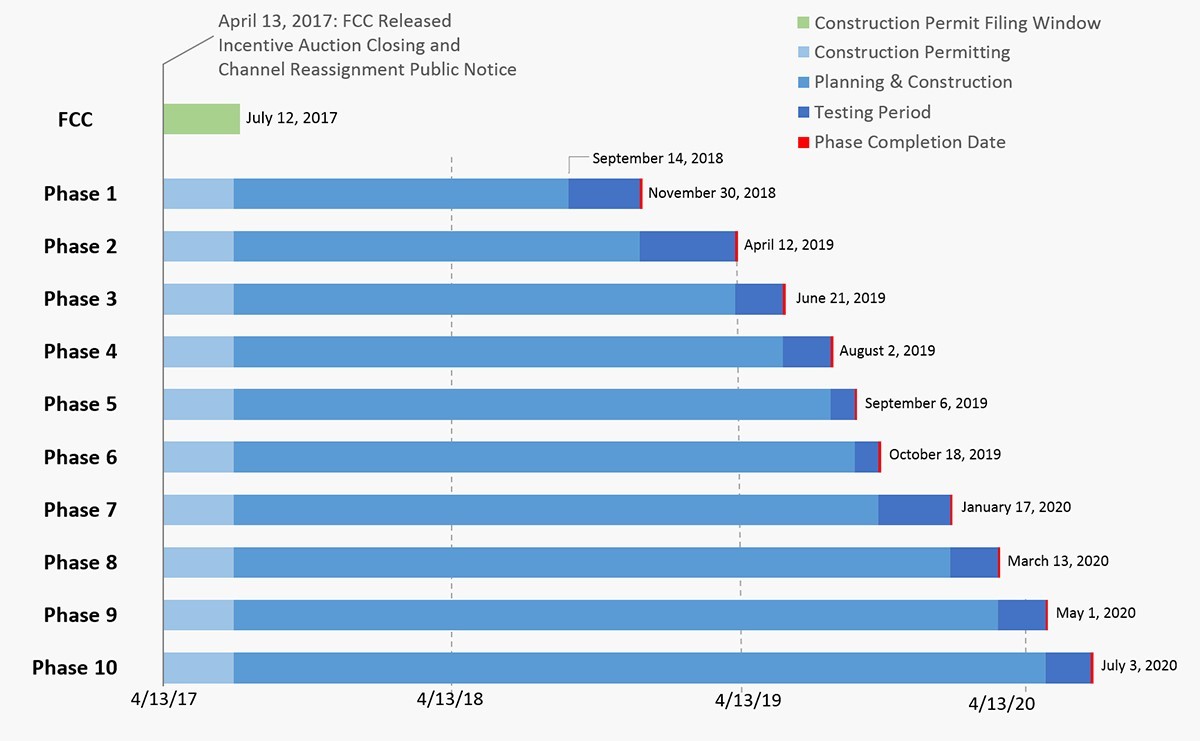 We recognize that the three-year period posed significant challenges to the affected stations and their various vendors and are pleased to report that the stations have done a great job managing their channel re-assignment projects to meet the required schedule, and that all of the stations required to vacate their pre-auction channels to date have successfully done so. As of December 6, 2019, 697 of the 987 repacked stations have moved off their pre-auction channel, representing 71 percent of the total repacked stations. Seventy-nine percent of those transitioned stations have fully completed their transition to permanent facilities.
The Commission is also actively reimbursing repacked full power and Class A stations and affected MVPDs for their costs incurred in making the transition. Reimbursement procedures established by the Commission enable timely processing of reimbursement requests while assuring that only eligible expenses are paid. As of December 6, the aggregate of the verified estimates the Commission received from full power and Class A TV stations and MVPDs was $1,951,302,007 and the Commission had reimbursed these entities for submitted invoices a total of approximately $886,033,437. Today we announced an allocation to eligible FM stations in the amount of 92.5 percent of their verified estimates for a total allocation of $17,219,711, which will enable us to begin reimbursing those stations for their reasonable costs. We have also received 947 submissions from LPTV and TV translator stations which are currently under review. We expect that the level of reimbursement requests will increase substantially over the next few months as stations completing their transition submit final invoices and the program begins to reimburse LPTV, TV translator and FM stations.
Finally, the Commission has undertaken a highly targeted consumer outreach program to assure that viewers who use an antenna know that they will need to rescan in order to continue to receive certain stations in their local market and that provide the website and call center resources to help them know how to do so. We have received over 2.1 million hits to the FCC.gov/TVrescan webpage that we launched in 2018 to provide consumer information, in multiple languages, regarding what to expect during the transition and how to rescan an over-the-air television receiver.
We thank the broadcasting industry, equipment vendors, tower workers, and other partners in this effort for their hard work and look forward to completing the transition this coming summer.