The FCC has made combatting unlawful robocalls and malicious caller ID spoofing a top consumer protection priority. By proposing and implementing impactful policy initiatives and pursuing strong enforcement actions, the FCC takes action to protect and empower consumers.
A Top Priority
Unwanted calls are far and away the biggest consumer complaint to the FCC with over 200,000 complaints each year—around 60 percent of all the complaints we receive. Some private analyses estimate that U.S. consumers received nearly 4 billion robocalls per month in 2018. Unfortunately, advancements in technology make it cheap and easy to make massive numbers of robocalls and to "spoof" caller ID information to hide a caller's true identity.
Acting Chairwoman Rosenworcel and other FCC staff get these calls too. As she said during one of the Commission's monthly meetings: "I'm a consumer, too. I receive robocalls at home, in my office, on my landline, on my mobile. I've even received multiple robocalls sitting here on this dais. I want it to stop."
The FCC knows that these calls are a major concern of millions of Americans, and scam calls in particular can result in very real financial losses and serious consumer frustration. The agency is therefore committed to using every tool in our toolbox and working closely with private, public, and international partners to combat unlawful robocalls and spoofing. These efforts are outlined in the FCC's first ever report on illegal robocalls.
FCC Action
The FCC has implemented policies and actions to help combat unlawful robocalls and malicious caller ID spoofing. The Commission has also taken unprecedented enforcement actions to punish those who flout consumer protection laws.
Call-Blocking Rules
In June 2019, the FCC ruled that phone companies may, as a default, aggressively block unwanted robocalls before they reach consumers. The Commission also made clear that carriers could offer consumers the choice to opt-in to more advanced tools like basing blocking on their contact lists. These actions followed the 2017 adoption of new rules allowing phone companies to proactively block calls that appear to be from telephone numbers that do not or cannot make outgoing calls, without running afoul of the FCC's call completion policies.
Caller ID Authentication
Call authentication is critical for protecting consumers against spoofed robocalls where scammers mask their identity, harass consumers, and seek to defraud vulnerable communities. Caller ID authentication, based on so-called STIR/SHAKEN standards, will ensure that voice providers are exchanging accurate information about the source of calls traveling across their networks. Following FCC-prompted progress toward implementation by the industry, the Commission adopted rules mandating industry-wide deployment of STIR/SHAKEN.
Reducing Unwanted Calls to Reassigned Numbers
The FCC wants to reduce unwanted calls to reassigned numbers. When a consumer gets a new phone number, he or she may receive unwanted calls intended for the consumer that previously held that number. Today, legitimate callers, such as businesses, often lack the information they need to learn about phone number reassignments and avoid calling reassigned numbers. To confront this problem, the FCC adopted new rules to create a reassigned numbers database that will reduce the number of unwanted phone calls Americans receive.
Major Fines Against Spoofers
The FCC has taken agressive enforcement actions totaling over $450 million in recent years against telemarketers for apparent illegal caller ID spoofing—including so-called neighbor spoofing, where calls appear to be from local callers. These included the largest FCC fine ever imposed against a Florida-based time-share marketing operation, an $82 million fine against a North Carolina-based health insurance telemarketer, a $37.5 million fine of an Arizona marketer which apparently made millions of spoofed calls that appear to come from consumers, and a $225 million proposed fine against Texas-based health insurance telemarketers for apparently making approximately 1 billion illegally spoofed robocalls. To supplement existing efforts to trace scam calls, the FCC's Enforcement Bureau also works with an industry group which shares information among carriers and providers to help "traceback" the traffic of illegal calls to the originating provider. FCC officials have also called on non-participating providers to join this effort.
Robotexts
The FCC has made clear that wireless providers are authorized to take measures to stop unwanted text messaging through robotext-blocking, anti-spoofing measures, and other anti-spam features, a decision that had bipartisan support from many state attorneys general. In August 2019, the FCC adopted new rules to include text messaging under its prohibition against anyone from transmitting misleading or inaccurate caller ID information ("spoofing") with the intent to defraud, cause harm, or wrongly obtain anything of value.
Other Tools
The FCC continues to support efforts by phone companies and third-party providers to empower consumers with effective robocall blocking tools. The agency has also worked with its international counterparts to find ways to combat scam calls originating from overseas. And the Commission continues to issue consumer alerts, work with consumer groups, and use social media to raise consumer awareness of best practices to protect themselves (see consumer tips below).
Consumer Tips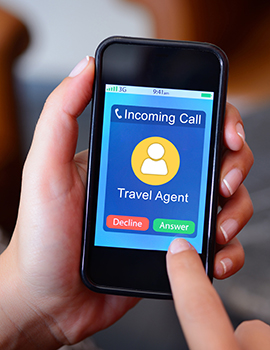 Don't answer calls from unknown numbers. Let them go to voicemail.
If the caller claims to be from a legitimate company or organization, hang up and call them back using a valid number found on their website or on your latest bill if you do business with them.
If you answer and the caller (often a recording) asks you to press a button to stop receiving calls, or asks you to say "yes" in response to a question, just hang up. Scammers often use these tricks to identify, and then target, live respondents, or to use your "yes" to apply unauthorized charges on your bill.
Be Aware: Caller ID showing a "local" number no longer means it is necessarily a local caller.
If you answer and the caller asks for payment using a gift card, it's likely a scam. Legitimate organizations like law enforcement will not ask for payment with a gift card.
If you receive a scam call, file a complaint with the FCC Consumer Complaint Center by selecting the "phone" option and selecting "unwanted calls." The data we collect helps us track trends and supports our enforcement investigations.
If you have lost money because of a scam call, contact your local law enforcement agency for assistance.
Ask your phone company if it offers a robocall blocking service. If not, encourage them to offer one. You can also visit the FCC's website for more information about illegal robocalls and resources on available robocall blocking tools to help reduce unwanted calls.
Consider registering your telephone numbers in the National Do Not Call Registry. Lawful telemarketers use this list to avoid calling consumers on the list.