The September 2, 2020 deadline for Tribal applications for 2.5 GHz spectrum has passed, and the Rural Tribal Window is now CLOSED.
Information on this page is provided for reference purposes only. For 2.5 GHz Tribal Application Review and Licensing Information, please click here.
Band Plan for Tribal Window Applicants
The 2.5 GHz Band Plan for both Tribal Window Applicants and participants in the later commercial auction is as follows:
One channel of 49.5 MHz (New Channel 1);
One channel of 50.5 MHz, adjacent to the above (New Channel 2);
One channel of 17.5 MHz, not adjacent to the first two channels (New Channel 3).
Tribal Applicants may apply for one, two, or all three of these channels, as long as some part of each channel for which they apply is available over the requested license area on their Rural Tribal Land. In the figure below, this band plan is labeled below the diagram.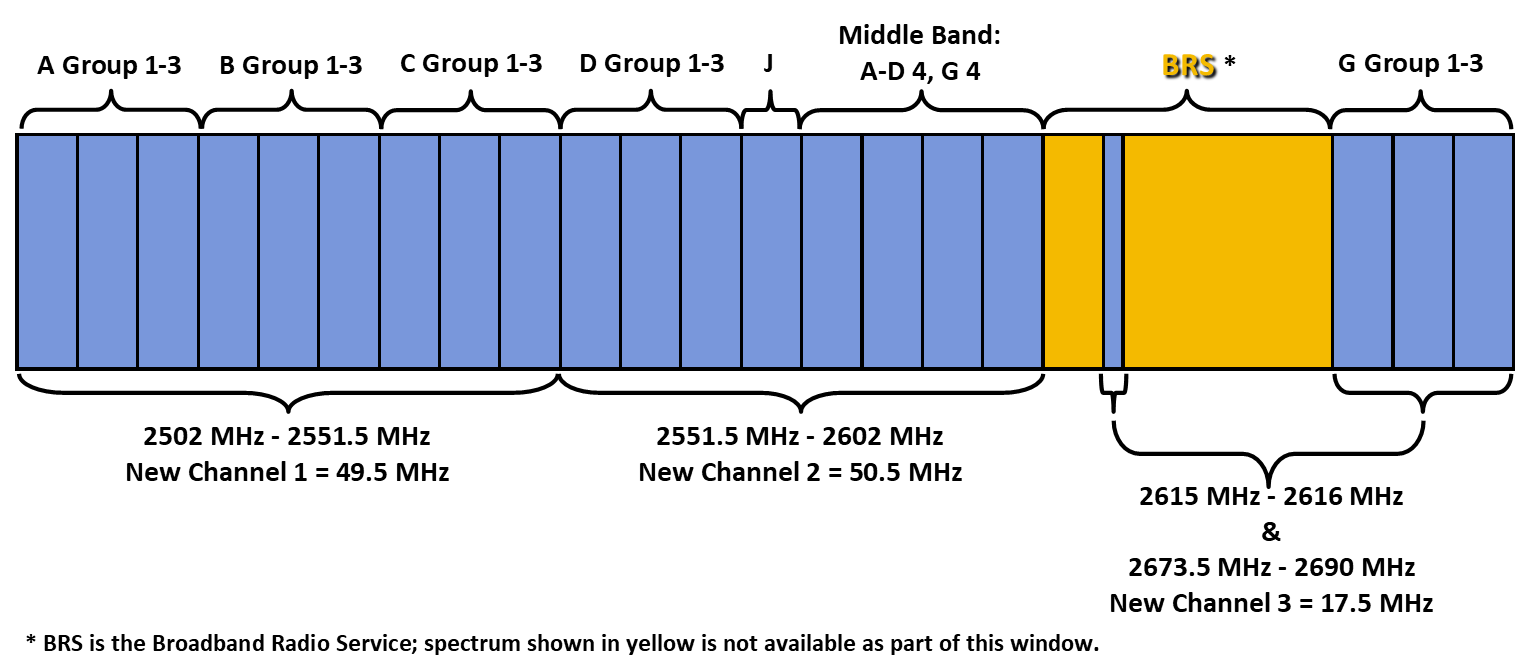 Legacy Band Plan for Incumbents
Prospective Rural Tribal Window Applicants should be aware that incumbent licenses follow a different band plan. The legacy band plan is divided into five channel groups: the A Group, the B Group, the C Group, the D Group, and the G Group. Some incumbent licenses include only one channel group, while others include multiple or even all channel groups. In the figure above, the legacy band plan is labeled above the diagram.
The differences between the legacy band plan and the new band plan mean that in some areas, channels may be only partially available. For example, if an incumbent licensee in a Tribal area holds only the A Group, the Tribe would still be able to apply for Channel 1 of the new band plan, even though that channel overlaps with the incumbent license, because the rest of Channel 1 is available. The "heat map" provided in the mapping tool will help applicants identify the general amount of spectrum available in a particular area, a lighter color indicates greater availability of spectrum.  However, the spectrum covered by the incumbent licensee would NOT be available for use by the Tribal Applicant, even if it is currently unused. Spectrum is only available for Tribal Applicants where it is unassigned/unlicensed over Rural Tribal Lands.
Broadband Radio Service (BRS)
There is another service in the 2.5 GHz band: the Broadband Radio Service, or BRS. This service was not included in the July 2019 Report and Order, and BRS spectrum is not available as part of the Rural Tribal Window. The BRS band is included in the band plan here for illustrative purposes only, as it separates the lower Rural Tribal Window channels from the upper, smaller channel. In the diagram above, BRS spectrum is indicated in yellow.
Updated:
Wednesday, September 2, 2020