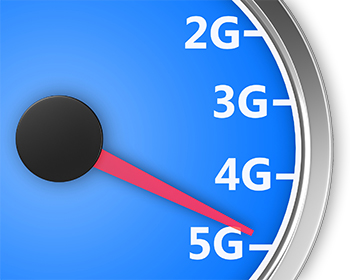 The United States is moving swiftly to lead the world in the next generation of wireless connectivity—or 5G. These new networks and technologies will enable faster speeds and low-latency wireless broadband services, cultivating the Internet of Things and innovations not yet imagined.
Under Chairman Pai, the FCC is pursuing a comprehensive wireless strategy to ensure that the U.S. will lead the world in the deployment of next-generation wireless technologies.
"Forward-thinking spectrum policy, modern infrastructure policy, and market-based network regulation form the heart of our strategy for realizing the promise of the 5G future." – FCC Chairman Pai
Strategy
Spectrum: Forward-thinking spectrum policy is critical for next generation wireless networks. The FCC is focused on making additional low-, mid-, and high-band spectrum available for 5G services.

Low-band: Deploying service in 600 MHz bands post incentive auction.
Mid-band: Exploring a shared service framework in the 3.5 GHz band and developing next steps for terrestrial use in the 3.7 GHz band.
High-band: Unleashing spectrum at the frontiers of the spectrum chart, including pursuing millimeter wave spectrum for 5G terrestrial use and looking forward to spectrum auctions in 28 and 24 GHz bands.

Broadband Deployment Advisory Committee

The Broadband Deployment Advisory Committee, formed by Chairman Pai in 2017, provides advice and recommendations for the Commission on how to accelerate the deployment of high-speed Internet access. See the latest BDAC news.

Wireless Infrastructure: 5G communications will depend on robust infrastructure to support the data intensive uses that will expand exponentially in the coming years. 5G networks will operate over a hybrid of both traditional cell towers and comparatively small deployments, such as small cells. The FCC is working to eliminate unnecessary barriers to the efficient deployment of wireless infrastructure to support 5G.
Reducing Regulatory Barriers: The FCC is reducing regulatory barriers in order to encourage investment in the 5G networks of the future and bring digital opportunity to all Americans.
Rulemakings
News & Speeches
May 23, 2018 - Speech
Chairman Pai's Wireless Infrastructure Assoc. Connectivity Expo Speech
May 16, 2018 - Editorial
Florida is on the leading edge of 5G
February 26, 2018 - Speech
Remarks of Chairman Pai at the Mobile World Congress 2018
Jun 14, 2017 - Public Notice
Incentive Auction Task Force and Wireless Telecommunications Bureau Grants 600 MHz Licenses
January 31, 2017 - News Release
Chairman Pai Forms Broadband Deployment Advisory Committee
February 28, 2018 - Speech
Remarks of Commissioner Brendan Carr to Ensure the US is 5G Ready
June 21, 2017 - Editorial
Chairman Pai Op-ed: How the U.S. can win the digital future
April 21, 2017 - Speech
Chairman Pai Opens First Broadband Deployment Advisory Committee Meeting
Apr 6, 2017 - News Release
Chairman Pai Announces Broadband Deployment Advisory Committee Members
November 21, 2017 - Editorial
Chairman Pai Op-ed: How the FCC Can Save the Open Internet
January 4, 2018 - Statement
Chairman Pai Statement on Restoring Internet Freedom
April 26, 2017 - Speech
Chairman Pai Speech on the Future of Internet Regulation
April 28, 2017 - Statement
Chairman Pai Statement on Business Data Services
February 28, 2017 - Speech
Chairman Pai's Keynote Address to Mobile World Congress 2017