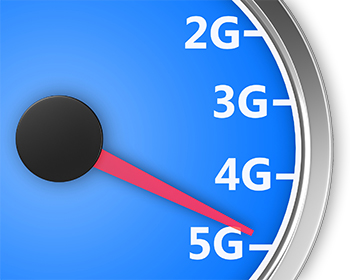 The United States is moving swiftly to lead the world in the next generation of wireless connectivity—or 5G. These new networks and technologies will enable faster speeds and low-latency wireless broadband services, cultivating the Internet of Things and innovations not yet imagined.
Under Chairman Pai, the FCC is pursuing a comprehensive strategy to Facilitate America's Superiority in 5G Technology (the 5G FAST Plan). The Chairman's strategy includes three key components: (1) pushing more spectrum into the marketplace; (2) updating infrastructure policy; and (3) modernizing outdated regulations.
"Forward-thinking spectrum policy, modern infrastructure policy, and market-based network regulation form the heart of our strategy for realizing the promise of the 5G future." – FCC Chairman Pai
Spectrum
Forward-thinking spectrum policy is critical for next generation wireless networks. The FCC is focused on making additional low-, mid-, and high-band spectrum available for 5G services.
Infrastructure Policy
Broadband Deployment Advisory Committee
The Broadband Deployment Advisory Committee, formed by Chairman Pai in 2017, provides advice and recommendations for the Commission on how to accelerate the deployment of high-speed Internet access. See the latest BDAC news.
The FCC is updating infrastructure policy and encouraging the private sector to invest in 5G networks.
Speeding Up Federal Review of Small Cells: The FCC adopted new rules that will reduce federal regulatory impediments to deploying the small-cell infrastructure needed for 5G (as opposed to large cell towers) and help to expand the reach of 5G for faster, more reliable wireless service.
Speeding Up State and Local Review of Small Cells: The FCC has reformed rules designed decades ago to accommodate small cells. The reforms ban short-sighted municipal roadblocks that have the effect of prohibiting deployment of 5G and give states and localities a reasonable deadline to approve or disapprove small-cell siting applications.
Modernizing Outdated Regulations
The FCC is modernizing outdated regulations to promote 5G backhaul and digital opportunity for all Americans.
Rulemakings
November 21, 2018 - News Release
Adopting Rules for a 5G Incentive Auction
October 23, 2018 - News Release
FCC Proposes More Spectrum for Unlicensed Use
October 23, 2018 - News Release
FCC Acts to Increase Investment and Deployment in 3.5 GHz Band
September 28, 2018 - Plan
FCC's 5G FAST Plan
September 26, 2018 - News Release
FCC Streamlines Deployment of Next Generation Wireless Infrastructure
August 3, 2018 - Public Notice
FCC Establishes Procedures for First 5G Spectrum Auctions
August 3, 2018 - FNPRM
FCC Proposes Steps Towards Auction of 37 GHz, 39 GHz, and 47 GHz Bands
August 2, 2018 - News Release
FCC Speeds Access to Utility Poles to Promote Broadband, 5G Deployment
July 13, 2018 - Notice of Proposed Rulemaking, Order
FCC Expands Flexible Use of Mid-band Spectrum
June 7, 2018 - News Release
FCC Takes Next Steps to Open Spectrum Frontiers for 5G Connectivity
May 10, 2018 - News Release
FCC Seeks to Transform 2.5 GHz Band for NextGen 5G Connectivity
April 17, 2018 - Public Notice
Spectrum Frontiers Auction Comment PN
March 30, 2018 - Report and Order
FCC Acts to Speed Deployment of Next-Gen Wireless Infrastructure
March 1, 2018 - Public Draft
Proposed Rules to Streamline Wireless Infrastructure Deployment
February 23, 2018 - Notice of Proposed Rulemaking
FCC Looks to Speed Introduction of Innovative Technologies & Services
February 28, 2018 - Notice of Proposed Rulemaking
FCC Proposes to Open Spectrum Horizons for New Services & Technologies
November 27, 2017 - Report and Order
FCC Takes Steps to Facilitate Next Generation Wireless Technologies in Spectrum Above 24 GHz
August 3, 2017 - Notice of Inquiry
Expanding Flexible Use in Mid-Band Spectrum Between 3.7 and 24 GHz
October 24, 2017 - Notice of Proposed Rulemaking
FCC Moves to Promote Investment in the 3.5 GHz Band
April 21, 2017 - Notice of Proposed Rulemaking and Notice of Inquiry
Accelerating Wireless Broadband Deployment by Removing Barriers to Infrastructure Investment
December 14, 2017 - Public Notice
FCC Seeks Comment on Plan to Ease Collocations on Twilight Towers
November 17, 2017 - Report and Order
FCC Streamlines Requirements for Utility Pole Replacements
April 28, 2017 - Report and Order
FCC Advances Competition, Investment in Business Data Services Market
January 4, 2018 - Declaratory Ruling, Report and Order, and Order
FCC Releases Restoring Internet Freedom Order
April 21, 2017 - Notice of Proposed Rulemaking
Accelerating Wireline Broadband Infrastructure Deployment
News & Speeches
December 12, 2018 - News Release
FCC Adopts Rules for Major 2019 5G Incentive Auction
November 21, 2018 - Public Draft
FCC Announces Tentative Agenda for December Open Meeting
November 14, 2018 - News Release
Chairman Pai on Start of 5G Spectrum Auction
October 3, 2018 - Speech
Chairman Pai on 5G at Americas Spectrum Management Conference
September 28, 2018 - Speech
Chairman Pai Remarks at White House 5G Summit
September 24, 2018 - News Release
Local Government Support Builds for Carr's 5G Order
September 13, 2018 - News Release
Carr to Visit Arizona for 5G Events with Mayor and State Lawmaker
September 5, 2018 - News Release
Economists: Carr's 5G Order Saves $2B, Stimulates $2.4B Investment
September 4, 2018 - News Release
Carr Announces Next 5G Order in Indiana Statehouse Speech
September 4, 2018 - Speech
Carr Speech in Indianapolis, 'Grassroots Leadership on 5G'
August 1, 2018 - News Release
What They're Saying: Chairman Pai's One-Touch Make-Ready Proposal
May 23, 2018 - Speech
Chairman Pai's Wireless Infrastructure Assoc. Connectivity Expo Speech
May 16, 2018 - Editorial
Florida is on the leading edge of 5G
February 26, 2018 - Speech
Remarks of Chairman Pai at the Mobile World Congress 2018
Jun 14, 2017 - Public Notice
Incentive Auction Task Force and Wireless Telecommunications Bureau Grants 600 MHz Licenses
January 31, 2017 - News Release
Chairman Pai Forms Broadband Deployment Advisory Committee
February 28, 2018 - Speech
Remarks of Commissioner Brendan Carr to Ensure the US is 5G Ready
June 21, 2017 - Editorial
Chairman Pai Op-ed: How the U.S. can win the digital future
April 21, 2017 - Speech
Chairman Pai Opens First Broadband Deployment Advisory Committee Meeting
Apr 6, 2017 - News Release
Chairman Pai Announces Broadband Deployment Advisory Committee Members
November 21, 2017 - Editorial
Chairman Pai Op-ed: How the FCC Can Save the Open Internet
January 4, 2018 - Statement
Chairman Pai Statement on Restoring Internet Freedom
April 26, 2017 - Speech
Chairman Pai Speech on the Future of Internet Regulation
April 28, 2017 - Statement
Chairman Pai Statement on Business Data Services
February 28, 2017 - Speech
Chairman Pai's Keynote Address to Mobile World Congress 2017