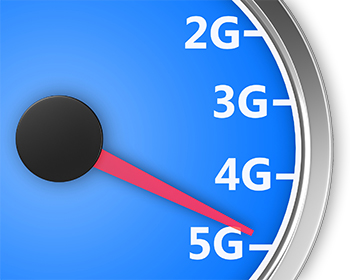 Under Chairman Pai, the FCC is pursuing a comprehensive strategy to Facilitate America's Superiority in 5G Technology (the 5G FAST Plan). The Chairman's strategy includes three key components: (1) pushing more spectrum into the marketplace; (2) updating infrastructure policy; and (3) modernizing outdated regulations.
"Forward-thinking spectrum policy, modern infrastructure policy, and market-based network regulation form the heart of our strategy for realizing the promise of the 5G future." – FCC Chairman Pai
Spectrum
The FCC is taking action to make additional spectrum available for 5G services.
Infrastructure Policy
Broadband Deployment Advisory Committee
The Broadband Deployment Advisory Committee, formed by Chairman Pai in 2017, provides advice and recommendations for the Commission on how to accelerate the deployment of high-speed Internet access. See the latest BDAC news.
The FCC is updating infrastructure policy and encouraging the private sector to invest in 5G networks.
Speeding Up Federal Review of Infrastructure: The FCC adopted new rules that will reduce federal regulatory impediments to deploying infrastructure needed for 5G and help to expand the reach of 5G for faster, more reliable wireless service.
Speeding Up State and Local Review of Small Cells: The FCC reformed rules designed decades ago to accommodate small cells. The reforms ban short-sighted municipal roadblocks that have the effect of prohibiting deployment of 5G and give states and localities a reasonable deadline to approve or disapprove small-cell siting applications..
Modernizing Outdated Regulations
The FCC is modernizing outdated regulations to promote the wired backbone of 5G networks and digital opportunity for all Americans.
Other Actions
Merger Approved to Promote 5G Deployment: The FCC approved the merger of T-Mobile and Sprint that will help to close the digital divide by bringing robust 5G deep into rural areas, with enforceable conditions requiring deployment of 5G network coverage to 99% of all Americans within six years. Also, DISH Network acquired Boost Mobile when it was divested as part of the T-Mobile transaction. DISH has committed to use its acquisition of Boost Mobile, along with 5G infrastructure investments, to deploy a competitive 5G wireless service using its long-held spectrum licenses.
5G Open Radio Access Networks: The FCC's Forum on 5G Open Radio Access Networks featured experts at the vanguard of the development and deployment of 5G network architecture. Open, interoperable, standards-based, and virtualized radio access networks offer an alternative to traditional cellular network architecture and could enable a diversity in suppliers, better network security, and lower costs.
Innovation Zones: The FCC created its first two Innovation Zones, city-scale test beds for advanced wireless communications and network research, including 5G networks.
News & Speeches
Rulemakings & Public Notices
February 3, 2020 - Public Notice
Docket Announced for Establishing a 5G Fund for Rural America
January 27, 2020 - Public Notice
Full Commercial Deployments Authorized for the 3.5 GHz Band
December 17, 2019 - Notice of Proposed Rulemaking
FCC Seeks to Promote Innovation in the 5.9 GHz Band
December 16, 2019 - Notice of Proposed Rulemaking
FCC Considers Facilitating Shared Use in the 3.1-3.55 GHz Band
November 26, 2019 - Report and Order
Protecting National Security Through FCC Programs
April 29, 2019 - Public Notice
WTB/OET Approve Environmental Sensing Capabilities (ESCs) for 3.5 GHz
April 15, 2019 - Report and Order
FCC Takes Steps to Make Millimeter Wave Spectrum Available for 5G
February 27, 2019 - Public Notice
FCC Announces Auction 102 Qualified Bidders
January 24, 2019 - Public Notice
Auction 101 Bidding Concludes
September 28, 2018 - Plan
FCC's 5G FAST Plan
August 3, 2018 - Public Notice
FCC Establishes Procedures for First 5G Spectrum Auctions
August 3, 2018 - FNPRM
FCC Proposes Steps Towards Auction of 37 GHz, 39 GHz, and 47 GHz Bands
July 13, 2018 - Notice of Proposed Rulemaking, Order
FCC Expands Flexible Use of Mid-band Spectrum
April 17, 2018 - Public Notice
Spectrum Frontiers Auction Comment PN
March 30, 2018 - Report and Order
FCC Acts to Speed Deployment of Next-Gen Wireless Infrastructure
March 1, 2018 - Public Draft
Proposed Rules to Streamline Wireless Infrastructure Deployment
February 23, 2018 - Notice of Proposed Rulemaking
FCC Looks to Speed Introduction of Innovative Technologies & Services
February 28, 2018 - Notice of Proposed Rulemaking
FCC Proposes to Open Spectrum Horizons for New Services & Technologies
November 27, 2017 - Report and Order
FCC Takes Steps to Facilitate Next Generation Wireless Technologies in Spectrum Above 24 GHz
August 3, 2017 - Notice of Inquiry
Expanding Flexible Use in Mid-Band Spectrum Between 3.7 and 24 GHz
October 24, 2017 - Notice of Proposed Rulemaking
FCC Moves to Promote Investment in the 3.5 GHz Band
April 21, 2017 - Notice of Proposed Rulemaking and Notice of Inquiry
Accelerating Wireless Broadband Deployment by Removing Barriers to Infrastructure Investment
December 14, 2017 - Public Notice
FCC Seeks Comment on Plan to Ease Collocations on Twilight Towers
November 17, 2017 - Report and Order
FCC Streamlines Requirements for Utility Pole Replacements
April 28, 2017 - Report and Order
FCC Advances Competition, Investment in Business Data Services Market
January 4, 2018 - Declaratory Ruling, Report and Order, and Order
FCC Releases Restoring Internet Freedom Order
April 21, 2017 - Notice of Proposed Rulemaking
Accelerating Wireline Broadband Infrastructure Deployment