"Since my first day as Chairman of the FCC, my number one priority has been closing the digital divide and bringing the benefits of the Internet age to all Americans." – FCC Chairman Ajit Pai
Bridging the Digital Divide
High-speed Internet access, or broadband, is critical to economic opportunity, job creation, education, and civic engagement. But there are too many parts of this country where broadband is unavailable. In urban areas, 97% of Americans have access to high-speed fixed service. In rural areas, that number falls to 65%. And on Tribal lands, barely 60% have access. All told, nearly 30 million Americans cannot reap the benefits of the digital age.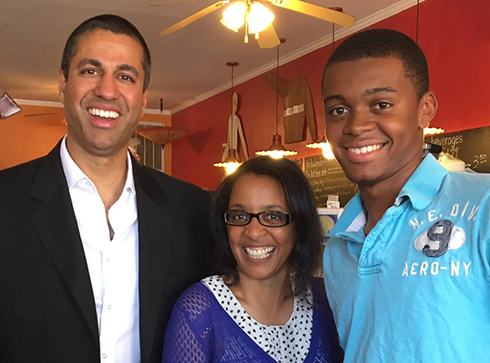 Chairman Pai with Gwen & Dylan Harris at a South Boston, Virginia, event on providing high-speed internet access to students in underserved areas.
Chairman Ajit Pai's top priority is to close the digital divide between those who have access to cutting-edge communications services and those who do not. He believes that every American who wants to participate in the digital economy should be able to do so.
Reports & Data
Key Initiatives
Under Chairman Pai's leadership, the FCC has taken a number of steps to expand broadband across America. These include:
News
March 23, 2018 - Report and Order
FCC Provides Additional $500 Million in Funding for Rural Broadband
March 22, 2018 - News Release
FCC Acts to Speed Deployment of Next-Gen Wireless Infrastructure
March 6, 2018 - News Release
Chairman Pai Proposes $954 Million Plan For Puerto Rico and USVI
February 22, 2018 - News Release
FCC Resolves Petitions for Reconsideration for Mobility Fund Phase II
February 22, 2018 - News Release
FCC Updates National Broadband Map
Road Trip Highlights (Moments)
Gulf Coast
Kentucky, Tennessee and Arkansas
Midwest
Arizona and Nevada
Mid-Atlantic