Geoffrey Starks was nominated to serve as a Commissioner on the Federal Communications Commission by the President and was unanimously confirmed by the United States Senate on January 2, 2019. He was sworn into office on January 30, 2019.
Commissioner Starks has a long career of public and private sector experience. These experiences inform his commitment to working to ensure that no American is left behind in this era of transformative innovation. Most recently, Commissioner Starks served as Assistant Bureau Chief in the FCC's Enforcement Bureau, where he focused on protecting consumers, promoting network security, and preserving the integrity of the Commission's Universal Service Fund programs. Previously, he served as Senior Counsel in the Office of the Deputy Attorney General at the U.S. Department of Justice where he provided advice on domestic and international law enforcement issues, including civil, criminal, and national security matters. At DOJ, he received the Attorney General Award for Exceptional Service—the highest award a DOJ employee can receive. Prior to his entry into federal public service, Commissioner Starks was an attorney at the law firm Williams & Connolly, clerked for the Honorable Judge Duane Benton on the U.S. Court of Appeals for the 8th Circuit, served as a legislative staffer in the Illinois State Senate, and worked as a financial analyst.
Commissioner Starks is a native of Kansas and was born in Kansas City, Missouri. Commissioner Starks earned a Bachelor of Arts degree from Harvard College with high honors and a law degree from Yale Law School. He lives in Washington, D.C. with his wife, Lauren, and their two children.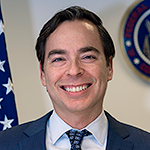 William Davenport
Chief of Staff & Senior Legal Advisor for Wireless and International
In addition to his duties as chief of staff to Commissioner Starks, Mr. Davenport also advises the Commissioner on wireless and international matters. Mr. Davenport has a long record of federal service, having served most of his career in the FCC's Enforcement Bureau, beginning as a staff attorney then moving to management positions and ultimately serving as the Deputy Bureau Chief responsible for the Commission's spectrum enforcement matters. Most recently, Mr. Davenport served as Senior Vice President, Federal Regulatory, for Ligado Networks. Earlier in his career, Mr. Davenport also worked at two DC-area law firms, specializing in litigation and communications issues. Mr. Davenport is a two-time co-chair of the Federal Communications Bar Association's Enforcement Committee and a member of the Endorsements committee of the DC chapter of the National Hispanic Bar Association. Mr. Davenport is a graduate of Northwestern University and the University of Pennsylvania Law School.
Michael Scurato
Acting Legal Advisor for Media and Consumer Protection
Mr. Scurato will advise Commissioner Starks on media and consumer protection matters. Mr. Scurato joins the Commissioner's staff from his position as Special Counsel for the Chief of the Enforcement Bureau. Previously, Mr. Scurato served as Legal Advisor for Commissioner Mignon Clyburn. Prior to joining the Commission, Mr. Scurato was Vice President of Policy at the National Hispanic Media Coalition. While at NHMC, Mr. Scurato served on the FCC's Consumer Advisory Committee and the American Library Association's Public Policy Advisory Council. Mr. Scurato received his law degree from Georgetown University Law Center, where he was a student in the Institute for Public Representation, a public interest law firm and clinical education program. Mr. Scurato has a Bachelor of Arts from New York University.
Randy Clarke
Acting Legal Advisor for Wireline and Public Safety
Mr. Clarke will advise Commissioner Starks on wireline and public safety issues. Mr. Clarke joins the Commission following service as FCC counsel to the Senate Committee on Commerce, Science, and Transportation. Prior to his work in the Senate, Mr. Clarke was Acting Deputy Chief of the Wireline Competition Bureau. He has held a variety of roles in the Wireline Competition Bureau since 2004, including Chief of the Competition Policy Division, Deputy Chief of the Pricing Policy Division, Legal Advisor to the Bureau Chief, and Attorney Advisor in the Bureau. Before joining the FCC, Mr. Clarke served as an Assistant Attorney General for the State of Illinois, focusing on telecommunications policy and consumer advocacy. Mr. Clarke is a graduate of the Chicago-Kent College of Law and Wheaton College in Massachusetts.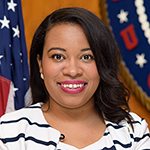 Alisa Valentin
Special Advisor
Dr. Valentin will advise Commissioner Starks on internet inequality matters as they relate to rural communities, low-income communities, and other marginalized groups.
Dr. Valentin joins the Commission from her position as the Communications Justice Fellow at Public Knowledge. Prior to her work at Public Knowledge, she served as a legislative fellow in the office of Congresswoman Yvette D. Clarke (D-NY) and an intern in FCC Commissioner Mignon Clyburn's office.
Dr. Valentin holds a Ph.D. in Communications, Culture, and Media Studies from Howard University, a Master of Science in Journalism from the Medill School of Journalism at Northwestern University, and a Bachelor of Science from the University of Florida.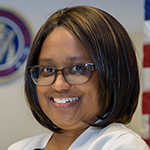 Rhonda Hill
Staff Assistant
Rhonda Hill is the Staff Assistant for Commissioner Starks's office. She previously served in the Office of the General Counsel/Administrative Law Division as a Legal Technician for 29 years. Rhonda will now assist with meeting requests, invitations and all related matters for Commissioner Starks Legal Advisors, William Davenport, Randy Clarke and Michael Scurato. Her email is Rhonda.Hill@fcc.gov and she can be reached on 202-418-2500.
Use the buttons below to direct requests for information from members of the press or requests for meetings with Commissioner Starks or his staff.