Commissioner Geoffrey Starks believes that communications technology has the potential to be one of the most powerful forces on Earth for promoting equality and opportunity. To unlock that potential, however, all Americans must have access. From combatting internet inequality to advocating for diversity in employment, entrepreneurship, and media ownership, Commissioner Starks fights for policies designed to ensure that modern communications technology empowers every American.
Because high-quality broadband is essential to participating in our economy and society, Commissioner Starks has been a champion for the millions of Americans who lack access to or cannot afford a home internet connection. As a native Kansan, he understands the communications needs of rural America. He has consistently advocated for broadband deployment that helps rural communities tap into economic and educational opportunities that may not be close to home, which both encourages young people to stay and attracts new residents and employers.
Bringing a wealth of enforcement experience to the Commission, Commissioner Starks advocates for consumer protection and accountability, particularly in managing the Universal Service Fund. Before he was appointed Commissioner, Starks helped lead the FCC's Enforcement Bureau, handling a wide variety of complex investigations. At the Department of Justice, he served as a senior advisor to the Deputy Attorney General on a variety of domestic and international law enforcement matters and received the Attorney General's Award for Exceptional Service—the highest honor award a DOJ employee can receive.
Commissioner Starks is also a leader on national security policy, working to eliminate untrustworthy equipment from America's communications networks. His Find It, Fix It, Fund It initiative brought national attention to the urgent need to support small and rural companies as they work to make their networks more secure. With regard to personal data security, while Commissioner Starks fully supports the promise of advanced wireless service and other cutting-edge technologies—and works to ensure that all communities share in the benefits of these advancements—he also fully appreciates the potentially intrusive powers of some communications technologies and is vigilant to ensure against any uses of those powers that would promote illegal discrimination or compromise personal privacy.
Before he entered federal public service, Commissioner Starks practiced law at Williams & Connolly, clerked on the U.S. Court of Appeals for the 8th Circuit, served as a legislative staffer in the Illinois State Senate, and worked as a financial analyst. Commissioner Starks graduated from Harvard College with high honors and Yale Law School. He lives in Washington, D.C. with his wife, Lauren, and their two children.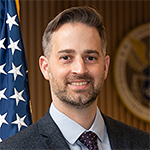 Justin Faulb
Chief of Staff and Legal Advisor for Wireline and National Security
Previously, Mr. Faulb served as Associate Bureau Chief of the Wireline Competition Bureau, overseeing implementation of the Secure and Trusted Communications Networks Act and other national security, privacy, numbering, and pricing issues. At the FCC, he has also served as Legal Advisor to the Chief of the Wireline Competition Bureau, as the Designated Federal Officer of the Broadband Deployment Advisory Committee, as an Attorney Advisor, and as Special Counsel in the Office of the FCC Chairman. Prior to the FCC he worked for a leading trade association and in private practice focusing on communications and energy law. Mr. Faulb received his law degree from Catholic University, Columbus School of Law, and his bachelor's degree, cum laude, from Miami University.
Shiva Goel
Legal Advisor for Wireless and International Issues
Mr. Goel was previously a partner in the telecom, appellate, and litigation practices of Harris, Wiltshire & Grannis LLP, where he advised on wireless, space policy, and universal service issues. Prior to joining HWG, Mr. Goel clerked for the Honorable Maryanne T. Barry on the U.S. Court of Appeals for the Third Circuit and the Honorable Louis L. Stanton on the U.S. District Court for the Southern District of New York. He has been recognized as a leading communications lawyer by several legal peer-review publications and is a member of the Edward Coke Appellate Inn of Court, the nation's preeminent association of appellate lawyers. He received his law degree Order of the Coif from the University of Virginia School of Law and a BA from Cornell University.
Hannah Lepow
Legal Advisor for Media and Consumer Protection
Ms. Lepow was most recently an associate at Covington & Burling LLP, where she practiced in the Communications & Media and Data Privacy & Cybersecurity groups. At Covington, her practice spanned regulatory and transactional areas, with a focus on media and consumer privacy issues. She was named a 2022 Rising Star in Telecommunications by Law360. Ms. Lepow received her law degree from Columbia Law School, where she was a Harlan Fiske Stone scholar, and her undergraduate degree, magna cum laude, from Columbia University.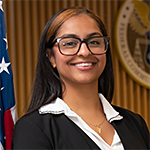 Morgan Bodenarain
Legal Advisor
Ms. Bodenarain focuses on issues of digital equity. She most recently worked in the office of Congressman G. K. Butterfield, where she managed his Communications and Technology policy portfolio. Previously Ms. Bodenarain served as a Legal Telecommunications Fellow in the Congressman's office and a Law Clerk for the U.S Senate Health, Education, Labor, and Pensions Committee. Ms. Bodenarain earned her J.D. from the George Washington University Law School and her B.A. in political science and policy studies from Elon University.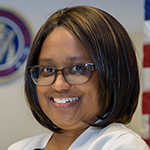 Rhonda Hill
Staff Assistant
Rhonda Hill is the Staff Assistant for Commissioner Starks' office. She previously served in the Office of the General Counsel/Administrative Law Division as a Legal Technician for 29 years. Rhonda will now assist with meeting requests, invitations and all related matters for Commissioner Starks Legal Advisors, Justin Faulb, Shiva Goel, Hannah Lepow, and Morgan Bodenarain. Her email is Rhonda.Hill@fcc.gov and she can be reached on 202-418-2500.
March 9, 2021 - CNN
We have to close the digital divide. That means internet access for everyone (with Derrick Johnson)
August 10, 2020 - Blavity
Why Prioritizing Broadband Connectivity For Low-Income Americans During COVID-19 Is A Must (with Rep. Marcia Fudge)
June 17, 2020 - Essence
Broadband Access Is A Civil Right We Can't Afford To Lose—But Many Can't Afford To Have (with the Reverend Al Sharpton, Vanita Gupta, Marc Morial and Maurita Coley)
March 19, 2020 - New York Times
To Fight Coronavirus, Millions More Americans Need Internet Access
October 22, 2019 - The Hill
Green networks: Incorporating energy efficiency into 5G
September 12, 2019 - The Mercury News
The security necessity for U.S. innovation in 5G networks
July 25, 2019 - Orlando Sentinel
Can satellite broadband solve rural internet inequality?
July 1, 2019 - Nextgov
The Case for Using Algorithms to Validate Broadband Data
May 26, 2019 - The Hill
The Huawei threat is already here
April 2, 2019 - The New York Times
Why It's So Easy for a Bounty Hunter to Find You
Use the buttons below to direct requests for information from members of the press or requests for meetings with Commissioner Starks or his staff.