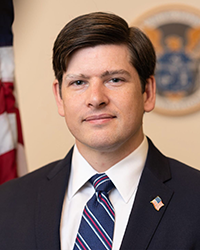 Nathan Simington was nominated to serve as a Commissioner of the FCC by President Donald J. Trump. He was confirmed by the United States Senate in 2020.
Commissioner Simington brings both private and public-sector experience to the Commission. Previously, he served as Senior Advisor at the National Telecommunications and Information Administration (NTIA.) In this role, he worked on many aspects of telecommunications policy, including spectrum allocation and planning, broadband access, and the US Government's role in the Internet. Prior to joining the Commission, he was senior counsel to Brightstar Corp., an international mobile device services company. In this capacity, he led and negotiated telecommunications equipment and services transactions with leading providers in over twenty countries. Prior to joining Brightstar, he worked as an attorney in private practice.
Commissioner Simington is a graduate of the University of Michigan Law School. He also holds degrees from the University of Rochester and Lawrence University.
Commissioner Simington grew up in Saskatchewan, Canada. He became a United States citizen and now lives in McLean, Virginia with his wife and three children.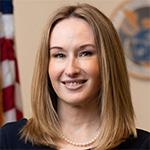 Erin Boone
Chief of Staff and Wireless Advisor
Ms. Boone serves as Commissioner Simington's chief of Staff and wireless advisor and manages matters before the International Bureau and the Office of Engineering and Technology. Ms. Boone most recently served as Deputy Division Chief in the Wireless Telecommunications Bureau's Competition and Infrastructure Policy Division, where she led a team responsible for matters and rulemakings addressing mobile data and voice services, mobile spectrum holdings, and mobile broadband mapping, among others. Ms. Boone also served in the Enforcement and Wireline Competition Bureaus, and worked at T-Mobile, Clearwire, and Level 3 Communications before her time at the Commission. She earned her law degree from the Catholic University of America Columbus School of Law and her bachelor's from the University of Texas.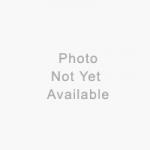 Adam Cassady
Media Advisor
Mr. Cassady serves as Commissioner Simington's media advisor and manages matters before the Consumer & Governmental Affairs Bureau and the Enforcement Bureau. He most recently cofounded a small technology firm focused on delivering enterprise machine learning solutions. Mr. Cassady graduated from the University of Chicago Law School and received his bachelor's from The Ohio State University.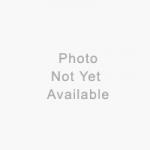 Marco Peraza
Wireline Advisor
Mr. Peraza serves as Commissioner Simington's wireline advisor and also manages signal security issues and matters before the Public Safety and Homeland Security Bureau. Most recently, he served as law clerk to Judge Michael B. Brennan on the United States Court of Appeals for the Seventh Circuit. Originally from Miami, Florida, Mr. Peraza received his law degree from the University of Pennsylvania Law School and A.B. in computer science from Dartmouth College. Before law school, Mr. Peraza worked as a software engineer at Microsoft, where he focused on operating system security and data protection.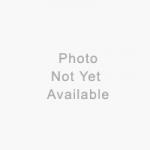 Michael Sweeney
Policy Advisor & Confidential Assistant
Mr. Sweeney serves as Commissioner Simington's policy advisor and confidential assistant. He most recently served as a Personnel Coordinator in the White House Office of Presidential Personnel, where he assisted in implementing structural improvements to the political hiring process for the entire Federal Government. He also facilitated the audit of a 4000 member Federal political appointee workforce to ensure execution of key policy priorities. Mr. Sweeney served in the U.S. Department of Housing and Urban Development and in the U.S. House of Representatives prior to his time at the Commission. He earned his bachelor's from The George Washington University Columbian College of Arts and Sciences.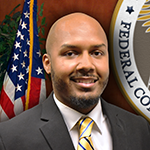 Carlos Minnix
Staff Assistant
Mr. Minnix serves as Commissioner Simington's staff assistant. He most recently served as staff assistant in former Chairman Ajit Pai's office. Mr. Minnix joined the Commission in 2007 where he worked as staff assistant in the Enforcement Bureau Spectrum Enforcement Division.
Use the buttons below to direct requests for information from members of the press or requests for meetings with Commissioner Nathan Simington or his staff.